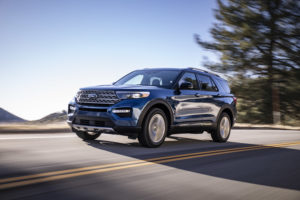 More than 460,000 Fords, Lincolns recalled over 360-degree camera flaw
By on
Announcements
Ford has recalled more than 460,000 vehicles, including 382,759 in the U.S., to repair a rear view camera problem attributed to at least 17 accidents.
The recall applies to the 2020-2023 Ford Explorer, 2020-2023 Lincoln Aviator and the 2020-2022 Lincoln Corsair.
The issue relates to 360-degree cameras, including the rear view camera, which can fail to feed visuals to the display screen during some "key cycles," the National Highway Traffic Safety Administration (NHTSA) said in its report.
"Once present, the issue will likely recur on the same camera intermittently," the report said. "Loss of rear camera image while reversing increases the risk of a crash. If a loss of video frames is detected by the image processing module, the module's response is to display a blue image instead of re-initialize the video pipeline."
The issue initially dated back to October 2021, when NHTSA contacted Ford regarding three customer "allegations of a blue image in the rear camera display." The glitches were reported after the completion of a software update, the Michigan-based automaker said in a filing.
Ford said it discovered an issue that prevented some dealers from installing the software update, and that it "promptly corrected" the issue. 
More customer concerns were flagged last year, prompting Ford's critical concern review group to launch an investigation last March. 
"Ford worked with suppliers, analyzed over 100 cameras replaced in the field for blue screen symptoms, and analyzed returned IPMB modules, eliminating potential root causes," the company said. "Ford and supply base were unable to replicate the concern in the laboratory or in-vehicle until December 2022." 
As of last Nov. 30, Ford received more than 2,000 warranty reports and by Jan. 5, had received 21 NHTSA-submitted vehicle-owner questioners from customers reporting the blue image on the rear camera. 
"Ford is aware of 17 reported minor accidents allegedly resulting from blue screen symptoms, and not aware of any reports of injury related to this condition," the company said.
Those affected by the recall will have complimentary use of Ford's mobile service with participating dealers to "get the software update configured on their vehicle at their convenience," Ford said in a statement to Repairer Driven News. 
"Recalls are an important way for us to keep our customers safe and with every recall we want to make the experience of getting serviced easier on our customers," the statement said.
The software update is now available to customers; dealers are needed to access the update, a spokeswoman said. Ford's mobile service allows for a technician to come to the customer and fix the vehicle at their convenience.
Local repairers working on affected vehicles are asked to contact a local dealer to ensure the vehicle is properly serviced.
Ford was the subject of 68 recalls last year, more than any other U.S. automaker, federal data shows.
Last year, it recalled:
However, earlier this month the NHTSA determined a recall was not necessary for Ford Explorer carbon monoxide leaks. 
The federal agency reviewed more than 6,500 consumer complaints, tested model year 2011-2017 Ford Explorers, and received input from automotive, medical, environmental health, and occupational safety experts to determine that the vehicles don't need to be recalled over their exhaust systems.
According to the Associated Press, NHTSA has closed its more than six-year investigation into reports of exhaust odors in Explorer cabins by determining that carbon monoxide levels aren't high enough to be unsafe. However, nearly 660 injuries and three deaths have been linked to the issue. Ford previously reported that 1.3 million vehicles U.S. Explorers as well as 84,000 in Canada and 24,000 in Mexico were affected.
Ford is expected to mail notices to affected customers of its most recent rear camera recall next month.
Images:
A 2020 Ford Explorer Limited is shown. (Provided by Ford)
Share This: