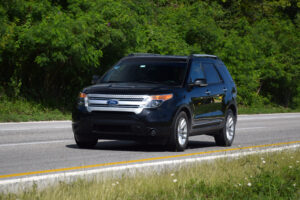 Recall not required for Explorer carbon monoxide leaks, rear end collisions can be cause
By on
Collision Repair
The National Highway Traffic Safety Administration (NHTSA) has reviewed more than 6,500 consumer complaints, tested model year 2011-2017 Ford Explorers, and received input from automotive, medical, environmental health, and occupational safety experts to determine that the vehicles don't need to be recalled over their exhaust systems.
According to the Associated Press, NHTSA has closed its more than six-year investigation into reports of exhaust odors in Explorer cabins by determining that carbon monoxide levels aren't high enough to be unsafe. However, nearly 660 injuries and three deaths have been linked to the issue. Ford previously reported that 1.3 million vehicles U.S. Explorers as well as 84,000 in Canada and 24,000 in Mexico were affected.
NHTSA found that sealing issues due to the installation of sirens, lights, cages, and other equipment on police SUVs were responsible for the highest levels of carbon monoxide in the vehicles that were tested while the highest levels in civilian Explorers were caused by rear end collision damage repairs, according to the AP.
Ford told Repairer Driven News on Tuesday that repairers can fix leaks by sealing off the rear of the vehicle where exhaust can enter, recalibrating the AC system to bring in more fresh air during heavy acceleration, and replacing damaged exhaust manifolds. The OEM found that the majority of vehicles affected are upfitter vehicles, including the Police Interceptor.
NHTSA said all Explorers repaired under the above outlined 2017 repair didn't emit carbon monoxide levels into the cabin higher than what's allowed by the Environmental Protection Agency (EPA).
"NHTSA recognizes that hypersensitivities to CO and other exhaust gas constituents exist within the overall population," investigators wrote, according to AP. "However, the agency does not set limits or determine the adequacy of established safe levels."
Vehicles tested that hadn't been repaired, involved in a crash, or had police equipment installed didn't release unsafe levels of carbon monoxide, according to NHTSA.
Images
Featured article credit: Tramino/iStock
Share This: