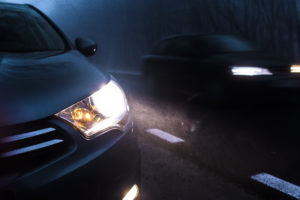 Approved patent paves way for GM to introduce light-dimming windshields
By on
Announcements
General Motors (GM) received a federal patent for a "smart glass" invention that can dim the glare of headlines from oncoming vehicles.
Initially filed last July, the GM Global Technology Operations patent lays out how the automaker seeks to minimize the effects of excessive glare while driving.
The technology works by detecting at least one remote vehicle within a certain distance from a driver. If the oncoming light is brighter than a predetermined threshold, the smart glass dims at least a portion of the driver's windshield. It uses an eye tracker to determine the location of the driver's eyes.
"The smart glass includes a plurality of segments," the patent said. "Each of the plurality of segments is individually configured to transition between an opaque state and a transparent state independently of the other segments. The method further includes determining which of the segments of the smart glass have to be dimmed to cover the light beam of the light of the remote vehicle relative to the location of the eyes of the vehicle operator."
Headlight glare isn't just a nuisance for drivers; it's also a hazard. Crashes caused by glare from oncoming high-beam headlights account for up to 15 percent of all U.S. traffic accidents, statistics show.
Excessively bright headlights have prompted recalls among several automakers, including GM, in recent years.
Last December, GM recalled more than 740,000 vehicles after revealing the daytime running lights might not deactivate when headlamps were on, resulting in glare that could increase the chances of a crash.
It's not clear whether GM's smart glass technology will be compatible with Ultra Cruise, an upcoming partially autonomous system that will rely on behind-the-glass cameras, radar and lidar to control a vehicle's steering, acceleration and braking.  A GM spokeswoman did not respond to a request for comment on how the technologies might interact. It's not known when GM vehicles with light-dimming windshields will hit the market.
A number of automakers are dabbling in augmented reality to improve the driver experience. Last October, Apple filed a patent application to create a camera and sensor system that can detect and correct defects in the windshields. 
IMAGES
Featured image credit: vrcraft/iStock
Share This: