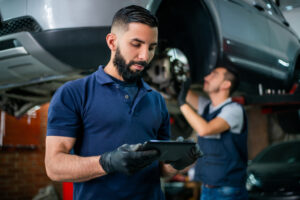 The ongoing technician shortage can be alleviated with a systematic approach to finding and nourishing the right talent, attendees of an online forum heard.
Marc Brune, business development manager at Mentor Mentee, said stepping the talent gap requires ensuring trainees are supported throughout the process, from recruiting and training to long-term planning.
"The time to train and retain them has never been more critical," Brune told forum attendees. "They want a career pathway and they need a business that's going to show them the way and back it up."
The automotive industry has grappled for decades with how to attract and retain skilled workers. A recent Techforce study found that 232,000 techs were needed in 2021 across automotive, diesel, and collision but schools were graduating only 42,000. In collision alone, the demand was 35,000 techs while only 4,500 graduated.
The shortfall leaves one clear solution for Holt: find and train your own.
Where to start
Career and Technical Education (CTE) programs can be a good place to begin the hunt for trainees, but shops should also think outside the box to find candidates, Holt said. 
Service workers, for example, have developed many of the same skills that make a good technician, Brune said. This includes the ability to plan and work under pressure, communicate, deal with customers, and follow processes. Veterans are a good match as well.
All candidates truly need, he said, is a willingness and ability to learn the necessary skills.
"When you're at a fast food restaurant, someone who has a positive attitude hands you a bag of food and it seems they might potentially be a good fit, have a pitch ready for your business and the opportunity," he said.
The pitch could include the benefits of entering the trade, such as opportunities for professional development and long-term stability, he said.
Next steps
Finding the right trainee is one thing, but finding the right mentor is equally important, Brune said. After all, not everyone has time to give new hires the guidance they need, or support their professional growth.
The right mentor should also be a good advocate for the employer, Brune said, and generous with their knowledge and feedback.
"Looking at your shop, you might have a technician who was willing to be a mentor, but they might not have the ability to communicate and listen to the degree that you would like," he said. "You might have a mentee who's got great technical aptitudes, who lends themselves well to technical processes and things kind of related to engineering and components, but they might not have the right mindset right away. They might not be willing. If you can find a mentee for your program that is both willing and able, you've got to step in the right direction."
The path forward
Once a trainee is settled into their role, shops can help guide them toward long-term employment with fair compensation and by investing in their career. A rewards system to encourage trainees to show up on time and give their best effort is another way to retain trainees, Brune said.
Ideally, he said, the trainee's mentor will accompany them throughout the journey to becoming a technician.
"Seventy percent of workplace initiatives will fail due to a lack of leadership commitment," he said. "So don't just talk the talk; walk and stay committed and fluid as your program continues to grow. Give your mentee a roadmap whether it's for their career, tools, wage growth or ideally all three. If you can do that you're already differentiating yourself from the pack and you're really becoming a learning organization."
IMAGE
Featured image credit: Hispanolistic/iStock
Share This: