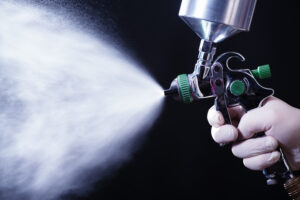 PPG earnings call highlights rebounding auto refinish demand
By on
Announcements
Demand for auto refinishing is on the rebound following a three-year slump, PPG Industries executives said while announcing the company's fourth-quarter earnings.
The Pittsburgh-based company recorded net sales of $4.2 billion during last year's final quarter despite overall year-over-year sales declining, executives said.  Full-year 2022 reported net sales reached $17.7 billion, up about five percent year-over-year.
"Sales were aided by our strong U.S. automotive refinish volume growth as supply chain disruptions started to moderate and our order books remained robust," PPG's chief operating officer Tim Knavish said during a fourth-quarter conference call with investors.
As supply chain disruptions began to moderate, PPG's sales got a bump from its refinishing business, which delivered more than 2,000 net new body shop wins throughout the year with most being in the U.S.
But those wins were far from easy, said PPG chief operating officer Tim Knavish.
"The challenges were many, including unprecedented cost inflation, unexpected geopolitical issues in Europe, disruptive and unpredictable shutdowns in China, strong appreciation of the U.S. dollar, and rapid escalation in interest rates in the United States. Though all of these factors impacted our sales and margin performance, the PPG team responded to these challenges, including rapidly implementing real-time selling price increases that, by early 2023, will offset all cumulative cost inflation incurred since early 2021."
Paint has also become more expensive to produce because of a spike in the price of petroleum, which is used to make it. Paints and coatings costs are up about 24 percent since March 2020, experts say. 
PPG chief executive Michael McGarry said inflation coupled with bolstered demand has been a challenge for the company and prompted it to raise its prices.
"Some products are going to be raised more. Some are going to be raised less," McGarry said during a CNBC interview last year. "A lot of that depends on supply chain issues and raw material availability."
Improved productivity has helped PPG offset some recent challenges while giving it a competitive edge as well, Knavish said.
"Change is only as strong as its weakest link," Knavish said.  "And so, every link on the refinish body shop throughput has to be strong in order to really drive what's most important to the body shop owner. And that's what they call key-to-key time, from the time you take the vehicle owner's keys until the time you hand those keys back to the vehicle owner."
The average length of car rental, which is correlated to the time it takes to repair a vehicle, is up by nearly one-third since 2020, according to Enterprise.
However, efficiency doesn't always outweigh rising costs, PPG noted in a January price increase letter to automotive customers.  
"Efficiency wins alone are unfortunately not sufficient to offset our increased costs, and accordingly further price adjustments are now necessary," the memo said.
Meanwhile the average length of car rental is up by nearly one-third since 2020, according to Enterprise.
The auto refinish coating market took a dip  in 2020 and 2021 because of the COVID-19 pandemic, but largely rebounded by mid-2021. As more cars returned to the road, the chance of collisions requiring body work rose. 
Although PPG's refinishing sales are growing, they remain about 10 percent down from 2019 levels. Experts have attributed an overall slump in the auto refinish market to the challenge of hiring and retaining skilled workers.
The double-whammy of more expensive materials and higher labor costs have presented challenges for repairers. 
Another contributor is the dip in new auto production, which has been at recession levels for the past three years, Knavish said.
PPG's performance coating net sales were down slightly quarter-over-quarter in a slump attributed to unfavorable global dynamics. Meantime, auto original equipment manufacturer (OEM) coatings organic sales were up due to higher global selling prices and increased year-over-year sales volumes in Europe.
PGG's less cycle markets have shown more stability over the past year, PPG's senior vice president and chief financial officer said.
"We're not seeing any tone change in the businesses sequentially," Vince Morales said during the conference call. "[We've seen a] good strong pace of recovery in aerospace; a solid, consistent growth in refinish; auto OEM generally consistent quarter-over-quarter, starting to recover in Europe."
Executives are hoping to see profits rise through the new year as market conditions stabilize, with Morales predicting the company will be caught up on its inflation price gap within "weeks, not even months."
Images
Featured image by AzmanL/iStock.
Share This: