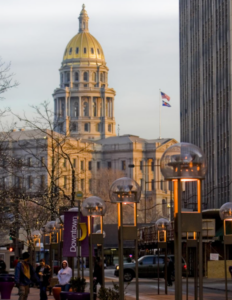 Proposed legislation introduced in Colorado would make car theft a felony as the state struggles to combat a rise in stolen vehicles.
Meanwhile, Denver-area repair shop owner Robert Grieve is speaking out about the challenges stolen cars pose for those tasked with fixing them.
When a recovered car is towed to Nylund's Collision Center, it sits on the lot until it can be inspected for drugs and paraphernalia. It's a task Grieve relegates to third-party biohazard cleaning company whose professionals arrive at his shop in hazmat suits to inspect and test the recovered vehicle.
Of particular concern are traces of fentanyl, which can be deadly with even small amounts of exposure. In about 90% of cases, he said drugs are found.
Testing determines whether the amount is too significant to clean without future risk to the car's occupants; if so, the car is written off.
"In the end, most of the vehicles end up being a total loss," Grieve told Repairer Driven News. "There are thresholds that it's allowed to be. So the team comes in and they swab a whole bunch of areas on the inside of the vehicle, including the trunk, and the swabs go to a testing facility. If they come back with certain levels of meth or fentanyl, the car gets totaled. And that's what happens in most cases."
Used needles are another area of concern as they can slide between seats and become difficult to see, Grieve said. The crew he hires to sweep the recovered vehicles in his lot also looks out for used paraphernalia that could be a danger to techs making repairs.
"Our techs are not touching those cars until we know that they're clean," he said. "It might seem over the top, but we put safety first."
Colorado leads the nation in car thefts, with more than 40,000 vehicles stolen last year. State legislatures are seeking to reverse that trend with a new bi-partisan bill that would make auto theft a felony rather than a misdemeanor, regardless of the car's age or value.
Under current law, a thief's punishment varies based on the value of the vehicle stolen.
"The penalties for motor vehicle theft are no longer based on the value of the vehicle or vehicles stolen," a summary of the proposed bill says. "Motor vehicle theft in the first degree is a class 3 felony, motor vehicle theft in the second degree is a class 4 felony, and motor vehicle theft in the third degree is a class 5 felony."
Those convicted of the felony could face between one and 12 years behind bars.
After the legislation was introduced Monday, lawmakers held a press conference where they spoke of the plight of car theft victims.
"Last year, close to $1 billion in vehicles were stolen in Colorado," Sen. Bob Gardner (R-El Paso County) said during a press conference.
"That's a huge number. But it doesn't begin to describe the hardship and the burden that auto theft has had – particularly on those families that are economically challenged, where that vehicle might be their single means of transportation to take the children to school, to take their children to medical appointments, and to go to work."
Image
Colorado's capitol building in Denver, Colorado (Courtesy State of Colorado)
Share This: