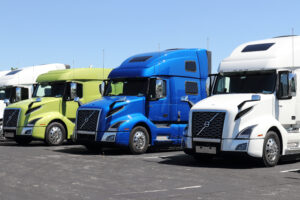 NHTSA finds Volvo Group North America violated Safety Act, ordered to pay $130M civil penalty
By on
Legal
The National Highway Traffic Safety Administration (NHTSA) has reached a consent order with Volvo Group North America regarding the group's failure to timely recall vehicles and several violations of the Vehicle Safety Act.
NHTSA's investigation found that Volvo Group North America violated multiple provisions of the act including inaccurate information in its Defect and Noncompliance Information Reports (DIRs), failure to comply with owner recall notification requirements, failure to submit certain quarterly recall reports, manufacturer communications, and field reports, and failure to comply with early warning reporting requirements by not reporting death and injury incidents.
The consent order includes a total civil penalty of $130 million — one of the largest-ever penalties for violations of the Vehicle Safety Act, according to NHTSA.
Vehicles affected include the 2017 Volvo Bus 9700, 2011 and 2016 Volvo 780, 2009-2011 VH, 2009-2017 VAH, VHD, VN, VNL, and VNM as well as 2013-2017 VNX and 2009-2016 VT; most of which are semi-trucks.
The order contains non-monetary provisions as well that are "designed to improve Volvo Group North America's compliance with the law and the company's safety practices," NHTSA said in a news release.
"NHTSA will use the full scope of our authorities to protect the public from safety defects and from manufacturers that create potential safety problems by failing to comply with the law," NHTSA Acting Administrator Ann Carlson said in a statement.
In response to questions posed to NHTSA by Repairer Driven News about aftermarket replacement part safety defects and whether the administration has considered the impact on the safety of auto insurance policies that fail to indemnify consumers for repairs to safety systems, NHTSA said, "The Vehicle Safety Act requires both manufacturers of vehicles and replacement (aftermarket) equipment to conduct recalls for safety defects. NHTSA investigates potential safety defects in both vehicles and equipment and takes enforcement actions as appropriate. The law requires vehicle or equipment manufacturers to provide a free remedy for all safety defects irrespective of automotive insurance, which NHTSA does not regulate."
Volvo Group North America has agreed to oversight by an independent third-party auditor and to meet regularly with NHTSA "to ensure that it addresses any potential safety issues," NHTSA said in the release. The auditor will review the group's processes to assess compliance with the Vehicle Safety Act, regulations, and the consent order, and recommend and oversee the implementation of organizational and process improvements to enhance Federal Motor Vehicle Safety Standards compliance and certification. The auditor will also oversee a review of past submissions to NHTSA for accuracy and completeness.
Volvo Group North America has also agreed to develop and implement a safety data analytics infrastructure to enhance its ability to detect and investigate potential safety defects as well as written procedures and training for its employees on compliance with the Vehicle Safety Act, regulations, and the consent order. A training schedule will also be created to ensure that its employees are onboarded and trained appropriately, NHTSA said.
Volvo Group North America will launch a user interface on its websites that will allow for open recall searches by VINs and implement a system to support NHTSA's VIN lookup tool.
The term of the consent order with NHTSA is three years, which NHTSA says it may extend for up to two additional years if warranted.
Volvo Group North America will pay $65 million upfront and spend $20 million to create a safety data analytics infrastructure. An additional $45 million deferred penalty may become payable "under specified circumstances," NHTSA said.
Images
Featured image: Volvo semi-trucks for sale in Indianapolis in 2020. (Credit: jetcityimage/iStock)
Share This: