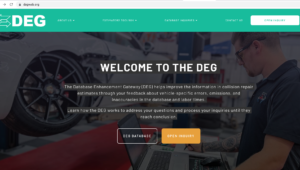 New DEG website boasts enhanced security measures, advanced analytics
By on
Announcements
The Database Enhancement Gateway (DEG) has launched a new website with updated features that allow visitors to more easily and securely access information.
The gateway, initially launched in 2008, helps improve information in the collision repair estimating databases through user feedback related to vehicle-specific errors, omissions, and inaccuracies. It is a free resource to the industry funded and managed by the Society of Collision Repair Specialists (SCRS),the Alliance of Automotive Service Providers (AASP), with support from additional individual donors.
The sites primary function is an inquiry process to allow repair planners, technicians and any estimating system end-user to submit questions about the information within the collision estimating products, to an administrator who works to manage the communication with the Information Providers (IPs) to gain clarification and resolutions. Often, the resolutions result in changes to the database, or additional clarifying language or additions of missing information that might be needed to write a complete and accurate estimate.
The process of using the website has remained largely the same, although the inquiry process has a new look and feel. Designers also updated the way it works with all web browsers, as it previously worked best with Google Chrome.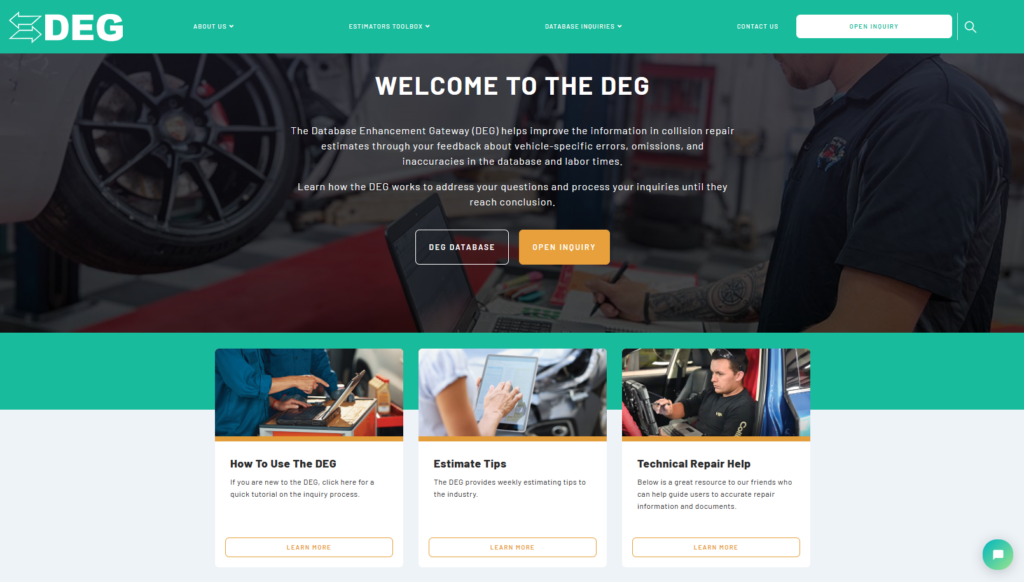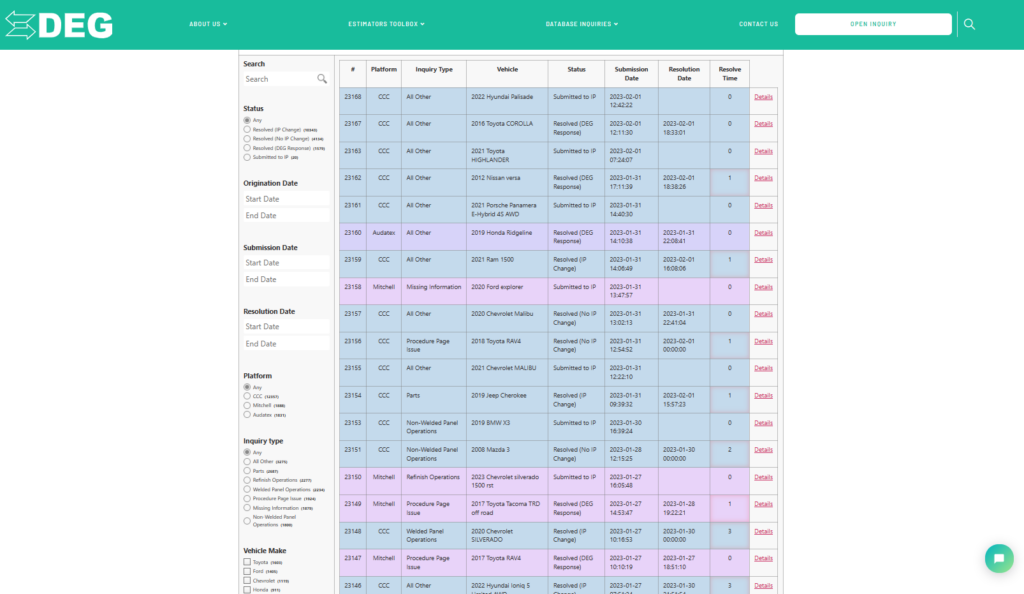 "Visitors of the site will see improved search functionality as well as a much faster, responsive, and intuitive experience," said website designer Nicholas Schoolcraft of Phoenix Solutions Group.
"A fundamental component of the redesign was to make sure visitors had a seamless experience across all devices, from desktop and laptop computers to tablets and mobile phones. We wanted the site, as well as database inquiries, to be effortlessly consumed by visitors on any device. With the enhanced security measures in place and faster load times, visitors can feel good that DEG is doing its part to keep its data safe."
Website improvements include:
Enhanced security measures, including secure databases for information provider inquiries

Advanced data and analytics capabilities

Streamlined workflows

Improved search and filtering for vehicle-specific information

Improved media attachments process to insert into the inquiry resolution section

More information within the "Estimate Toolbox" section and a dedicated section with DEG videos as well as SCRS Quick Tip videos

Security was a major factor in creating and upgrading the DEG site, with designers working to ensure the highest level of security was maintained without hurting the user experience, Schoolcraft said.
"We invested in enhanced security measures that don't slow loading times or make the user experience cumbersome. By taking these extra precautions, we've been able to make sure visitors get the best possible experience while still keeping their data secure," he said. Designers developed a unique temporary token-based access system for each visitor, which is temporarily stored in a secure environment. Each of those tokens can be assigned privileges so that they can access the site's database without having the ability to see sensitive information.
"Phoenix Solution Group's No 1. priority was ensuring the security of the data we receive cannot be accessed by anyone," said DEG administrator Danny Gredinberg. "We understand that the information can be sensitive and was our No. 1 priority when redeveloping the website. Each user that accesses the information only has a certain level of access depending on the permissions assigned to them for the specific information necessary to complete their review of the inquiry and database."
On top of a new redesign, the site was optimized for mobile and tablet accessibility, making it easier for users to navigate it while on the go.
"We are hoping this will encourage additional use straight from the shop floor," Gredinberg said. "When adding attachments to support the inquiry, you can quickly add photos, videos, and various documents right on the spot to streamline the inquiry process."
Images:
Featured image: The Database Enhancement Gateway website (Source: DEG)
Screenshots from the DEG website (Source: DEG)
Share This: