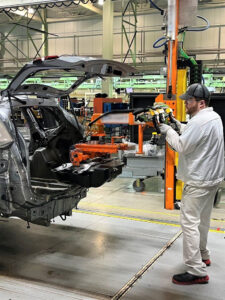 Honda executives recently shared the OEM's ongoing hydrogen business initiatives and on the same day, it was announced that mass production of the 2023 Honda CR-V hybrid has begun in Ohio.
Honda Director and Senior Managing Executive Officer Shinji Aoyama and Business Development Supervisory Unit head/operating executive Arata Ichinose said during a Feb. 2 press briefing that Honda's goal is to work toward carbon neutrality by 2050 through continued product electrification, a "proactive approach" to increase the use of hydrogen as an energy carrier, and expand its hydrogen business.
Reaching the goal will include a focus on fuel cell system advancement alongside General Motors to double the durability and reduce the cost to one-third. After that is accomplished, Honda says it will continue future fuel cell technologies research the double durability again and halve the cost at that time.
The OEM wants to use fuel cell systems in fuel cell vehicles (FCEVs), commercial vehicles, stationary power stations, and construction machinery made by Honda and other companies.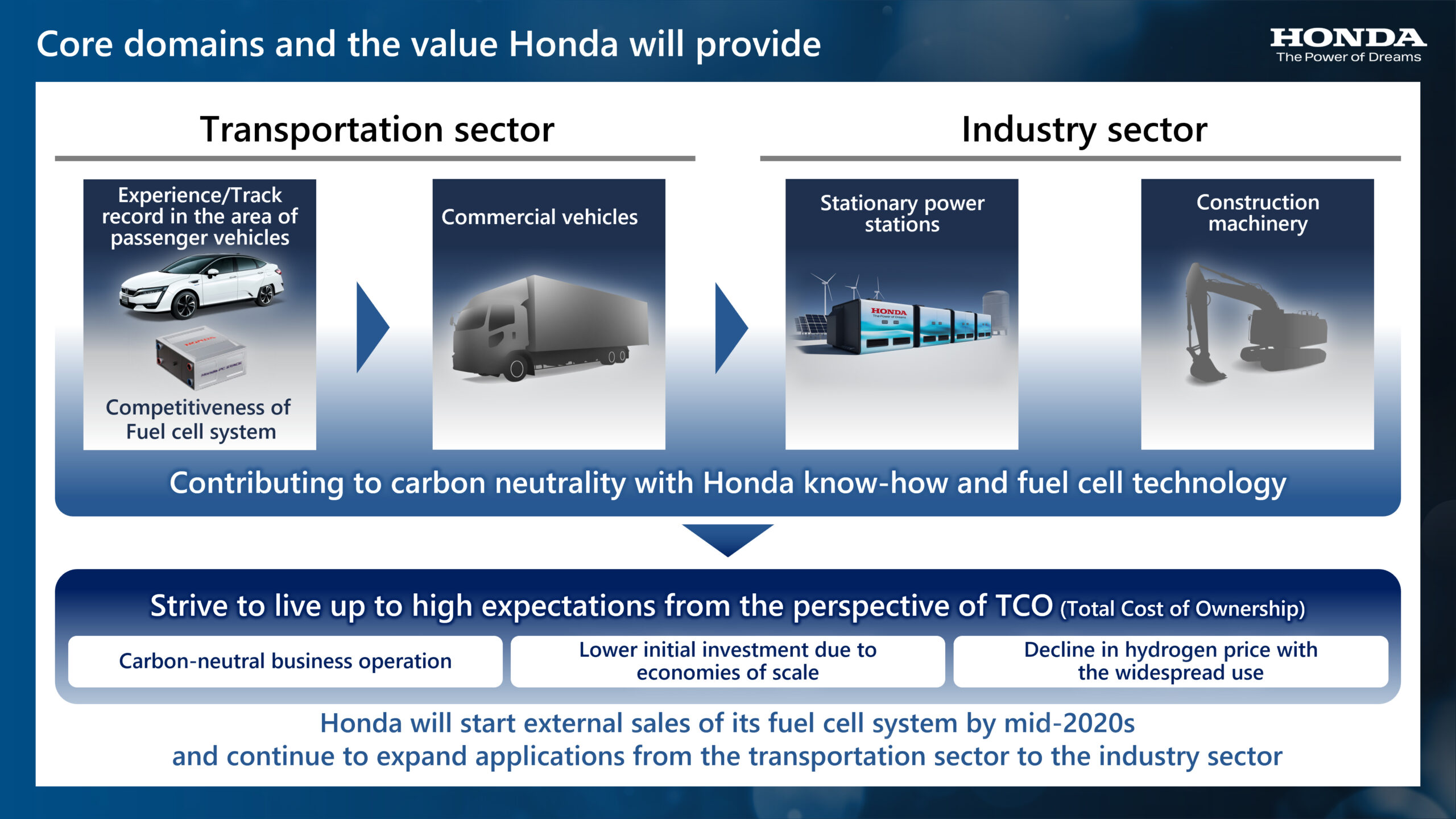 By the mid-2020s, Honda plans to begin external sales of its fuel cell system at 2,000 units per year with the number of units sold to expand in stages eventually reaching 60,000 units in 2030. By the second half of the 2030s, Honda plans to be selling a few hundred thousand units per year.
Aoyama and Ichinose explained that the hydrogen circulation cycle starts with renewable energy and has three phases — generate, store/transport, and use. With the use of water electrolysis technology, electricity derived from renewable energy sources can be converted into "green hydrogen" making it less susceptible to fluctuations in power generation due to seasonality and weather conditions. It also allows for electricity, in the form of green hydrogen, to be transported by land, sea, and pipeline.
"Honda will expand the applications of its fuel cell system, the core of Honda hydrogen technology, not only to Honda FCEVs but also to various internal and external applications, thereby serving to stimulate demand for hydrogen and facilitating the carbon neutrality of society through the 'use' of hydrogen," a press briefing states.
Honda has been conducting research and development of hydrogen technologies and FCEVs for more than 30 years and has worked with GM on a next-gen fuel cell system since 2013. Honda's first FCEV equipped with the system is slated to launch in 2024 in North America and Japan. It will be based on the CR-V introduced last year in North America. Honda says the production cost of the system will be reduced to one-third compared to the 2019 Honda Clarity Fuel Cell.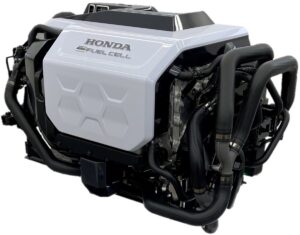 The cost was cut through "adoption of innovative materials for electrodes, advancement of a cell sealing structure, simplification of the supporting equipment ('balance of plant') and the improvement of productivity," Honda said. Durability was doubled with the application of corrosion-resistant materials, controlled suppression of deterioration, and low-temperature resistance.
In light of environmental trends in the world, Honda says it will continue expanding the application of its fuel cell systems, "the core of Honda hydrogen technology beyond its FCEVs in order to contribute to the realization of a carbon-neutral society."
In Japan, Honda is planning to start demonstration testing on public roads of a prototype fuel cell-powered heavy-duty truck that is being researched with Isuzu Motors Limited before the end of the upcoming fiscal year. Test driving of commercial trucks began last month in Hubei Province, China with Dongfeng Motor Group Co.
Honda also plans to propose the application of its fuel cell systems for power generation "as a clean and quiet backup power source." A stationary fuel cell power station that reuses fuel cell systems from Honda Clarity Fuel Cell vehicles has been installed on the corporate campus of American Honda Motor Co. in California. It has a 500kW capacity and operation demos will begin later this month. Next, Honda plans to use stationary fuel cell power station technologies at its factories and data centers around the world to reduce greenhouse gas emissions from its operations.
The automaker says that it will offer fuel cell system development and operational support, including after-sales maintenance and a stable supply of hydrogen to reduce development investment and installation times.
To achieve widespread utilization of fuel cell systems, Honda says it's critical to establish hydrogen ecosystems that include hydrogen supply. They have been supporting the expansion of hydrogen station networks in North America by supporting hydrogen station businesses such as Shell and FirstElement Fuel.
"From here forward, as a new area, Honda will take an active role in establishing hydrogen ecosystems which center around stationary power stations and start from where demand for hydrogen exists," the briefing states. "Honda will also proactively participate in projects organized by national and local governments that utilize large volumes of imported hydrogen at ports and other locations. Through these initiatives, Honda will work to build partnerships with companies involved in this new area. "
Associates at Honda's East Liberty Auto Plant (ELP) celebrated the beginning of 2023 Honda CR-V hybrid mass production on Feb. 2 following the launch of the gasoline-powered CR-V on Oct. 26 in North America at Honda of Canada Mfg. (HCM).
The CR-V features a new two-motor hybrid system produced at Honda's Ohio Transmission Plant (TMP-OH) with domestic and globally sourced parts and a newly refined Atkinson-cycle engine unique to hybrid models made at the Anna Engine Plant (AEP) in Ohio.
The 2.0-liter Atkinson-cycle four-cylinder engine built at AEP is the first Honda engine to combine high-pressure direct injection with multistage injection for "an extremely homogeneous mixture that delivers clean combustion," Honda said.
The two-motor hybrid-electric system includes a new arrangement, switching from coaxial motors of the same size stacked on top of each other to a two-motor parallel axis system with engines of different sizes mounted side-by-side.
Nearly half of annual CR-V sales in the U.S. will be powered by the two-motor hybrid-electric system, Honda said.
"ELP is excited to continue our electrification journey with mass production of the all-new 2023 CR-V hybrid," said ELP Plant Lead Keith Strickland. "Thanks to the ELP team for all of the efforts in preparing to deliver these quality vehicles to our dealers and customers."
ELP joins HCM and the Indiana Auto Plant (IAP) in manufacturing the new CR-V hybrid model, and each plant worked in close collaboration with AEP and TMP-OH, which are responsible for the new powertrain.
Images
Featured image: Associates at Honda's East Liberty Auto Plant (ELP) began mass production of the 2023 Honda CR-V hybrid on Feb. 2, 2023. (Credit: Honda)
Core domains graphic and video provided by Honda
Honda and GM's next-generation fuel cell system. (Credit Honda)
Share This: