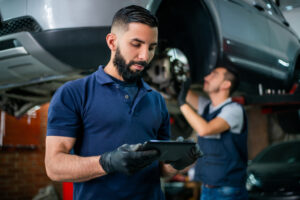 Global diagnostics company Opus IVS is rolling out a new Master Class training program for auto technicians.
The monthly classes, which run from February to April, will equip technicians with the knowledge they need to keep pace with the auto industry as it transitions toward automation and electric vehicles (EV), the company said.
"We are excited to offer this advanced training program to automotive technicians," said Kevin FitzPatrick, senior vice president of operations and training at Opus. "As the industry evolves, it is more important than ever for technicians to stay up-to-date on the latest technologies and techniques. Our Master Class program will help them do just that."
Class lessons range from Tesla service information and diagnostics and advanced driver assistance systems (ADAS) to diagnostics for European makes such as Volkswagen and Audi.
Opus advised that training involves instructions on utilizing OEM-approved solutions and also alternative methods. While the first class focuses on using Tesla service information to repair the automaker's models, the second takes more of a pure aftermarket approach to ADAS services for repair businesses.
"Since most aftermarket shops service all makes, an all makes approach to ADAS will be covered," Opus spokesman Jim Fish told Repairer Driven News. "However, even in that class, OEM solutions may be part of the approach. The third class is all about using Volkswagen's ODIS diagnostic platform to service Volkswagens and Audi vehicles."
Tesla and European manufacturers often have specific expectations around diagnostic tools and processes, and Opus' approach adheres to OEM specifications whenever possible, Fish said. He did not specify instances when they felt it might not be possible.
Opus does use all-makes software for some diagnostic tasks during its training shops.
"Our training meets the shops and the technicians where they are today and helps them become more profitable by understanding the tradeoffs in their diagnostic strategy," Fish said. "We are offering a simplified, a la carte, class structure, touching on the most relevant advanced topics that shops are interested in."
The lessons, each one hour long, will be taught by instructors with decades of experience in the industry. They'll present participants with real-world examples to help hammer home the concepts being taught, Opus said.
"It is specifically tailored to technicians who are looking to deepen their expertise in these areas and stay current with the latest developments in automotive technology," the company said in a release.
Opus helps shops repair complex vehicles quickly with diagnostics, programming, and live repair guidance from OE brand-specific master technicians. It provides a dedicated support team to the collision sector, which includes scanning, ECU programming/coding, ADAS calibration, and brand-specific technical support.
It operates five offices in North America, employing over 400 full-time associates, all dedicated exclusively to the auto repair industry.
Opus has previously said that its tool suite uses a guided workflow designed specifically for the scanning needs of a collision shop, including required pre and post-scanning with automated reporting. In-process remote repair help can be accessed with the push of a button, including new ECU programming/coding and diagnostic troubleshooting.
Not all scan tools give OEM results in all situations, a recent Repairify study found.
Its field study revealed that not all aftermarket scan tools perform like OEM tools on every year, make, model, and trim (YMMT) vehicle, and there's no way for a technician to know which do and which don't, Chris Chesney, the company's vice president of training and organizational development, told an audience at an OEM Collision Repair Technology Summit session last November.
During the summit, part of the Repairer Driven Education agenda offered by the Society of Collision Repair Specialists (SCRS) during the SEMA show, Chesney revealed some of the findings of Repairify's research into aftermarket tools.
Repairify's teams gathered information by conducting a field study of more than 70,000 model year 2014-2022 vehicles located in a dozen Copart yards. The study connected multiple aftermarket tools to thousands of different YMMT vehicles and compiled a comparative analysis of the scan results, Diagnostic Trouble Codes (DTCs), and the ability to clear DTCs in the same manner as the factory tool.
Chesney did not provide full details of the results, saying that Repairify invested millions of dollars in creating the database to help identify for its customers when an aftermarket tool might be an appropriate choice. But he did present five use cases that identified some troubling failures by aftermarket tools.
"At the end of the day, aren't [the tools] all the same? Well, no, they aren't. And so what's the difference? Well, the difference is completeness and accuracy. And it's not just saying that, well, this brand C tool is really good on Asian vehicles, but not so good on Euro and domestic. You can't be that broad. And we didn't look at it that way."
He emphasized that the OEM tool is "the gold standard — always is, always will be, that will never change. That is the foundation." But he suggested that an aftermarket tool that functions like an OEM tool for a specific YMMT vehicle might present an acceptable, and less costly, option for a body shop.
Click here to register or learn more about the upcoming Opus workshops.
IMAGES
Featured image credit: Hispanolistic/iStock
Share This: