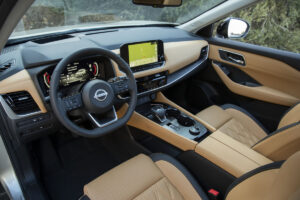 In a "Nissan Stories" feature last week the OEM shared the inner workings of its ProPILOT Assist feature through the eyes of two Rogue owners, Brittany and Jeff Tessmer, who are also Nissan engineers, a couple, and parents to three young children.
"You know that tension in your shoulders when driving – in traffic, for hours at night with small kids – and you just want to get to where you're going?" Brittany Tessmer told Nissan. "We wanted a vehicle with ProPILOT Assist that would make the drive more comfortable."
Nissan's ProPILOT advanced driver assistance system (ADAS) is offered in three levels — Assist, Assist with Navi-link, and Assist 2.0.
ProPILOT Assist is available on the following models:
ProPILOT Assist with Navi-link is available on the following models:
ProPILOT Assist 2.0 is available on the 2023 Nissan Ariya electric vehicle (EV) crossover.
Assist reacts to traffic patterns by slowing equipped vehicles down, and stopping if necessary. Then Assist will get the vehicle back up to speed to match traffic as it changes. It also uses cameras to recognize highway lane markers and keep the vehicle centered in the lane.
Assist Navi-link goes a step above to also use data from the vehicle's Door-to-Door Navigation System and proactively adjusts speed ahead of curves and freeway exits. The adjustments are based on data about the route entered into the vehicle's navigation system.
ProPILOT Assist and ProPILOT Assist with Navi-link require drivers to keep their hands on the steering wheel.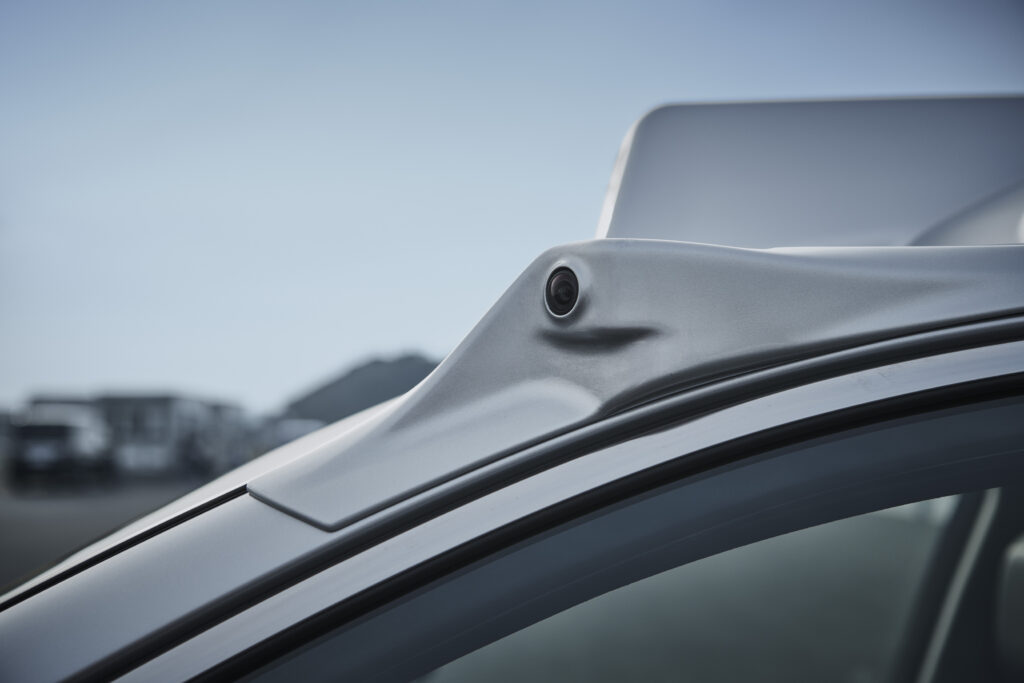 Assist 2.0, Nissan's most advanced ProPILOT level, is meant for long freeway driving and bumper-to-bumper freeway traffic. There are three different modes — Intelligent Cruise Control, Intelligent Cruise Control and Steering Assist, and Intelligent Cruise Control, Steering Assist, and Hands Off. Only the third doesn't require the driver to have their hands on the wheel, according to Nissan. Each mode is identified by a color — white, green and blue, respectively — on the instrument cluster:
Cameras, radars, and sensors located all across the vehicle act as the "eyes" of the system:
A tri-cam front camera located on the windshield detects lane markings on the road
A driver monitor camera on the inside monitors the "driver's focus on the road"
An Around-View Monitor camera is located on each outside rearview mirror, and on the front and back of the vehicle
Six front sonar units and six rear sonar units detect short-range obstacles
Four side radar units, two in the front and two in the rear on each side, detect vehicles in adjacent lanes
A front radar located in the grille measures the distance from vehicles ahead
An interactive graphic is available on Nissan's website that provides a visual view of where the cameras, radars, and sensors are located on the vehicles. The driver gets information from two displays: a head-up display (HUD) projected on the front windshield, and meter display on the instrument panel.
ProPILOT can also assist with parallel parking or backing into a space. ProPILOT park gives the vehicle driver assistance for steering, applying throttle, and selecting gears to park.
Just as vehicle diagnostic companies Repairify and AirPro Diagnostics recently shared with Repairer Driven News, and many in the collision repair industry have stressed, more and more ADAS features on vehicles make following OEM repair procedures absolutely essential. Pre- and post-scans, calibrations, and validations should be conducted on every vehicle during repairs — following every OEM guideline — to ensure the systems are working correctly for the safety of passengers if they were to be involved in another collision and for overall road safety.
Opus IVS ADAS Solutions Vice President Frank Terlep told RDN "if an ADAS-equipped vehicle is NOT properly repaired, calibrated, and validated the vehicle may accelerate when it's not supposed to, it may not brake when it is supposed to or brake when it's not supposed to and finally an ADAS equipped vehicle may over or under compensate steering controls."
"As vehicles become more connected to other vehicles and infrastructure proper repairs, calibrations and validation become even more critical to safe roadways," he said.
In November 2022, the Partnership for Analytics Research in Traffic Safety (PARTS) released results about the real-world effectiveness of ADAS in passenger vehicles, which show that "vehicles equipped with active intervention technologies that help drivers stay in their lane, such as lane keeping assistance and lane centering assistance, are effective in reducing single-vehicle crashes that lead to serious injury" and "vehicles equipped with forward collision warning and automatic emergency braking reduced front-to-rear crashes by approximately half."
Automatic emergency braking (AEB) was also found to "perform well in all conditions, even when roadway, weather, and lighting conditions are not ideal."
For the study, automobile manufacturers submitted vehicle data from approximately 47 million vehicles, including 93 different vehicle models from 2015 to 2020. The National Highway Traffic Safety Administration (NHTSA) supplied data from more than 12 million police-reported crashes, involving 21.7 million vehicles in 13 states, to facilitate analysis. Nissan participated in the study.
"It's a really neat feeling the first time you take your hands off the wheel, your foot off the pedal, with cars surrounding you on the highway, and you feel your car stay in the lane around a corner while keeping a safe distance from the car in front of you," Brittany Tessmer said. "As a busy engineer, and more importantly, a mom — I know we can all use a little help managing work and home life. Whether it's a new type of sippy cup, a quick recipe that everyone likes, or a technology that helps you enjoy a family vacation, it's much appreciated when someone,  or your car, – offers you a helping hand."
Images
Featured image: 2022 Nissan Rogue interior. (Credit: Nissan)
ProPILOT Concept Zero test vehicle avoidance sensor, April 24, 2022. (Credit: Nissan)
Photo of Tessmers (Provided by Tessmers/Nissan)
More information
Share This: