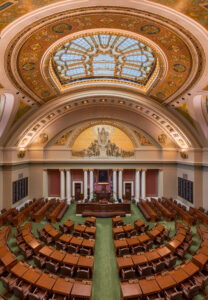 Police could track stolen cars with GPS under proposed Minnesota bill
By on
Announcements
A Minnesota bill working its way through the state legislature would give police authority to attach tracking devices to stolen vehicles without the owner's permission.
Bill HF 686, introduced by Rep. Kelly Moller (DFL-Shoreview) would allow officers to track stolen cars for up to 24 hours, or until they are recovered.
It would amend existing legislation that requires police to obtain the vehicle owner's consent before tracking it. If the bill is passed, the car would only have to be reported stolen for officers to electronically follow it.
Speaking in support of the bill during a recent house committee meeting, Ramsey County Undersheriff Mike Martin said the legislation would allow law enforcement to use new tricks and technologies to keep tabs on nabbed vehicles.
He told lawmakers of advances that allow police to shoot a Nerf-type gun at a fleeing vehicle. The dart affixes a sticky GPS tracker to its target. Another device, that resembles a hockey puck, can be tossed into the bed of a pickup truck.
Police can also tap contact automakers to gain access to the coordinates of stolen cars equipped with onboard tracking systems.
"Over the last five to 10 years, we've seen a real development in the way we've been able to track vehicles," Martin told the House Public Safety, Finance and Policy Committee. "[With these new tools], we're not involved in a reckless chase or a chase that endangers the public."
Moller said she wrote the bill in response to a rise in carjacking in the state.
It's a trend being observed nationwide, with a recently-released Council on Criminal Justice report revealing that vehicle thefts and carjackings have skyrocketed in 30 major U.S. cities since the pandemic took hold.
"There have been a number of situations in Minnesota where somebody has stolen a car, and then they flee from police and it puts the people on the road at danger, it endangers law enforcement, and it endangers those who have stolen the car," Moller said. "We want law enforcement to be able to use these devices solely to be able to stop this car when it is safe to do so."
Allowing police to use GPS to track stolen cars is not an unfamiliar concept in the U.S.
In Cook County, Illinois, drivers can preemptively sign a consent form that would give police permission to track their car in the event it is stolen. In Washington, some officers are using deployable GPS trackers on stolen vehicles, and using a StarChase system to remotely follow the stolen vehicle, KOMO-TV reported.
Meantime, Washington legislators are trying to give police more authority after the state, in 2021, imposed some of the nation's strictest restrictions on how police can pursue stolen vehicles. Under that law, officers can only give chase if they believe the driver committed a violent or sexual assault, is driving under the influence, or poses safety risks for others.
Proposed new legislation, HB 1363, would amend the rules and give police authority to pursue stolen cars if they had reasonable suspicion to believe a crime had occurred.
An increase in theft recoveries means a greater likelihood stolen vehicles find their way into collision repair facilities. Placing collision repair operators at the front lines of determining the extent and types of damage can come with an increased responsibility to mitigate risks.
Denver-area repair shop owner Robert Grieve previously spoke to Repairer Driven News about the challenges stolen cars pose for those tasked with fixing them.
When a recovered car is towed to Nylund's Collision Center, it sits on the lot until it can be inspected for drugs and paraphernalia. It's a task Grieve relegates to a third-party biohazard cleaning company whose professionals arrive at his shop in hazmat suits to inspect and test the recovered vehicle.
Of particular concern are traces of fentanyl, which can be deadly with even small amounts of exposure. In about 90% of cases, he said drugs are found.
Testing determines whether the amount is too significant to clean without future risk to the car's occupants; if so, the car is written off.
"In the end, most of the vehicles end up being a total loss," Grieve said. "There are thresholds that it's allowed to be. So the team comes in and they swab a whole bunch of areas on the inside of the vehicle, including the trunk, and the swabs go to a testing facility. If they come back with certain levels of meth or fentanyl, the car gets totaled. And that's what happens in most cases."
Used needles are another area of concern as they can slide between seats and become difficult to see, Grieve said. The crew he hires to sweep the recovered vehicles in his lot also looks out for used paraphernalia that could be a danger to techs making repairs.
"Our techs are not touching those cars until we know that they're clean," he said. "It might seem over the top, but we put safety first."
IMAGE
Featured image: House of Representatives Chamber in the Minnesota State Capitol. (Credit: gnagel/iStock)
Share This: