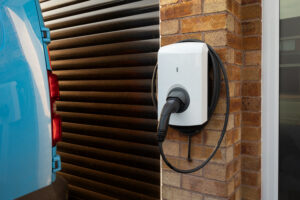 A pair of new bills introduced in Illinois would require new homes and housing complexes in the state to include electric vehicle (EV) parking stalls for each dwelling.
The Electric Vehicle Charging AC, SB0040, would require new builds or renovated apartment buildings with parking spaces to have at least one EV-capable stall for each residential unit with dedicated parking. An EV-capable space is one that has the electrical panel capacity and cunduit installed during construction to support future EV charging stations.
Sen.Sara Feigenholtz (D-Chicago) said she introduced the bill as a response to constituent demand.
"Illinois is on the cutting edge of electric vehicle manufacturing, incentives and infrastructure," she told Repairer Driven News. "Legislative offices are receiving comments and inquiries from their constituents who are in the market to purchase electric vehicles. Their biggest concern is the availability of charging stations. This bill is an effort to respond to those concerns and move the process of EV access to charging stations forward in new buildings. This is one step legislatures are grappling with to carve a path forward in order to reduce vehicle emissions and combat climate change.
"In order to incentivize people to purchase and drive electric vehicles, we have to address access to EV charging availability. That is what this bill is beginning to address."
A second bill, HB2206, seeks to mandate new residential buildings to include garages with enough electricity generating capacity to charge an EV.
Illinois is on a mission to bring more EVs with its roadways. Through its Reimaging Energy and Vehicles in Illinois Act, it's incentivizing manufacturers in the clean jobs economy to support the EV and renewable supply chains. The state's goal is to achieve 100% clean energy by 2050 and have 1 million EVs on its roads by 2030.
While the proposed legislation plans for the increased goal, it doesn't sit well with everyone, with a Home Builders Association of Illinois member saying it will only exacerbate the affordable housing crisis.
"This is a mandate with no funding behind it, a mandate that every new house, single-family duplex, then it gets into the multi-family, would have to have electric car charging stations," Graven told a local news outlet. "For every $1,000 price increase on a home, you knock out 6,000 buyers."
He said the other issue is that not all charges are universal, with some requiring different voltages.
"You're looking at a substantial cost increase between a 110 outlet and a 220 outlet," Graven said. "You are even asking for more power to come into the house."
Nationwide, EV charging stations are set to become more readily available with President Joe Biden announcing plans to make recharging a car as simple as topping off at a gas station.
Biden's Bipartisan Infrastructure Law will invest $7.5 billion in EV charging and more than $7 billion in EV battery components to bring charging stations to communities throughout the country.
"This is a major step toward a world where every EV user will be able to find safe, reliable charging stations anywhere in the country," said U.S. Transportation Secretary Pete Buttigieg. "We're establishing common, universal standards for EV charging stations just like the ones for gas stations so that recharging an EV away from home will be as predictable and accessible as filling up a gas tank."
Ryan Mandell, whose employer Mitchell International recently released its first  quarterly "Plugged-In: EV Collision Insights", said news of an EV infrastructure boost couldn't come at a better time.
"We started seeing the data… mature a lot more and seeing a wider variety of EV models that were coming into the marketplace," Mandell, Mitchell's director of claims performance, said of Q4 2022 results. "We felt this was a great opportunity at the start of the year to really say, 'Listen, this is a trend that is not going away. This is something where we feel this is important for repairers and insurers; both in terms of understanding the impact that this new propulsion type is going to have on the industry and now seeing that it's picked up traction.'"
The timing of the new report also coincides with Mitchell's development of "forward-looking" software to be compatible with EV estimate writing, he added.
Some local governments are pushing back on EV infrastructure rules, with a group of Missouri state representatives working to ban local governments from mandating EV charging stations at others' expense.
Republican Rep. Jim Murphy's Bill HB 184, which would require governments to foot the bill for publicly-mandated EV charging stations, garnered support when brought to a state subcommittee.
Murphy introduced the bill last December in response to a St. Louis City County mandate that requires new businesses, or those undergoing major construction, to install EV charging stations at lots with more than 30 parking stalls. Restaurants, schools, and hospitals are exempt, as are small businesses whose customers park for a short period of time.
It requires non-exempt businesses with more than 30 parking stalls to dedicate 10% of their lot to recharging stations, with businesses on the hook for installation costs. Restaurants, schools, and hospitals are exempt, as are small businesses whose customers park for a short period of time. Repair shops with more than 30 parking stalls would be required to include EV stalls if they underwent a major renovation or constructed a new facility.
Rep. Darrin Chappel (R-Greene County), who supports the bill, said it would be unreasonable to assume the infrastructure being installed to recharge EVs today will remain the same as the auto industry continues to evolve.
"We buy new cell phones, they've taught us not to trust that your charger is going to work on your next phone that you purchase," he said. "You have to purchase a new charger as well as a new cord and everything else under the sun. Within the technological realm in which we're dealing, it seems to me rather presumptuous, not only to assume that electric vehicles will be the future but that this version will be the future."'
IMAGE
Featured image: Close-up of a type C domestic electric vehicle charging unit installed on the wall of a house. (Credit: ChrisHepburn/iStock)
Share This: