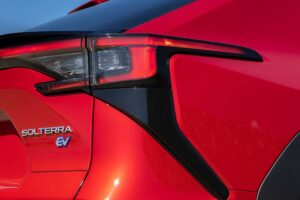 The National Highway Traffic Safety Administration (NHTSA), on behalf of Subaru, has issued a second recall on improperly repaired 2023 Solterras and recommends they immediately be taken off the road.
The recall affects 1,182 Solterra electric vehicles (EVs) that Subaru says were included in an earlier recall that required the replacement of original hub bolts. In June, the OEM issued a recall for the same issue on 403 Solterras of the same model year in the U.S. At that time Subaru said wheel hub bolts "can loosen to the point where the wheel can detach from the vehicle," even after low-mileage use.
"Subaru identified an issue with vehicles repaired at two port locations by one particular team of contractors," the OEM said in a news release. "The teams did not properly complete the repair procedure resulting in the potential for significantly under-torqued bolts. Out of an abundance of caution, Subaru is recalling all vehicles repaired at all port locations supported by the third-party contractor. Vehicles without the original hub bolt concern and vehicles repaired at other facilities are not affected."
Vehicles without the original hub bolt concern and vehicles repaired at other facilities are not affected, according to the recall notice.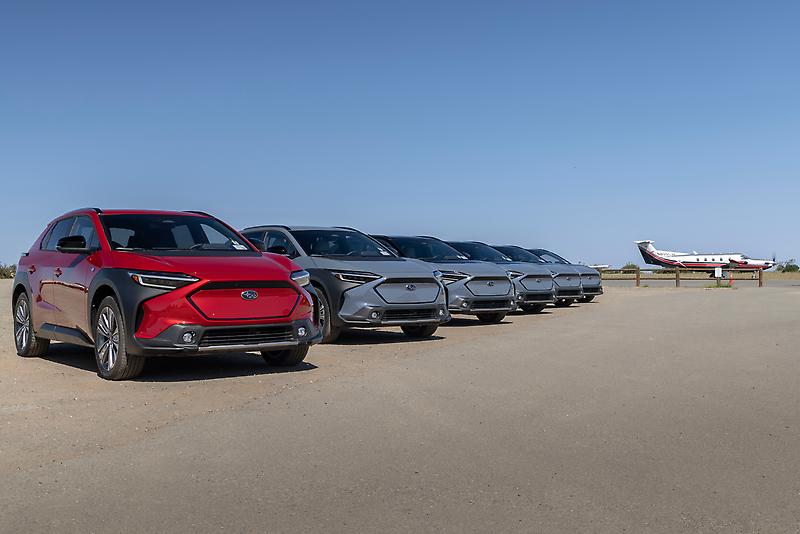 Toyota issued the same recall in June on 258 model year 2023 bZ4X vehicles. Another recall hasn't been issued on the 2023 bZ4X since by Toyota.
A technical report was issued for a Solterra after it was discovered during a pre-delivery inspection that there were "significantly loose bolts on the left front and left rear wheels," the recall notice states. Subaru says it immediately began investigating the vehicle repair history on Jan. 19 and by Feb. 3 confirmed the vehicle was repaired at a specific port in California by a third-party contractor.
"Subaru's investigation included torque inspection for vehicles repaired at all port operations, confirmation of torque wrench calibration used during port facility repairs, and interviewing of technicians regarding the repair procedure followed at each port location," the notice states. "The investigation confirmed there were no concerns with the torque wrenches used for these repairs. Torque inspections found additional occurrences at the original port and one other port. All occurrences found were from the same third-party contractor team.
As of Feb. 10, no warranty claims had been made related to the recall and Subaru had not received any reports of related crashes or injuries.
To remedy the recalled Solterras, Subaru said retailers will inspect the hub bolts and, if necessary, re-torque to the specification at no cost to the customer.
The Solterra owner's manual states the bolts should be tightened at 103 lb-ft of torque and shouldn't be tightened more than two or three times in the order shown in an illustration provided using a wheel bolt wrench. Excessive tightening could damage the wheel bolts, threads of the wheel hub, or the wheel, according to the owner's manual. Repairers that fix any of the recalled Solterras, or during collision repairs, should be aware that according to the owner's manual a guide pin should be used when removing or installing the tires. Also, when replacing tires, the power back door system should be canceled to avoid the back door to operate unintentionally if the power back door switch is touched.
"To ensure the quality and longevity of a repair, we always recommend that vehicle repairers working on Subaru vehicles follow our repair procedures and use genuine replacement parts," said Subaru of America Product Public Relations Manager Todd Hill.
It should be noted that when it comes to sublet services, collision repair shops need to make sure vendors are properly insured to mitigate risk if something goes wrong. Ultimately, the shop rather than the subcontractor would be liable for any damages or crashes related to improper or incomplete repairs so vendors should be thought of as shop employees when it comes to liability.
Under the Solterra recall, Subaru says it will pay for the vehicles to be towed to one of its OEM retailers for an inspection since they shouldn't be driven due to the risk of wheels coming off.
Vehicle owners will be contacted by mail. Owners and collision repairers can check to see if Solterras they own or have in their shop are affected by visiting subaru.com/recalls or NHTSA.gov/recalls. Subaru's Vehicle Safety Hotline is also available Monday-Friday from 8 a.m. to 8 p.m. EST at 888-327-4236.
Images
Featured image and secondary image: 2023 Subaru Solterra EVs (Credit: Subaru) 
More information
Share This: