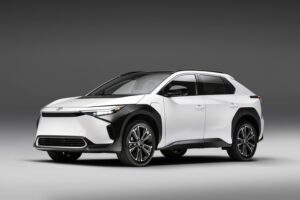 Toyota has issued a safety recall on 258 model year 2023 bZ4X vehicles and 403 Subaru Solterras in the U.S. because wheel hub bolts "can loosen to the point where the wheel can detach from the vehicle," even after low-mileage use.
"The cause of the issue and the driving patterns under which this issue could occur are still under investigation," Toyota said in a news release."No one should drive these vehicles until the remedy is performed."
Repair of the issue is not available yet and until one is Toyota is offering free loaner vehicles to owners through its authorized dealers.
After receiving two reports of the left front wheel coming off and one report of loosened hub bolts, Toyota reviewed its assembly plant production processes and didn't find any abnormalities so a driving test was conducted using mass production wheels and hub bolts that were tightened to specification, according to Toyota's defect information report filed with The National Highway Traffic Safety Administration (NHTSA).
"The testing showed that the hub bolts loosened under certain severe driving patterns," the report states.
Kelley Blue Book reports that the bZ4X and Solterra share almost all of their parts and are built in the same Toyota-owned factory. Toyota told Reuters last week that "not every car of this model was subject to the recall but declined to say how many it had built overall."
The bZ4X is the first Toyota vehicle that was launched under the global bZ, or "Beyond Zero," BEV series. The OEM plans to sell around 70 electrified models worldwide by 2025 including 15 dedicated BEVs with seven of them carrying the bZ brand moniker, according to an April Toyota news release.
Toyota's TIS document on the bZ4X tire and wheel installation, last updated June 16, says if incompatible axle hub bolts are used, the spherical axle hub bolt seat of the wheel assembly may be damaged resulting in loosening or loss of one or more bolts even when tightened to the specified torque. It also states that if foreign matter or rust is present, the bolts could loosen and/or come off.
It's safe to presume that if the TIS document isn't followed the liability for such an incident could shift, which is something repair facilities need to be cognizant of.
The recalls bring attention to the importance of proper torquing to OEM specifications. In an episode of Nylund's Collision Center's "The Airing of GRIEVEances" vodcast with owner Rob Grieve, Grieve talks about and demonstrated the importance of using a torque wrench to ensure bolts are torqued to OEM specifications. The torque wrench is set by the repairer to the exact foot-pounds the lugnuts should be torqued at, which varies by vehicle.
"It's not our guess and it's not our right to guess," Grieve said. "And you should accept somebody's opinion on torquing bolts. Torquing bolts, you may not think it's a big deal if a fender bolt is exactly perfect but you want your wheel lugnuts, I'm pretty sure, to be exactly perfect and the structural piece that protects you in a crash that's called a rebar that's behind the bumper – there's torque specs on those bolts. You don't want them too loose or too tight. Too tight, it could actually snap the bolt, and if it's too loose, naturally, it could come loose. …If they're torqued the way they should be, it's going to operate as designed."
Proper torquing is also critical for suspension, hood bolts, door hinges, and more, he added.
To see if your vehicle is involved in a safety recall visit Toyota.com/recall or nhtsa.gov/recalls and enter your VIN or license plate information.
IMAGES
Featured image: 2023 Toyota bZ4X Limited (Provided by Toyota)
Share This: