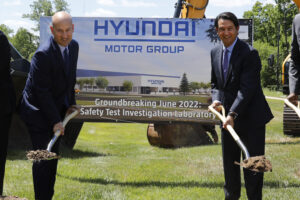 Hyundai has broken ground on a $51.6 million expansion project for a new Safety Test and Investigation Laboratory (STIL) dedicated to identifying issues in the field and preventing crashes.
The laboratory is expected to be operational in the fall of 2023, and will employ 160 people, Hyundai said. The site is located in Superior Township, Michigan, about 40 miles west of Detroit.
"Safety is the top priority at Hyundai and is embedded throughout the entire organization," José Muñoz, president and chief operating officer, Hyundai Motor Company, said in a statement. "We excel in third-party crash testing and ratings, and we strive to be a leader in equipping our vehicles with the latest safety features. The new laboratory will enable us to even more effectively protect our customers and enhance our world-class safety organization."
The facility will further augment Hyundai's existing safety testing and analysis capabilities. It will feature a field crash investigation lab, high voltage battery lab, forensics lab, 500m track and a Vehicle Dynamics Area pad. Potentially, the facility could generate new information related to the safe and proper repair of Hyundai and Kia vehicles.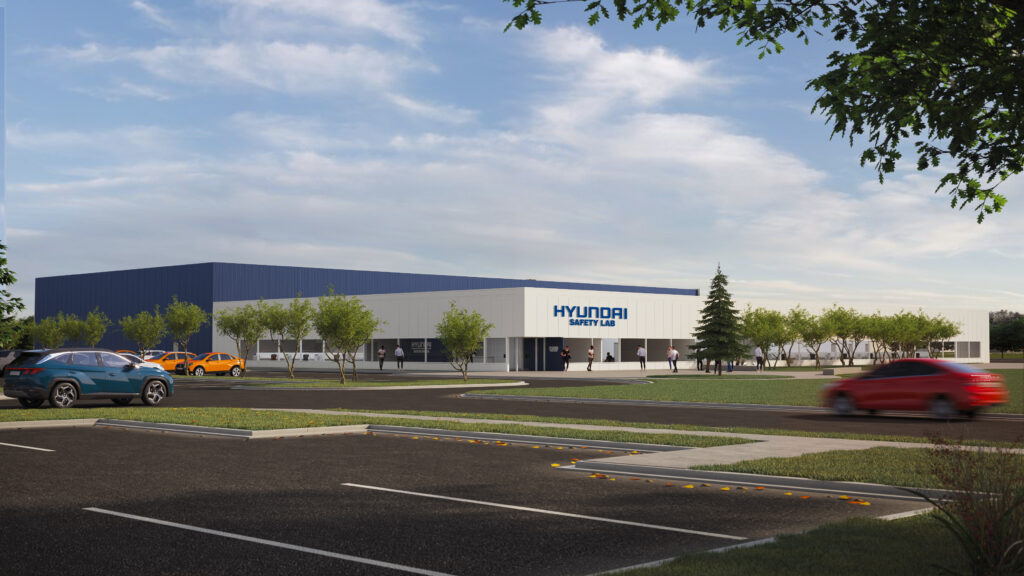 Brian Latouf, chief safety officer for Hyundai Motor North America, previously said that the new laboratory would include an outdoor crash test facility and a high-speed test track, and would give engineers "the ability to take cars from the field, to tear them down to understand their behavior, and to improve on it."
"This investment by Hyundai is critically important not only to Southeast Michigan, but to our entire country," U.S. Rep. Debbie Dingell (MI-12) said in a statement. "Traffic fatalities are at an all-time high in our nation, and each of us from elected officials to auto makers have a role to play in addressing this urgent, preventable crisis. This new Safety Test and Investigation Laboratory will save lives, and I applaud Hyundai for their commitment to keeping passengers safe."
As Repairer Driven News previously reported, Hyundai agreed to build the lab to comply with a 2020 National Highway Traffic Safety Administration (NHTSA) consent order, after NHTSA determined that Hyundai and Kia had moved too slowly in recalling more than 1.6 million vehicles equipped with engines that were prone to seizing. NHTSA also faulted Hyundai for inaccurately reporting certain information about the recalls to the agency.
The order required Hyundai to "build and develop a fully-functioning United States-based outdoor test laboratory and vehicle tear down facilities. The test laboratory will focus on safety field issues, vehicle inspections, and defect investigations."
The consent order also required the OEM to invest in "advanced data analytics capabilities" to improve its ability to detect and study safety-related problems with its vehicles.
In all, Hyundai and Kia were ordered to pay combined penalties of $210 million. The OEM noted that its investment in the lab was more than twice that required under the consent order.
"Hyundai's cutting-edge Safety Test and Investigation Laboratory will create good-paying, high-skilled jobs right here in Michigan," said Lt. Gov. Garlin Gilchrist II. "Michigan put the world on wheels, and I am grateful for Hyundai's partnership in building on that tradition with a $50 million investment in Superior Township."
IBI Group and BCCG have been selected for the architectural design and construction of the building expansion.
Images
Featured image: Brian Latouf, left, chief safety officer, Hyundai Motor North America, and José Muñoz, president and chief operating officer, Hyundai Motor Company, help break ground for the new facility.
Rendering image of Hyundai's future Safety Lab in Superior Township, Mich., June 8, 2022. (Provided by Hyundai)
Share This:
Related