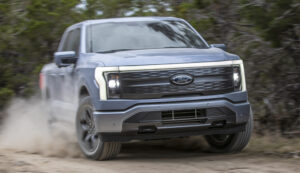 Ford says sustainability reason new leasees can no longer purchase EVs at term end
By on
Announcements
Ford confirmed to Repairer Driven News on Tuesday that customers who leased an F-150 Lightning, Mustang Mach-E, or E-Transit Van electric vehicle on or after June 15 of this year won't be allowed to purchase at the end of their lease terms.
"Customers will be able to return the vehicle at lease end and renew into a new vehicle, or they may return the vehicle at the end of the lease," said Ford Credit Communications spokesperson Margaret Mellott. "Ford wants to make electric vehicles more sustainable, drive down the cost for batteries, and ultimately help make electric vehicles accessible and affordable for more Americans. Ford's battery strategy includes recycling and localizing battery production, and Ford Credit's plan for EV leasing enables customers to replace their vehicles with the newest model at lease end while keeping the vehicle in the Ford network longer so Ford can better manage battery recycling and materials."
Mellot didn't confirm if a bulletin shared by Cars Direct was sent to Ford dealers when RDN asked for a copy of it. The bulletin reportedly states the following, according to Cars Direct: "In order to prevent the re-sale of 22MYf150 Lightning, Ford is offering support for a No-Sale Provision to be signed by the customer at the time of purchase. Dealers may add this language to existing closing forms or create a new standalone document: Purchaser hereby agrees that it will not sell, offer to sell, or otherwise transfer any ownership interest in the Vehicle prior to the first anniversary of the date hereof. Purchaser further agrees that Seller may seek injunctive relief to prevent the transfer of title of the Vehicle or demand payment from Purchaser of all value received as consideration for the sale or transfer."
Cars Direct also quotes an unnamed Ford spokesperson as saying that dealers requested guidance from the OEM on allowing customers to "hold on to their vehicle for one year from purchase."
"It is up to dealers to work through local state laws should they decide to implement something between the dealer and the customer," the spokesperson told Cars Direct.
Ford's new lease practice is similar to Tesla's, which also changed its end-of-lease terms effective earlier this year. According to the OEM's website, vehicles leased before April 15, 2022 may be eligible for purchase but those leased on or after April 15 aren't eligible. Other options are to extend the lease, upgrade to a new Tesla, or return it.
"Tesla products get better over time with over-the-air software updates and our newest cars come with all our latest options—including faster acceleration, longer range, dual motor all-wheel drive and enhanced interior styling," the website states.
Other news this week regarding the Ford F-150 Lightning, according to Reuters, is a recall of about 2,900 of the EVs over a software issue that can lead to drivers not being warned about low tire pressure. Ford hasn't published a recall statement on its website nor has the National Highway Traffic Safety Administration (NHTSA). RDN asked Ford to confirm the recall but didn't receive a response back by the publication deadline.
The fix for the issue will be an over-the-air (OTA) body control module software update within 30 days for current customers. Dealers can also complete the 20-minute update for undelivered vehicles and customers who want the remedy immediately, according to Reuters.
IMAGES
Featured image: F-150 Lightning Lariat (Provided by Ford)
Share This: