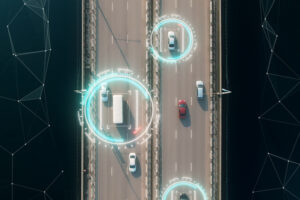 Five years since the launch of the LexisNexis Telematics Exchange, 42% of the U.S. auto insurance market is contracted or currently contracting for access, including five of the top 10 carriers based on market share, LexisNexis told Repairer Driven News.
The Telematics Exchange has amassed data from more than 9 million connected cars, 252 billion driving miles, and the equivalent of 19.5 million years of driving exposure, the company said. It said that more than 60% of the OEM market is now engaged and expected to be integrated with data available for insurers by the end of 2022.
LexisNexis describes the Exchange as "a source-agnostic platform for telematics-based driving behavior data and vehicle insights that has the ability to bring insurance carriers together with automotive manufacturers (OEMs) and other third-party telematics service providers to help improve the car ownership experience for their shared consumer."
Like other service providers, LexisNexis is tapping into the explosion in vehicle connectivity. According to global technology intelligence firm ABI Research, connectivity will be available in over half of new vehicles sold in 2022, and more than 70% in 2028.
"The significant milestone for the LexisNexis Telematics Exchange is the value that it brings to contributing organizations that want to help lower the total cost of vehicle ownership, and to insurers who leverage its solutions for better segmentation, risk assessment and an overall experience for consumers," Adam Hudson, vice president and general manager, U.S. Connected Car, LexisNexis Risk Solutions, said in a statement.
"Ultimately, the goal is to provide solutions that allow vehicle owners to gain greater access to more personalized auto insurance products based on their individual needs," Hudson said.
The primary benefit of the Telematics Exchange for the consumer, an unnamed company spokesperson told RDN, lies in participating in usage-based insurance (UBI) programs that tie their premiums to their driving behavior. "Our 2021 U.S. Consumer Survey indicated 71% of consumers are interested in using their driving and vehicle data for insurance discounts," the spokesperson said.
OEMs stand to benefit through the creation of additional "touchpoints" with their customers to improve service, build brand loyalty, and "capture additional value" from their telematics investments. According to ABI Research, consumer adoption of connected services is low, especially among lower-tier vehicles.
LexisNexis explained that consumers are offered the option of sharing their telematics data by OEMs or "other participating third-party telematics providers." Once they've opted in, "that data can flow into the exchange where it is normalized and made ready for use in insurance telematics solutions," the spokesperson said.
In the case of its Telematics OnDemand product, LexisNexis is considered a consumer reporting agency (CRA) in the eyes of the Federal Trade Commission, and is subject to certain requirements in the management of consumer driving behavior information managed within the Telematics Exchange, the company said.
Under the Fair Credit Reporting Act, 15 U.S.C. § 1681a(f), a CRA is defined as "any person which, for monetary fees, dues, or on a cooperative nonprofit basis, regularly engages in whole or in part in the practice of assembling or evaluating consumer credit information or other information on consumers for the purpose of furnishing consumer reports to third parties, and which uses any means or facility of interstate commerce for the purpose of preparing or furnishing consumer reports."
"With 30+ years of experience as a trusted custodian of consumer data, LexisNexis Risk Solutions helps to ensure transparency, accuracy and privacy protections in alignment with regulations such as the Fair Credit Reporting Act (FCRA) guidelines," the spokesperson said.
Telematics OnDemand, added since the launch of the Telematics Exchange, is designed to deliver normalized driving behavior data collected from OEMs, mobile apps and third-party services that participate in the Exchange, LexisNexis said. It gives insurers a single access point for telematics data that can be used to assess risk at point of quote, underwriting, and renewal.
According to LexisNexis, Telematics OnDemand can be used within LexisNexis Auto Data Prefill, which is used by 89% of the insurance market to fill in insurance quotes and applications. It's also integrated with LexisNexis Telematics IntelliMatch, which can help insurers use telematics data to acquire new leads.
Data privacy
Concerns about the need to protect consumer data collection and privacy across nearly all sectors have led to legislative efforts such as the American Data Privacy and Protection Act (ADPPA), a bipartisan bill under consideration by Congress.
However, LexisNexis said it does not expect such bills to have an effect on its Exchange, since it's already governed by consumer protection regulations.
"Because connected car data changes from vehicle-based to consumer-based and is portable for consenting consumers, it prompts the necessary consent measures associated with the Fair Credit Reporting Act (FCRA)," the company spokesperson said.
"We are committed to our corporate Privacy Principles which require us to 'act as a responsible steward of personal information.' To that end we seek to embed privacy protections into the design of our products, services and business practices. And we only collect and use personal information for legitimate business purposes," the spokesperson said.
"We devote enormous resources and time to protecting consumers' privacy and their personal information. The importance of protecting consumer privacy and personal information is one our fundamental beliefs. It has driven and will continue to drive enhancements in how we secure information, protect privacy and provide solutions that benefit our customers and their customers, communities and society at large."
More information
Congress aims to protect PII, data privacy in new bipartisan bill
Ford to share drivers' data with insurers through LexisNexis
U.K. study finds 17% of young drivers concerned about security of telematics data
LexisNexis: Digital claims processes frustrate consumers; UBI adoption remains low
Images
Featured image: The LexisNexis Telematics Exchange has amassed data from more than 9 million connected cars, 252 billion driving miles, and the equivalent of 19.5 million years of driving exposure since its launch five years ago. (FlashMovie/iStock)
Share This: