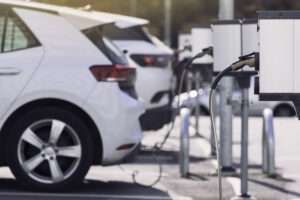 The Collision Industry Electronic Commerce Association (CIECA) has formed a new committee focused on the lifecycle of electric vehicles (EVs) and batteries within the collision industry.
Called the Electric Vehicle (EV) and Battery Committee,, it will bring together companies and industry stakeholders to discuss how EVs will change current business processes.
Committee co-chair Jake Rodenroth, Lucid's North American body repair program operations manager, said the goal of the committee is to align all stakeholders on market readiness.
"We want to ensure all entities of the industry are ready and understand the lifecycle of the EV, what they are working on and how to work on it," he said.
The challenges of bringing battery-powered EVs to market were reflected in the recent case of a Ford-150 Lightning equipped with a faulty battery that caught fire earlier this month.
Other OEMs have faced issues as well, with Chevrolet recalling all of its EV Bolts in 2021 due to fire risks. Last year, BMW issued a recall for certain 2022-2023 iX xDrive50, iX M60, 2022 i4 eDrive40, and i4 M50 vehicles warning that the high-voltage batteries might have internal damage that could cause a fire.
A shortage of critical EV battery components is another issue OEMs are facing as they work to bring more carbon-free vehicles into production.
Paulette Reed, CIECA's technical project manager, told Repairer Driven News that the committee will discuss how EVs will change current business workflows and data. It will identify new data sources, access, and more.
"The committee's main focus is looking at the lifecycle of the EV in the collision industry," she said. "This includes how we will identify an EV to make sure the repair facility it is towed to has the proper tools and charging stations to correctly and safely fix the vehicle [and] how parts will be located and salvaged."
The idea for the committee was born during a CIECA Recycled Parts and Inventory Committee meeting last year. Ginny Whealan, senior consultant for the Automotive Recyclers Association (ARA), chairs that committee and noticed questions continued to arise about recycled parts.
As the new committee's co-chair, Whelan will address the safe handling of EVs, the impact of parts and materials on the collision repair process, and the availability of charging stations.
She said she expects the committee to discuss EV battery issues, including manufacturing and battery strength, as well.
"Privacy and secure vehicle owner data will also be discussed," Whelan told RDN.
The committee's third co-chair Frank Phillips, Rivian's senior manager of certified collision in North America, said stakeholders will also focus on safety.
"I think the safety component is definitely something worth spotlighting and ensuring that the industry has a good understanding of," said Phillips. "We want the industry to have the proper knowledge and understand what it takes to repair these vehicles."
The committee's first meeting is March 1. Those interested in joining can click here.
Image
Featured image credit: Marcus Lindstrom/iStock
Share This: