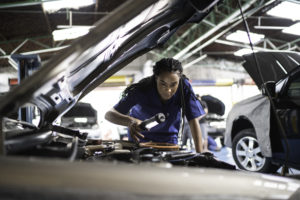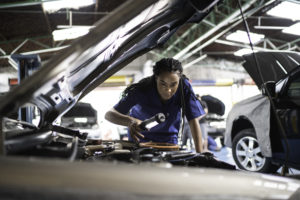 The Specialty Equipment Market Association (SEMA) is accepting scholarship and loan forgiveness applications to those interested in becoming an automotive professional.
Scholarships of up to $5,000 are open to U.S. college students or incoming freshmen who "demonstrate passion for the automotive hobby and career." Applicants must be at least 18 and pursuing a degree or certification that leads to a job in the auto industry.
To quality for SEMA's loan forgiveness program, applicants must be employed by a SEMA member business and have a passion for the industry. They must also have graduated from a college, university or tech school and have at least $2,000 in student loans.
"Scholarships and loan forgiveness awards are an investment in the future of our industry," said Zane Clark, SEMA's vice president of membership, education, research and councils. "I liken it to the Disney effect. Generation after generation, parents take their kids to Disneyland. Why? Because they want to recreate the experience they had as children.
"So, it's important for the association to create that experience by providing resources to help launch or further their careers. If students are passionate about a career in automotive, why wouldn't they want to take advantage of a SEMA scholarship? It's free money."
Jennifer Allen, a scholarship recipient from a previous year, said her mother was a mechanic and she's now following in her footsteps. She said being a SEMA winner gave her opportunities she might not otherwise have had.
"You get to see all these new companies, you get to see all their new products," she said. "You get to go out and introduce yourself and make new connections."
The scholarships are being offered as the industry faces a mass shortage of skilled workers.
More than 113,000 entry-level collision technicians will be needed between now and 2026, according to TechForce Foundation's 2022 Transportation Technician Supply & Demand Report.
During one of three OEM Collision Repair Technology Summit sessions held by the Society of Collision Repair Specialists (SCRS) on Thursday, TechForce Executive Director/CEO Jennifer Maher said 232,000 techs were needed in 2021 across automotive, diesel, and collision but schools were only graduating 42,000.
"When we look at collision only, it's 35,000 techs," she said. "New entrants are needed each year just to keep up with demand but schools are only graduating 4,500. So, I mean, the pond is dry. …it has to be a collaboration between industry nonprofits, education, kind of coming together and saying, we need to invest in this."
Clark said he's hoping initiatives such as SEMA's will inspire more young talent to join the industry.
"Of course, it's imperative that we encourage young people to become automotive technicians," he said. "Apart from being a potentially lucrative career financially, given today's rapidly evolving vehicle technologies, it can be highly rewarding in that it requires a high degree of skill and technical know-how.
"To fill the thousands of technician jobs now available and in the future, will, in my opinion, take a collaborative, industry-wide effort to not just provide the necessary resources, but to also position and brand the role of the automotive technician as a viable, valued and respected career pathway."
Last year, 119 people pursuing careers in collision repair and other segments of the auto industry received SEMA scholarships.
Winners included 103 students who received scholarships ranging from $1,000 to $5,000, and 16 employees of SEMA member companies who received loan forgiveness awards to help pay off student loans.
A total of $297,250 was awarded, making the average award nearly $2,500.
The scholarship program in its current form was established in 1984 to help support the future of the aftermarket industry.
Since then, more than $3 million in awards have been made.
"There are many career tracks and opportunities in the automotive industry," Chris Standifer, SEMA manager of recognition programs, told Repairer Driven News last year. "We're here to support students from all majors. Winners go on to pursue a variety of careers; the common denominator is their love for automobiles."
Standifer explained to RDN that the scholarship application period begins in January, and stays open through March.
"Once they have submitted an application, they are judged by industry leaders, and scholarship winners are decided on criteria that mostly revolves around their passion for the automotive industry. After that, scholarship winners are invited to attend the SEMA Show to meet with and network with peers and industry leaders," he said.
SEMA is accepting applications until March 1. To learn more about how to apply, click here.
IMAGE
Featured image: avid_creative/iStock
Share This: