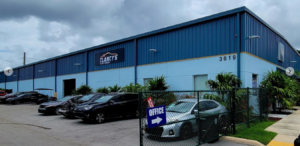 The powers of social media were recently harnessed to catapult a Florida repair shop to fame.
Clancy's Auto Body in Oakland Park became an overnight sensation after its newly-hired social media coordinator posted a string of lighthearted videos on its TikTok page.
The first clip featured a giant cat dancing atop the shop's roof, paired with the caption: "Guys, I lied on my resume and got a job doing the social media of this body shop, please blow this up so I don't get fired."
Within weeks, the social media manager amassed more than 60 million views. One hilarious snip shows the shop's overwhelmed boss on the phone with Google to have reviews taken down, while another shows the new hire massaging a technician's beard after winning a wager.
With billions of people using social media worldwide, Clancy's Auto Body is a case study in how a clever marketing strategy can turn an unknown brand or business into a household name.
It demonstrates how, through social media, shops can create an online brand that translates into increased revenue and a higher customer base. Repairers can also use social media to provide services to customers, as the Society of Collision Repair Specialists does on its YouTube channel.
Joel Velazquez, the man behind Clancy's social media strategy, said the trick to building an online following is to create authentic content that people can relate to.
"People are tired of seeing the whole influencer charade where everything's perfect; they have a perfect house, they have a perfect background," Velazquez told Repairer Driven News. "People now familiarize themselves more with authenticity. People see themselves more with the layman rather than the influencer, you know?"
He said that while a heavy social media presence isn't always necessary for established auto repair shops with a strong reputation, it can be a game changer for new businesses.
"I think it's super important for businesses that are starting up," he said. "Social media can literally make it or break it. But for a business like Clancy's, that is actually very well established in a community, it's not really necessary."
Through TikTok, Clancy's audience is also introduced to a stray cat named Tom who frequents the shop for treats.
The shop has more than 200,000 followers and 8.1 million likes, with fanfare spilling onto other social media forums as well.
"Love cars and cats? This is the place for all your auto body needs and cute cats," one reviewer wrote on Yelp. "Plus beards! They have beards too, you can always trust men with beards to fix your cars. Am I right fellas or am I right?" ‍
There's no doubt that Clancy's social media blitz helped give it more exposure, with shop owner Hooman Rafiee saying he wasn't expecting the account to "blow up."
"It's too early to tell if it's translating to more clients, but we do get calls from people who live in the area that we are their choice if they ever need car work," Rafiee told the South Florida Sun-Sentinel.
He said he's now planning to expand his shop's social media presence through Instagram and YouTube, where he might post educational videos on car repairs.
"We just want to engage the younger audience and we want to put out to regular people that not every body shop is the same," Rafiee said. "We want to put out that there is an auto body shop that is willing to be helpful and give you the right information."
IMAGES:
Featured image: Clancy's Auto Body Repair in Oakland Park, Florida (Yelp)
Share This:
Related