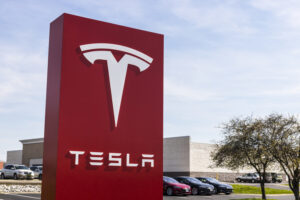 Tesla has recalled 3,470 Model Y SUVs believed to be equipped with unsecured passenger seat bolts that could impact safety in the event of a crash, the National Highway Traffic Safety Administration (NHTSA) said.
NHTSA's safety report said that second rows on Model Ys are typically secured to the lower frame using four bolts per seat back. However, during production seat frames for certain 2022 and 2023 vehicles, "one or more of the bolts that secure the seat back frames to the lower seat frame may not have been torqued to specifications."
"The second-row seat belt system loads go through the lower seat frame," the NHTSA said.
"If the bolts that secure the frame to the seat backs are not torqued to specifications, the seat belt system may not perform as designed in a collision, which may increase the risk of an injury for occupants seated in affected second-row seating positions."
Tesla's Model Y collision repair procedures manual did not specify the recommended torque value for tightening or replacing passenger row seat reinforcements.
However, repair experts have previously spoken out about the importance of following proper procedures when fastening bolts.
Seat bolts are critical to passenger safety in the event of an accident and are among the parts that should be inspected, and replaced if damaged, following a collision. Tesla's repair manual, available for free online, offers direction on what technicians should inspect post-crash. This includes inspecting:
"The harnesses and harness connectors that connect to all deployed airbags, pretensioners, and to all damaged components;"
"All seats and seat belts for visible deformation or signs of wear on the webbing;"
"All seats, seat belts, and retractors with pretensioners for visible signs of deformation or signs of wear."
All damaged components should be replaced, Tesla said, adding that repairers should pay special attention to the D-ring when inspecting the seat belt system.
"Inspect all seat belt anchor points for damage," it said. "Check for tears, bends, dents, fastener damage, or mount point damage. Assess fixing this damage before replacing any sort of seat belt component."
Tesla said it became aware of the unsecured bolt issue last December when an employee at its Fremont, California factory discovered a seat back bolt that secured a Model Y's driver's-side backseat was not torqued to specification.
"Tesla conducted an investigation to identify a root cause, including which bolts in which seat back frame(s) were impacted," NHTSA said. "Tesla also began a review of manufacturing records to identify a potentially affected vehicle population."
From Jan. 30 through Feb. 13, the OEM conducted a risk assessment and, after completing its investigation and manufacturing records review, issued a recall for affected vehicles last month.
It said all Tesla stores and service centers would be alerted, and that affected owners would be notified by mail.
"At no cost to the customer, Tesla will inspect the bolts that secure the second-row driver-side and passenger-side seat back frames to the lower seat frames and, if necessary, retorque them to specifications," NHTSA said.
Images:
Featured image by jetcityimage/iStock
Share This: