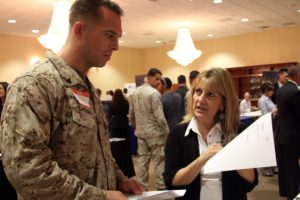 Kia has launched an apprenticeship program to help military veterans become qualified OEM technicians.
The year-long apprenticeship will pair Kia retailers with "highly trained and technically accomplished veterans," the automaker said in a press release. The OEM is rolling out the program in partnership with Education Resource Systems (ERS), a full-service training company.
"Kia is proud to provide highly specialized career opportunities to military veterans in conjunction with ERS and our nationwide network of retailers," said Greg Silvestri, vice president of service operations at Kia America. "We thank our veterans for their service and look forward to helping them leverage their skill set for civilian jobs."
Veterans have long been pegged as a solution to the ongoing auto technician shortage. Their strong communication skills, rigorous work ethic, and ability to work well under pressure are among the reasons listed by recruiters to hire such candidates.
Kia said its program was designed to support long-term success through:
Participation in a one-year competency-based apprenticeship leading to Kia Service Technician certification for eligible veterans
Access to tools, equipment, vehicles, and training needed to complete the apprenticeship and certification process
Potential full-time employment with a participating Kia retailer
With U.S. government approval, eligible veterans can also apply for and receive a monthly housing allowance during their apprenticeship, Kia added.
It isn't the first OEM to offer a training program specifically for veterans.
GM's 12-week program is a partnership between the U.S. Army, GM, and Vertex. Veterans train at Fort Hood, with 705 former soldiers graduating since its inception.
Last year, Repairer Driven News featured Retired Sgt. 1st Class Christopher Watters, who completed his World Class Certification through GM's program in September.
Watters served 21 years in the U.S. Army as a light-wheel mechanic. He told RDN he found Shifting Gears when he was researching jobs he could work after his military service ended.
"It was a great introduction to today's vehicles compared to what I was used to working on before I joined the military, so it kind of brought me up to speed on where we were at," Watters said. "That way when I got to my dealership, I just hit the ground with both feet running. I already had mechanical knowledge. This just prepared me to be able to come into these vehicles and take that next step and get that hands-on [knowledge] going into it and knowing what I'm doing with them.
"I didn't have to worry as much as I see veterans coming in that didn't go through this program trying to get into this [work] struggling because they don't know what they're getting into. They just say, 'Oh, I wanna be a mechanic today.' They step into this world and they're just struggling because they don't have the background, the training."
For more information about Kia's program, visit www.kiavets.com
Images:
Terry Coulson of Granite Construction, right, discusses careers with Josh Lasure at a Hiring Our Heroes job fair at Camp Pendleton on Sept. 19, 2013. (Marine Cpl. Brianna Christensen)
Share This: