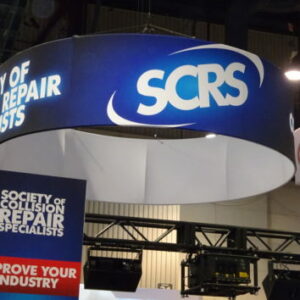 During the Society of Collision Repair Specialists (SCRS) open board meeting on April 12, the insurance commissioners of Virginia and North Carolina will discuss the activities their offices engage in to serve auto insurance consumers.
The meeting will be held from 8-11:30 a.m. in the Potomac Room at the Omni Richmond in Richmond, Virginia. The commissioners will speak from 10:15-11:30 a.m.
SCRS invites industry members to learn about the newly elected members of its board, the current state of the association and industry and to receive updates on programs and initiatives the association has been working on for the collision repair industry.
In addition to his role as Virginia commissioner, Scott White also serves as secretary/treasurer of the National Association of Insurance Commissioners (NAIC). A role he filled in December 2022.
White joined the Virginia Bureau of Insurance as a research analyst in 1998 and from 1999 until 2011, he worked as an attorney advising the bureau on all major insurance regulatory and compliance matters, according to NAIC's website.
In 2011, White became head of NAIC's financial services legal division, expanding his practice areas to include securities and banking. He has chaired the Financial Condition (E) Committee, the Long-Term Care Insurance (EX) Task Force, and the Southeast Zone. He currently serves as a member of the IAIS Macroprudential Committee.
North Carolina Commissioner Mike Causey served the collision repair industry and consumers as an advocate and lobbyist for state auto glass and auto body associations in the Southeast region prior to taking his office. He previously said, shortly after being elected, that carriers exert too much control over auto body repairs and raised issues like steering, parts selection, and repair procedures as potential concerns. Causey has been largely supported by repairers and adjusters because of his knowledge of the collision repair industry.
Following complaints of steering in North Carolina in 2019, Causey stood up to enforce the anti-steering law, which he played a key part in passing, by publishing a memorandum to remind insurers and agents of the law and potential penalties.
The commissioners will share the mission and objectives of their departments and provide a better understanding of the tools and resources available to help consumers and businesses when they encounter challenges in the insurance claims process, an SCRS news release states. This may include tasks such as policy language approval and capabilities and limitations in fielding and addressing consumer complaints.
Ideally, the exchange will identify what role the departments can play in effectively remedying any of the challenges experienced by collision repair customers navigating the auto claims process.
RSVP is not needed to attend but seating will be first come, first serve. SCRS anticipates the meeting room will fill up quickly.
The Collision Industry Conference (CIC)'s meeting will immediately follow the open board meeting from 12:30 p.m. to 5:30 p.m. in the James River Ballroom then on Thursday from 8 a.m. to 12 p.m.
Later in the week, the industry will continue to gather at the Southeast Collision Conference, at the Meadow Event Park, in Doswell, Virginia.
For more information about SCRS, or to join as a member, visit www.scrs.com, call 1-877-841-0660, or send an email to info@scrs.com.
Images
Featured image: The Society of Collision Repair Specialists (SCRS) logo over its SEMA 2017 booth. (John Huetter) 
Share This: