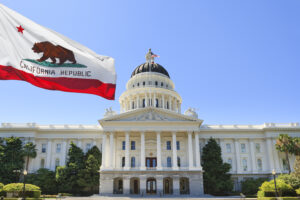 BAR review coming up, CAA asks for California shop exclusion in tire replacement efficiency bill
By on
Associations | Legal
Three California automotive associations say the state's Bureau of Automotive Repair (BAR) shouldn't be sunset because its oversight is necessary to protect consumers who have their vehicles repaired in the state.
AB 1263 has been introduced in the House as a placeholder for sunset review, which is due this year. A review is conducted every four years by the Senate Committee on Business, Professions and Economic Development and the Assembly Committee on Business and Professions. CAA provided written comments and also testified before the committees on March 14. The bill would also require BAR to send out specified newsletters at least three times a year.
In a letter written to the committees, The Automotive Service Councils of California (ASCCA), California Autobody Association (CAA), and California Automotive Business Coalition (CalABC) said they support the work BAR has done since the last sunset review in 2018.
The associations shared a list of actions they've taken with BAR since 2018 to improve the industry. The following is work that's been done specifically for, or also involves, the collision repair industry:
"Participating in the BAR Advisory Group quarterly meetings which are intended to increase communication and awareness among the auto repair industry, educational providers, and consumers.
"Supporting AB 471 which among other things, authorizes a process for informal review and recommendations including a review by a three-member panel and a process to prevent disclosure of minor violation citations upon successful remedial training. It also establishes a safety systems inspection and certification program for salvage-titled vehicles, replacing the existing brake and lamp program.
"Supporting electronic documents and consumer authorization regulations in 2018 to streamline the repair process for consumers and automotive repair dealers.
"Supporting BAR Disciplinary Guideline amendments effective 2022."
The letter also includes several bills and matters that the associations believe BAR should be around to assist with and support, including the continuation of BAR, implementation of AB 471, and addressing unreasonable or excessive vehicle storage fees.
BAR held workshops in July 2022 to get feedback from the public on its proposed draft regulations for a new statewide safety inspection program and manual on repaired salvage vehicles. The bureau is required to establish the regulations by Jan. 1, 2024 under AB 471, which was signed into law in October by Gov. Gavin Newsom.
CAA has also written to the California Energy Commission (CEC) to provide its take on proposed tire efficiency replacement regulations in the state to ensure they're at least as energy efficient as the tires sold by OEMs. CEC is currently working on drafting new regulations that would require all tire retailers, including repair shops, to post signs and provide disclosures to consumers that purchase replacement tires.
CAA has requested that collision repair and auto body shops be exempted from the regulations.
"The auto body repair business is not in the primary business of selling tires to the general public but will locate a replacement tire to match the damaged tire as part of the collision repair. Consumers do not go to auto body shops to buy a set of new set of replacement tires. Consumers go to auto body repair facilities because of a vehicle accident and wish to have collision damage repaired. The auto body dealer is not a 'tire dealer' or 'tire retailer' as contemplated by these regulations. It would be unreasonable to expect an auto body repair shop to meet the proposed regulation requirements.
Images
Featured image credit: DustyPixel/iStock
Share This: