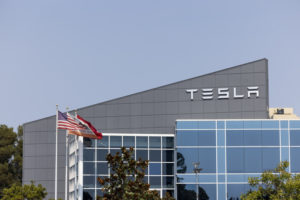 The National Highway Transportation Safety Administration (NHTSA) is investigating seat belts on some Tesla Model X SUVs following reports they failed to remain buckled while driving.
The federal agency said it received two complaints "reporting a failure of the front seat belt to remain connected to the seat belt anchor pretensioner while driving with seat belts worn properly" in Model Xs produced in 2022 and 2023.
It's estimated that about 50,000 vehicles could be affected.
"Tesla front seats incorporate outboard pretensioners secured to the seat frame," the NHSTA said. "The pretensioner anchor is designed to be disconnected with a special tool. The two allegations indicate that the connection failure occurred at this point.
"In both cases, the pretensioner and the linkage were not properly connected during assembly, resulting in friction fit maintaining the connection between the two until eventual separation. The linkage and the pretensioner suddenly separated when the force exerted on the linkage overcame the resistance of the friction fit while the vehicles were in motion."
Meanwhile, a new report claims the removal of Tesla's radar sensors as a cost-saving measure led car crashes to spike among OEM models.
Elon Musk made the call to do away with the sensors in 2021, instead making use of the existing eight cameras on models, despite objections from some engineers who were concerned the move could compromise safety, the Washington Post reported.
"Some Tesla engineers were aghast," the outlet said, attributing its account to interviews with former employees. "They contacted a trusted former executive for advice on how to talk Musk out of it, in previously unreported pushback. Without radar, Teslas would be susceptible to basic perception errors if the cameras were obscured by raindrops or even bright sunlight, problems that could lead to crashes."
Nevertheless, Tesla announced in May 2021 that it would eliminate ultrasonic radars on its Model 3 and Ys vehicles, with models S and X set to soon follow.
"Soon after, the company began disabling radar in cars already on the road," the article said. "The result, according to interviews with nearly a dozen former employees and test drivers, safety officials and other experts, was an uptick in crashes, near misses and other embarrassing mistakes by Tesla vehicles suddenly deprived of a critical sensor."
Tesla's Model 3 and Model Y were the first to run its Autopilot advanced driver assistance system (ADAS) suite and "certain active safety features" using cameras alone. The OEM called the approach "Tesla Vision" and touted it as a safer alternative to radars.
"Safety is at the core of our design and engineering decisions. In 2021, we began our transition to Tesla Vision by removing radar from Model 3 and Model Y, followed by Model S and Model X in 2022.," it said at the time. "Today, in most regions around the globe, these vehicles now rely on Tesla Vision, our camera-based Autopilot system.
"Since launch, we have continued to make incremental improvements in both feature parity and safety. Compared to radar-equipped vehicles, Model 3 and Model Y with Tesla Vision have either maintained or improved their active safety ratings in the US and Europe, and perform better in pedestrian automatic emergency braking (AEB) intervention."
After Tesla made the announcement, the problems were almost instantaneous, former employees told the Post.
"That period coincided with the expansion of the Full Self-Driving testing program from thousands to tens of thousands of drivers," the outlet said. "Suddenly, cars were allegedly stopping for imaginary hazards, misinterpreting street signs, and failing to detect obstacles such as emergency vehicles, according to complaints filed with regulators."
Some of the people interviewed by the Post attributed the phantom breaking to the missing radar.
Some Tesla owners have long complained about phantom braking incidents, prompting an investigation by NHTSA, which said last February that it had begun a preliminary investigation involving 416,000 vehicles after receiving 354 consumer complaints.
"The complaints allege that while utilizing the ADAS features including adaptive cruise control, the vehicle unexpectedly applies its brakes while driving at highway speeds. Complainants report that the rapid deceleration can occur without warning, at random, and often repeatedly in a single drive cycle," NHTSA said at the time.
Tesla was set to remove Model S and Model X sensors throughout 2023 but told the Federal Communications Commission last December that it intended to begin equipping at least some of its production vehicles with radar beginning in mid-January 2023.
Tesla has faced several lawsuits related to claims Musk overstated vehicle capabilities.
In a more recent federal securities class action lawsuit, shareholders accused Musk of overselling the OEM's autonomous capabilities, resulting in crashes. Meantime, the National Highway Traffic Safety Administration is investigating a number of fatalities allegedly related to Tesla's driver assistance features.
In a New York Times opinion piece, Car and Driver Magazine columnist Ezra Dyer said Tesla's false promises has put the once "cool" OEM behind a 120-year-old automaker: Ford.
"Ford also tends to make good on its promises, an area that's become increasingly fraught for Tesla," Dyer wrote. "Ford said it would offer a hands-free driver assist system, and now it does, with BlueCruise; you can take your hands off the steering wheel when it is engaged on premapped sections of highway. Tesla's Full Self-Driving system is not hands-free in any situation, despite its name, and Tesla charges customers $15,000 for the feature on the promise that someday it will make the huge leap to full autonomous driving."
Images
Featured image: The Tesla automobile manufacturing plant in Fremont, California. (JasonDoiy/iStock)
Share This: