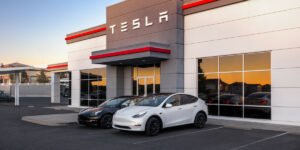 Tesla tells FCC it plans to begin equipping its vehicles with radar once more
By on
Announcements
Tesla has told the Federal Communications Commission (FCC) that it intends to begin equipping at least some of its production vehicles with radar beginning in mid-January 2023.
The communication between the OEM and the FCC that has been made public does not reveal any further details, other than that Tesla intends to use an "HD" (high definition) radar, an indication that it's likely meant to support advanced driver assistance system (ADAS) features.
Tesla had been equipping its vehicles with both radar and cameras, but began phasing out radar in May 2021.
The OEM informed the FCC of its intentions in June, but asked for short- and long-term confidentiality of certain proprietary information. The 180-day window granted for the user's manual, external photos, test setup photos, and internal photos expired on Wednesday.
Tesla had requested in November that the materials be withheld for another 60 days, "[t]o avoid any unnecessary disclosure and competitive harm before our product launching." That request was evidently granted.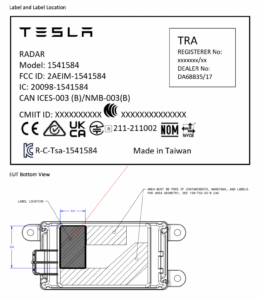 One of the documents publicly available on the FCC's website shows a "label and label location" for a radar unit.
Repairer Driven News reached out to Tesla for further information, but did not receive a response. The company dissolved its North American media relations team in October 2020.
If Tesla follows through with its launch, it would seem to guarantee an increase in severity when one of its vehicles is damaged in an accident. According to CCC Information Services, the cost of replacing a "distance sensor," including labor, was $577 in August 2021.
It would also mark the second time in recent months that the OEM has altered its ADAS equipment. In October, it announced that it would stop building its vehicles with ultrasonic sensors (USS) and rely entirely on its camera-based Tesla Vision technology for its Autopilot driver assistance system.
Vehicles with USS had a total of 12 sensors — with six in the front bumper cover, and six in the rear. The OEM has said it has no intention of deactivating the sensors in vehicles so equipped.
For a short period of time during the transition, the OEM said, Tesla Vision vehicles that are not equipped with USS would have certain features temporarily limited or inactive.
Tesla's driver assistance feature, called Autopilot, has been under scrutiny by the National Highway Traffic Safety Administration (NHTSA) after a series of crashes involving vehicles with SAE Level 2 systems.
NHTSA opened a preliminary evaluation of the Tesla issue on Aug. 13, 2021, which was "motivated by an accumulation of crashes in which Tesla vehicles, operating with Autopilot engaged, struck stationary in-road or roadside first responder vehicles tending to pre-existing collision scenes."
In June, the agency it announced that it had upgraded the investigation to an engineering analysis, to "assess the technologies and methods used to monitor, assist, and enforce the driver's engagement with the dynamic driving task during Autopilot operation."
The upgrade means the administration will "extend the existing crash analysis, evaluate additional data sets, perform vehicle evaluations, and to explore the degree to which Autopilot and associated Tesla systems may exacerbate human factors or behavioral safety risks by undermining the effectiveness of the driver's supervision."
Tesla has come under criticism for calling its system "Full Self-Driving," when it is not. Safety advocates say it creates unrealistic expectations among drivers, and can lead to risky behaviors behind the wheel.
For Tesla vehicles to be fully autonomous, they would need to have SAE Level 3 ADAS, meaning the vehicle would be responsible for driving under certain conditions. NHTSA considers Teslas to have Level 2 technology, which means the person in the driver's seat must watch the road at all times and be prepared to take over.
More information
Office of Engineeirng and Technology exhibits list
Images
Featured image provided by Tesla
A drawing publicly available on the FCC's website shows a "label and label location" for a radar unit.
Share This: