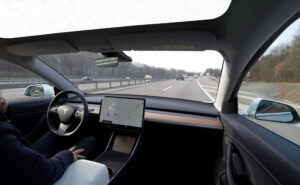 Tesla shareholders are suing the OEM and its chief executive Elon Musk, claiming that by overselling the OEM's autonomous capabilities, he caused stocks to depreciate when those features were linked to crashes and federal investigations.
The federal securities class action lawsuit, filed Feb. 27 in San Francisco Federal Court, lays out how Tesla has since 2016 been touting its "suite of purportedly advanced driver assistance system (ADAS) features."
It claimed that throughout the following years, Tesla made "materially false and misleading statement and/or failed to disclose that":
"Significantly overstated the efficacy, viability, and safety of the company's autopilot and [full self-driving (FSD)] technologies":
"Contrary to defendants' representations, Tesla's autopilot and FSD technologies created a serious risk of accident and injury associated with the operation of Tesla vehicles";
"All the foregoing subjected Tesla to an increased risk of regulatory and governmental scrutiny and enforcement action, as well as reputational harm;
"As a result, the company's public statements were materially false and misleading at all relevant times."
The situation hit a boiling point on April 18, 2021, when media outlets began reporting that a Tesla with no one driving it crashed into a tree, killing two people near Houston, Texas, the lawsuit said.
"On this news, Tesla's stock price fell $25.15 per share, or 3.4%, to close at $714.63 per share on April 19, 2021," said the legal filing.
Another plunge happened in August 2021 after the National Highway Traffic Safety Administration opened a formal investigation to probe Tesla's autopilot after a series of collisions involving parked emergency vehicles, lawyers claim.
"On this news, Tesla's stock price fell $31.00 per share, or 4.32%, to close at $686.17 per share on August 16, 2021," the lawsuit said.
It named a number of other instances where stocks dropped as a result of Tesla's autopilot claims.
"On June 3, 2022, media outlets reported that NHTSA had issued a formal inquiry to Tesla about the Autopilot and FSD features for certain models of its vehicles after receiving complaints from more than 750 owners of the vehicles about sudden and unexpected braking with no immediate cause. On this news, Tesla's stock price fell $71.45 per share, or 9.22%, to close at $703.55 per share on June 3, 2022. "
"On January 27, 2023, media outlets reported that the SEC was investigating statements made by Tesla and its Chief Executive Officer [Elon Musk], concerning the Autopilot system, including whether Musk made inappropriate forward-looking statements regarding the Autopilot system. On this news, Tesla's stock price fell $11.24 per share, or 6.32%, to close at $166.66 per share on January 30, 2023."
"On February 16, 2023, media outlets reported that NHTSA had ordered a recall of nearly 363,000 Tesla vehicles equipped with the Company's FSD 'Beta' software, stating that the software may allow the equipped vehicles to act "in an unlawful or unpredictable manner, increasing the risk of a crash. On this news, Tesla's stock price fell $12.20 per share, or 5.69%, to close at $202.04 per share on February 16, 2023."
"On February 18, 2023, media outlets reported that a Tesla vehicle had crashed into a fire truck that was responding to an earlier accident, killing the driver and injuring a passenger and four firefighters. News reports linked the crash with prior reports of Tesla vehicles crashing into stationary emergency vehicles as a consequence of poorly performing ADAS technologies, increasing market and public concerns regarding the Autopilot system in Tesla's vehicles. On this news, Tesla's stock price fell $10.94 per share, or 5.25%, to close at $197.37 per share on February 21, 2023, the next trading day."
"As a result of defendants' wrongful acts and omissions, and the precipitous decline in the market value of the company's common stock, plaintiff and other class members have suffered significant losses and damages," the lawsuit says.
Tesla had not responded to the allegations by deadline.
Meanwhile, AAA's annual automated vehicle survey found that while there's still a high level of interest in partially automated vehicles, drivers are becoming increasingly apprehensive about fully autonomous vehicles.
The number of surveyed drivers afraid of self-driving vehicles jumped from 55% last year to 68% this year, AAA said.
"We were not expecting such a dramatic decline in trust from previous years," said Greg Brannon, director of automotive research for AAA. "Although with the number of high-profile crashes that have occurred from over-reliance on current vehicle technologies, this isn't entirely surprising."
The study suggests that despite all the advancements made to improve vehicle technologies, the public isn't really to fully trust these emerging advancements, AAA said.
It added that it's working with automakers to help educate drivers on vehicle advancements.
"Together, we can help consumers understand the type of technology their vehicle has along with how, when and where to use these systems, which will ultimately build trust in the vehicles of the future," Brannon said.
The latest lawsuit against Tesla speaks to the dangers of overstating a vehicle or company's capabilities, the legal filing said.
"Defendants significantly overstated the efficacy, viability, and safety of the Company's Autopilot and FSD technologies," it said. "Contrary to defendants' representations, Tesla's Autopilot and FSD technologies created a serious risk of accident and injury associated with the operation of Tesla
vehicles."
It added: "All the foregoing subjected Tesla to an increased risk of regulatory and governmental scrutiny and enforcement action, as well as reputational harm; and as a result, the company's public statements were materially false and misleading at all relevant times."
IMAGES
Featured image: Lombardia, Italy – January 17, 2022: Close-up of a Tesla Model 3 driving down a highway on Autopilot. (Credit: Aranga87/iStock)
Share This: