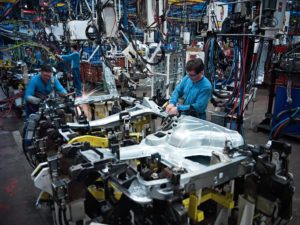 A U.S. congressman has reintroduced a bill that would significantly reduce design patent protections for OEM collision parts.
The Save Money on Auto Repair Transportation (SMART) Act, introduced by Rep. Darrell Issa (R-Calif.) would reduce the amount of time car manufacturers can enforce patent designs on repair parts against non-OEM parts suppliers from 14 years to 2.5 years. The bill is largely the same as previous versions introduced in prior sessions of Congress.
A news release announcing the proposed bill said the current patent term "prevents aftermarket manufacturers from making or selling external collision repair parts, which drives up repair costs by limiting consumer choice, crowding out competition, and leading to higher insurance rates and fees."
This is the latest in several attempts Issa and other lawmakers have made since 2007 to make alternative parts more widely available, despite growing concerns about the fit, finish, safety and effectiveness of imitation replacement parts.
Proponents, including insurers and the alternative parts industry, said the bill would expand consumer choice for automobile collision repair parts, decrease costs to both drivers and insurers, and enhance competition in the automobile repair parts market.
"According to AAA, a third of American drivers can't afford the costs of an unexpected car repair bill without going into debt," Issa said in a press release. "As repair costs continue to rise, consumers deserve access to as many auto part repair options as possible. The SMART Act will increase consumer choice, encourage competition, and foster innovation to drive down the cost of expensive repairs."
The SMART Act was previously introduced during the 2021-2022 legislative session but died early this year in committee.
At the time, the Society of Collision Repair Specialists (SCRS) formally opposed the proposed legislation, saying it "targeted automaker patents on vehicle part designs in hopes of promoting cheaper imitation parts earlier in the vehicle lifecycle."
SCRS said it still takes that position.
"Nothing within the Act addresses safety concerns of the American public. Vehicles are often the second biggest purchase a family will make, but the family members that occupy that vehicle and those around it are irreplaceable," SCRS's position statement reads.
"Consumers deserve to be made whole after an accident – not just in appearance, but also in terms of value and safety.  That includes using quality parts and following OEM repair procedures that have been vetted by the engineers who designed the vehicle and crash tested for validation.  To most consumers, collision repairs should be about ensuring their vehicle is repaired to such a standard that should it be in a subsequent accident, its safety systems will operate the same as the day it left the factory. Every consumer expects a proper repair, and pushing for more affordable options at the behest of the bill payer and the imitation market could be deemed as a violation of consumer trust."
The aftermarket replacement collision parts industry is driven by carriers, with some insurers previously arguing that OEM repair procedures should merely be considered guidance. Conversely, numerous repairers have come forward with concerns aftermarket parts could put drivers at risk.
Nylund's Collision Center was among the businesses to speak out against the 2017 iteration of the bill, with the shop's owner writing a letter to Congress listing several concerns about the proposed legislation.
"The language of the PARTS Act completely ignores the value of established patent law, specifically as it relates to the investment in design, manufacture and especially safety testing of vehicles that are built as an entire unit to work seamlessly with all other parts of the same vehicle," the letter says.
"…The PARTS Act is a blatant attempt to boost the profit margins of the insurance companies and their associated partners, lobbyists and the manufacturers and distributors of aftermarket parts."
The act, which would not alter the 14-year period that car companies can enforce design patents against other car companies, is supported by several groups including the Consumer Access to Repair Coalition (CAR Coalition).
"Legislative reform is critical to lowering auto repair costs, restoring consumer choice in the car repair market, and encouraging industry competition," said Justin Rzepka, executive director of the coalition. "The bipartisan SMART Act will put the power of choice back in the hands of consumers and local businesses, providing much-needed relief in the face of rising prices and supply chain breakdowns."
Automakers have documented their position of concern relative to utilization of alternative parts in the repair process.
Ford's position statement, for example, reads in part, "Recycled, salvaged, aftermarket and reconditioned parts (including body parts, wheels and safety restraint components) are not authorized by Ford. Departure from repair instructions provided in the Ford Workshop Manual, including alternate repair methods or the use of substitute components, risks compromising crash safety. Failure to follow these instructions may adversely affect structural integrity and crash safety performance, which could result in serious personal injury to vehicle occupants in a crash."
The position doesn't prohibit the use of the part, but does establish the risk accepted in doing so.
American Honda's statement "recommends that all maintenance and repairs are performed using Honda recommended procedures and Honda Genuine parts, which are designated for use in the specific Honda vehicle.
"Other parts – whether aftermarket, counterfeit or gray market – are not recommended. The quality, performance, and safety of these parts and whether they are compatible with a particular Honda vehicle are unknown. Only by purchasing Honda Genuine parts through an authorized US Honda dealer can you be assured of the replacement part's authenticity, reliability and compatibility."
IMAGE
Repairers and parts suppliers have been met with longer wait times and higher costs for parts and materials due to shutdowns and other issues stemming from the COVID-19 pandemic. (Credit: gerenme/iStock)
Share This: