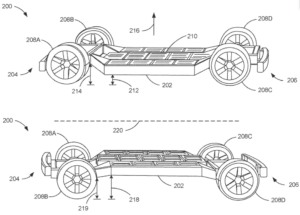 Ford submitted a new patent for a configurable vehicle frame that would require fewer parts and reduce the complexity of manufacturing new vehicles.
The patent, published this month, lays out how the automaker could construct a vehicle chassis that would be interchangeable with all of its models with minimal configuration changes. In some examples, it demonstrated how it could do so by creating chassis with scalable widths and lengths, enabling it to be used universally among Ford's fleet.
Ford included dozens of sketches in its 67-page patent, with some showing how some parts could be interchangeable for different vehicle configurations.
"In [one] illustrated example, the swappable or interchangeable components (eg the wheel, the electric motor, the suspension assembly, and the frame mounting interface) of the wheel assemblies have common attaching and packaging strategies, which allows ride and performance needs to be meet for the vehicle while reducing the number of parts and complexity of manufacturing."
The patent elaborates on one possible wheel assembly on an example vehicle that includes a wheel, suspension assembly, electric motors and a frame mounting interface.
"In the illustrated example, the suspension assembly, the electric motor and the frame mounting interface are interchangeable with other suspension assemblies, electric motors and frame interfaces, respectively," the patent says.
"For example, the electric motor can be interchanged with different sized electric motors, the geometry of the suspension assembly can be changed to adjust ride height for the vehicle, the dampening in the suspension assembly can be changed for different terrain, etc."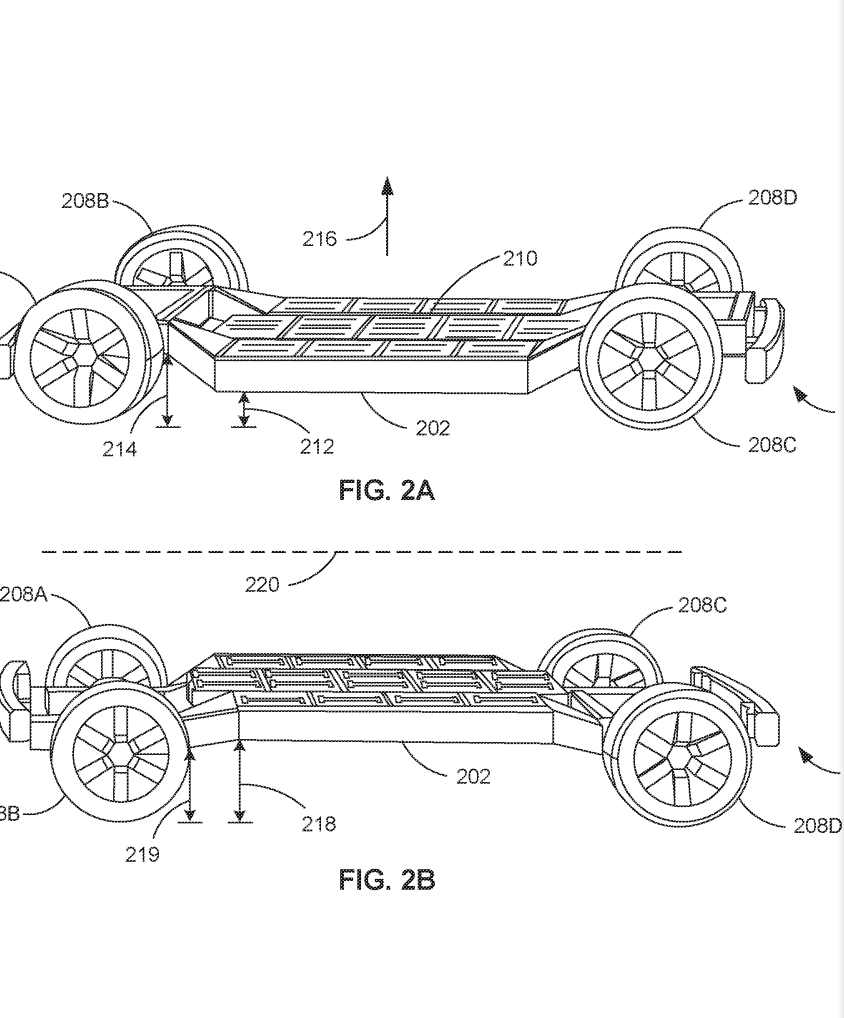 The patent said the frame would bring down costs and simplify manufacturing by using the same parts on multiple models, reducing the number of unique parts of the chassis.
The new design could be used on either gasoline, hybrid or electric vehicles. There is no indication on when the new design might hit the market with Ford.
Ford Authority, which was first to report on the patent, noted how the filing represents a wider trend for the automaker.
"In recent months, Ford has filed patents for interchangeable performance packages and an upgradable vehicle system, both of which are geared toward all-electric vehicles riding on shared, flexible, dedicated platforms," it said. "Now, that trend continues with this new Ford patent filing, which outlines an idea for configurable vehicle frames that could further The Blue Oval's mission to reduce complexity and cut costs in future Ford vehicles.
"…. The focus here is pretty clear – to give [Ford] the ability to build multiple types of vehicles or models while using the same versatile components, which are quite modular in nature," it added. "This would give it a ton of flexibility when assembling future Ford vehicles, not to mention likely result in a tremendous savings over the long run, to boot."
Images
Featured and secondary image credit: U.S. Patent Office
Share This: