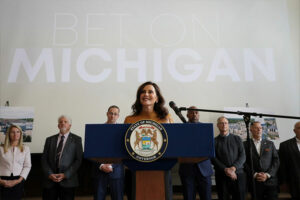 Michigan repealing its "right to work" law might be good news for labor unions, but it's being slammed by the National Federation of Independent Businesses (NFIB) as "coercive, anti-worker, anti-competitive legislation."
The legislation, which was passed in 2012, gave workers the option of opting out of paying union dues and fees in unionized workplaces.
Gov. Gretchen Whitmer revoked that option after signing the "Restoring Workers' Rights" bill package consisting of House Bills 4004 and 4007, and Senate Bill 34.
HB 4004 and the senate bill rescinded the "right to work" law, while HB 4007 restores prevailing wages on all state projects.
Whitmer said the new legislation would "restore workers' rights, protect Michiganders on the job, and grow Michigan's middle class."
"Michigan workers are the most talented and hard-working in the world and deserve to be treated with dignity and respect," she said in a press release. "These bills will protect health and safety, ensuring healthcare workers can put patient care ahead of profit, construction workers can speak up when there's a safety issue, and employees can call attention to food safety threats and other problems. Let's continue delivering for working people and ensuring Michigan is open for business."
In a blistering response to the news, the NFIB accused the state of favoring unions over small businesses by forcing upon them union membership and "burdensome prevailing wage regulations" for state contracts.
"The Governor and legislative majorities unfortunately seem determined to move Michigan backwards to the failed labor and economic policies of the past," said NFIB State Director Amanda Fisher.
"This rushed and partisan process to gut worker freedom and force workers to choose between accepting a job and joining a union will end up harming our members, Main Street small businesses, and Michigan's economic viability. Further, by adding additional regulation and shady enforcement tactics to the prevailing wage mandate at the last minute, this big labor boondoggle will particularly burden already disadvantaged small businesses. Despite the economic evidence of the last decade, Lansing has turned its back on free enterprise, worker freedom, and greater growth and prosperity for all Michiganders."
According to NFIB, the right-to-work legislation actually benefited the state, with wages increasing by more than 20% throughout the past decade and manufacturing jobs rising by 26%.
Last month, the Small Business Association of Michigan (SBAM) released a survey indicating small businesses did not support repealing the right-to-work legislation amid inflation, a labor shortage, and supply chain issues.
"Michigan's small businesses are still facing challenges as they continue to invest and grow in Michigan," SBAM President Brian Calley said at the time. "Small businesses made it clear that they do not support returning to policies that served Michigan so poorly in the past."
The survey, which reflects the input of nearly 500 small businesses, found:
67% of small business owners are having a harder time attracting and maintaining employees than in the previous year.
77% of small businesses say employee compensation has increased in the past year.
40% of small businesses have experienced health care costs increasing more than 10% over the past year.
70% of small business owners say that supply chain shortages are still having a negative impact on their operations.
91% of small businesses say they are experiencing higher cost increases compared to normal times.
65% of respondents said that inflation remained the top problem hurting their business.
The SBAM said in a more recent statement that while the repeal is unlikely to have an immediate impact on small businesses, since most aren't unionized, it could have broader long-term impacts.
"There were many things that changed in 2011 and 2012 to create a better environment for business and job growth. Right to Work was just one of them," it said. "But it was an important signal to the nation that Michigan was ready for growth and the data is clear that it worked. Michigan is the first state to repeal a Right to Work law in 60 years, so it's hard to say precisely what the impact will be. 
"We are in uncharted territory, but given recent population trends and Michigan's economic results before and after Right to Work, it is safe to say that it will not be a positive economic change for workers or businesses."
Just as the bill has its critics, it also has its proponents, with Michigan Lt. Gov. Garlin Gichrist II calling it the right move for workers.
"Today, we are taking steps to ensure every worker can be respected and protected at work, retire with dignity, access health care that meets their needs, and support their family," he said. "Restoring MI Workers' Rights will help us grow our middle class, build a thriving economy, and invest in vibrant communities. Governor Whitmer and I are committed to investing in workers and building a Michigan we can be proud to pass on to the next generations."
IMAGES
Featured image: Michigan Gov. Gretchen Whitmer (Credit: Michigan Economic Development Corp.)
Share This: