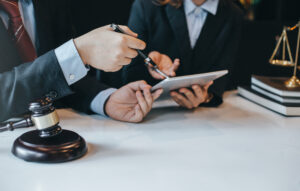 28 state AGs voice support for federal 'right to repair' legislation
By on
Announcements
Twenty-eight state attorney generals have banded together to support "right to repair" federal legislation to ensure "small automobile businesses and "mom-and-pop" auto shops can remain competitive against a closed system favored by original equipment manufacturers (OEMs)."
In a letter written to the U.S. House Energy and Commerce Committee and Senate Committee on Commerce, Science, and Transportation the AGs request that the lawmakers redouble their efforts to pass the legislation.
"The Right-to-Repair is a bipartisan issue that impacts every consumer, household, and farm in a time of increasing inflation," the letter states. "It is about ensuring that consumers have choices as to who, where, when, and at what cost their vehicles can be repaired.
"…Manufacturing of automobiles, digital devices, and agricultural equipment is increasingly becoming more technologically advanced and built with more embedded electronics. OEMs often control access to these electronics parts, creating unfair restraint of trade and a monopoly on repair. This can harm consumers directly by driving up prices and is antithetical to a free market."
The letter brings up and implies support for three pieces of legislation that have been previously introduced but not passed — the Saving Money on Auto Repair Transportation Act (SMART Act) and the Right to Equitable and Professional Auto Industry Repair Act (REPAIR Act).
Fair Repair Act: Introduced in 2021, the act would require OEMs make diagnostic, maintenance, and repair equipment available to independent repair providers.
SMART Act: Introduced during the current legislative session by Rep. Darrell Issa (R-Calif.), this bill would reduce the amount of time car manufacturers can enforce patent designs on repair parts against non-OEM parts suppliers from 14 years to 2.5 years. The bill is largely the same as previous versions introduced in prior sessions of Congress.
REPAIR Act: Supporters claim will ensure access to "all tools and equipment; wireless transmission of repair and diagnostic data; and access to on-board diagnostic and telematic systems needed to repair a vehicle." Opponents of the right to repair movement, including the Automotive Alliance for Innovation (AAI), have argued that access to OEM repair procedures, tools, and equipment is accessible today in the collision repair space via OEM1Stop, OEM websites, and owner's manuals.
In December 2022, New York became the first state to legislate the right for owners and independent repairers to have access to digital electronic product diagnostic, repair, and maintenance procedures under the Digital Fair Repair Act. R2R legislation is on the table in Maryland and Maine and is tied up in court in Massachusetts.
Automotive Industries Association of Canada (AIA Canada), along with Auto Care Association (ACA) and 19 other aftermarket groups, recently launched a "critical global right to repair movement" for access to in-vehicle and telematics. The groups argue that OEMs are prohibiting their access to and limiting consumers' choice to have their vehicles repaired at independent shops.
The CAR (Consumer Access to Repair) Coalition has also backed the movement. Their members include insurers, aftermarket parts manufacturers, and aftermarket suppliers.
In a March 27 news release, CAR Coalition commends the joint AG letter.
"These attorneys general, as chief consumer protection and antitrust enforcers, are well aware of the pressure of rising prices on the people in their states. Swift federal legislation is critical to protecting consumers' right to repair the products they purchase – restoring choice to the repair process, increasing competition, and lowering costs."
What the coalition and the AGs fail to cover, and didn't respond to RDN's inquiries about, is whether the independent or "mom-and-pop" shops that the supposed right to repair issue is affecting already have the ability to meet the rigorous high-tech demands of the modern-day vehicles they are working on. Or if consumers are served well by protecting repair businesses that are unwilling to invest in keeping up with technology advances and providing billpayers, usually automobile insurers in the case of vehicle collision repair, an option to steer customers through their own favored closed system of pre-approved shops?
Some of the proponents of the SMART and REPAIR acts through the CAR Coalition have actively lobbied against legislation that would promote adherence to OEM data, and others have been on record with representations that that they don't think OEM engineering documents and repair procedures that detail how to properly and safely fix vehicles are necessary to be followed.
The Insurance Institute for Highway Safety (IIHS) has found that among drivers that had their vehicles repaired, which were equipped with front crash prevention, blind spot detection, and other visibility-enhancing cameras, half had issues with the features post-repair.
The AGs' letter cites a national CAR Coalition survey that found 78% of respondents agreed with federal right to repair legislation and 92% agreed that consumers should be able to choose between "automaker-branded" and aftermarket car parts when making repairs.
Is a consumer's right to choose their parts different than a consumer's right to approve of the parts used on their vehicle?
The letter also cites a 2021 Consumer Reports survey that showed around 75% of all consumers believe OEMs should be required to make basic diagnostic information, tools, and replacement parts needed to make repairs of products available to independent repairers and consumers.
In a news release about the AGs' letter, California Attorney General Rob Bonta said, "A free market cannot exist when consumers don't have the choice to repair or replace an item that they purchase."
"When manufacturers force consumers to rely on the original manufacturer to fix or replace their products, the companies undermine competition, drive up prices, and create waste. This Right-to-Repair legislation will empower every American — from farmers to car owners — to repair their property on their own terms. I am grateful for President Biden's efforts to address this important issue, and now ask Congress to do their part to protect consumers, the environment, and small businesses."
Michigan Attorney General Dana Nessel echoed a similar sentiment in a separate news release:
"The monopoly on repairs hurts consumers. Original Equipment Manufacturers restrict competition for repair services by limiting the availability of parts, making diagnostic software unavailable, or using adhesives that make parts difficult to replace, all of which can result in higher product and repair prices. I stand with my colleagues in asking Congress to pass Right-to-Repair legislation that not only protects consumers [but] protects the laborers and farmers who help build and feed our nation."
Images
Featured image credit: AmnajKhetsamtip/iStock
More information
DePaul & Michigan law professors weigh in on right to repair
Share This: