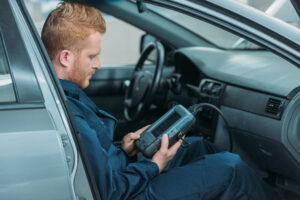 Maryland legislators are considering a "right to repair" bill akin to the debate ongoing in Massachusetts and Maine, including similar wording. A bill with the same overall goal has also been reintroduced in the U.S. House.
HB 1193 states its purpose is to require "a manufacturer of certain motor vehicles to provide certain information and tools related to the diagnosis, service, and repair of motor vehicles to certain owners and independent repair facilities under certain circumstances."
Opponents of the bill argue that access to such procedures, tools, and equipment is accessible today in the collision repair sector via OEM1Stop, OEM websites, and owner's manuals.
The bill would also require:
Automakers to allow owners and independent repairers to purchase OEM diagnostic and repair information on a daily, monthly, or yearly subscription and "fair and reasonable terms;"
Automakers to install an open data platform on vehicles with telematics systems beginning with model year 2025;
The Consumer Protection Division of the Office of the Attorney General to develop a telematics systems document that outlines consumer rights;
All diagnostic tools, repairs and wireless capabilities provided to dealers available for independent purchase for model year 2002 and newer vehicles and 2013 and newer heavy duty vehicles;
Beginning with model year 2018 vehicles, OEMs will provide a non-proprietary vehicle interface device that complies with SAE standards J2534 and J1939 as well as International Organization for Standardization standard 22900, or any successors to those standards written by the organizations, and is standardized across all makes and models.
OEMs wouldn't be required to include diagnostic, service, and repair information necessary to reset an immobilizer system or security-related electronic modules to owners and independent repair facilities.
If passed, the bill would become effective on Oct. 1. Any violation of it would be considered an unfair, abusive, or deceptive trade practice, according to the bill. The House Economic Matters Committee held a hearing on the bill on March 8, during which they didn't vote on the measure.
Bill sponsor Delegate Kevin Hornberger (R-District 35B) told the committee the right to repair is a nationwide issue.
"It's playing out now mostly in state courts; probably the most poignant example would be in Massachusetts where via ballot referendum they passed right to repair," he said. "When you purchase something you would think that you have the ability to repair it yourself and should you feel not comfortable repairing itself, you could take it to someone of your choosing to repair it.
"However, as we know, vehicles have gotten tremendously more complicated over the years and we're now at a juncture where, in some cases, you don't have a choice. You have to take it to your dealership to get it fixed and, as we all know, monopolies can lead to price increases. Some of these owners of vehicles are now seeing in excess of a 30% markup that you would see taking it to a normal maintenance or repair shop."
While the argument seemingly suggests that because a repair facility that chooses to sublet work to a dealership means they aren't able to accomplish the task, there are independent mobile and remote services that also provide services and would similarly be listed as a sublet operation garnering a markup.
The industry must focus on the quality and capabilities of the diagnostic tech to ensure the safety of repairs, Josh McFarlin, executive vice president of operations at AirPro Diagnostics said.
"A below-average tech, with the highest quality tool is a recipe for misdiagnosis," he said. "A brand specialist who is focused on a few key brands with access to multiple tools in their toolbox ensures a properly repaired, well-documented diagnostic service with a clear understanding of the calibrations needed (or already performed if the shop is equipped with the targets)."
He said the value of partnering with companies such as his is that technicians are more skilled at diagnosing collision repair events and performing calibrations than dealer technicians – challenging the premise that there is not a choice to address diagnostic work needs.
"That is all our techs do, day in and day out," he said. "They are focused on their brand and they have the support of their entire team if needed because multiple techs can remotely log in to the same tool if needed."
Hornberger added that the 2014 MOU agreed to by automakers and the aftermarket isn't aging well and doesn't address access to cloud telematics by smaller and/or independent repair shops. The goal of the bill isn't about gaining access to vehicle owner personal information but solely maintenance information, he said.
Proponents of the bill — including a former Baltimore County councilman and automotive shop owner, other Maryland shop owners, Tire Industry Association (TIA), Chesapeake Automotive Business Association, Maryland Tire Dealers Association, Auto Care Association, SEMA, Automotive Recyclers Association (ARA), and LKQ — said the issue is a matter of consumer protection and the unfair prevention of maintenance data and tools to independent shops. Proponents agreed that consumers should have access to the parts and shops that they choose to repair their vehicles.
While LKQ Corporation has demonstrated support for the bill, the company also owns the Elitek Vehicle Services brand, "a solution for sublet repairs and a variety of critical vehicle repair solutions" that "will come to you to provide mobile re-flashing, programming, diagnostics, airbag, theft/vandalism repair, and full mechanical" services.
Elitek's website states, "there are very few automotive needs we cannot provide."
That marketing portrayal conflicts with former Baltimore councilman Todd Huff's comments that the bill would save consumers money by preventing them from having no choice but to take their vehicles to dealerships for repairs and "pay the exuberant labor rates that the dealers charge."
"It's not fair to them," he said. "We're just looking for a fair shot to be able to work on these cars and the technology is getting stronger and stronger and stronger every year."
TIA CEO Roy Littlefield said the legislation "would preserve community customer access to high quality and affordable vehicle repair by ensuring vehicle owners and their repairers of choice have access to necessary repair and maintenance tools and data."
"As vehicles continue to become more advanced this legislation will reduce the access barriers when working on electric and autonomous vehicles," he said.
Littlefield noted that in May 2020, the Federal Trade Commission released a report that highlights the barriers auto manufacturers have instituted to block consumers' right to repair.
"The FTC supporter expanding consumer repair options and found 'scant evidence for the repair restrictions imposed by original equipment manufacturers,'" he said. "In a subsequent policy statement, the FTC noted that these repair restrictions created hardships for families and businesses and the commission was 'concerned that this burden is borne by underserved communities including communities of color and lower income.'"
Dynamic Automotive CEO Dwayne Myers noted there is proposed right to repair legislation in more than 20 states. He called the Maryland bill balanced in protecting consumer rights and protecting independent garages and dealerships from the unfair practices of OEMs.
Tim Hollenshade, a fourth-generation auto mechanic and Chesapeake Automotive Business Association executive board member, told the committee the bill is "a modernization of the existing framework."
"For decades now, right to repair legislation has preserved and protected consumers' rights, specifically, the right to choose a preferred service provider by upholding this fundamental principle of consumer protection," he said. "The cost of vehicle maintenance and ownership for individuals families and businesses has remained reasonable and competitive."
Hollenshade noted that there is proposed legislation at the federal level as well. The Right to Equitable and Professional Auto Industry Repair (REPAIR) Act (H.R. 906) was reintroduced in the House in Feburary after failing to make it past introduction during the 2021-22 legislative session. It hasn't yet made it past introduction.
The purpose of the federal bill, according to the bill text, is "to ensure consumers have access to data relating to their motor vehicles, critical repair information, and tools, and to provide them choices for the maintenance, service, and repair of their motor vehicles, and for other purposes."
The only group that spoke at the hearing against the Maryland bill was the Automotive Alliance for Innovation (AAI).
"The testimony we heard that the premise of this is that independent repair shops need a law to ensure that they have access to the tools and information to repair a vehicle," AAI Director of State Affairs Josh Fisher told the committee. "We just fundamentally disagree with that premise and that's because automakers already make that information available."
Fisher told the committee there is dispute resolution included in the MOU and available to independent repairers who have any trouble accessing OEM repair information but it hasn't been used once in the nearly 10 years that the agreement has been in effect. Fisher said Repair.org, the website of The Repair Association, has exempted automakers from any repair information access legislation they support because they recognized the auto MOU is the "gold standard."
"It is the one that everybody else wants the other industries to follow," he said.
Repair Association Executive Director Gay Gordon-Byrne told Repairer Driven News that the association agreed in 2015 when they first filed a broad right to repair bill in New York and elsewhere that "we did not want to fight the auto industry whose MOU we had used as a rough template."
"It wasn't a gold standard — it was a starting point," she said. "At that time, the aftermarket counterparts to the MOU asked us to stay away as well. The MOU has not aged well. The original always lacked a provision for remote diagnostics and for any restraint on parts pricing. Both are now problems for consumers and are spawning new legislative efforts. We support all efforts to de-monopolize the business of repair regardless of product."
In December 2022, New York became the first state to legislate the right for owners and independent repairers to have access to digital electronic product diagnostic, repair, and maintenance procedures under the Digital Fair Repair Act.
During the March 8 hearing, in response to telematics access not being included in the MOU, Fisher said it does include any telematics data needed to service and repair vehicles; if it's available to dealers, it will be provided to independent repairers. When a committee member asked why Massachusetts felt a referendum was needed, and approved in 2020, to gain access to data, Fisher said that issue was about "third party unfettered access."
Maryland lobbyist Bill Kress, on behalf of AAI, added that OEM repair information is available online from OEM1Stop, as part of the MOU. AAI met with Hornberger to get to the bottom of what the bill is trying to address but didn't reach an answer, Kress said.
"The industry has put a lot of money into this website. There's a 1-800 number. There's a dispute resolution number, and there are ways to get the information, so we're at a little bit at a loss of exactly what they're seeking and what problems they're trying to address."
The MOU is an ongoing process with repair organizations and addresses any issues repairers have, such as not being able to access any information, Kress added.
In an October 2022 memo, AAI states, "Automakers agree and support numerous initiatives to facilitate seamless independent auto service and repair."
AAI provides more information in its right to repair myth vs. fact sheet.
New Massachusetts Attorney General Andrea Campbell on March 7 made a move in court to request enforcement, beginning June 1, of the state's Data Access Law that was passed by voters in 2020.
The non-enforcement stipulation was agreed to by former Attorney General Maura Healey after AAI filed suit against her over the new law, which would grant access to automaker diagnostic and repair information as well as tools to vehicle owners and independent repair facilities. Though the legislation became effective with the 2022 model year, Healey agreed to withhold enforcement of it because of the pending litigation.
In November, AAI asked U.S. District Court Judge Douglas Woodlock to reopen evidence in the case after a right to repair initiative in Maine, supported by the Auto Care Association (ACA), was put forward. The suit is still pending.
In Maine, voters will make a decision on a right to repair referendum. In February, Maine's Secretary of State Shenna Bellows approved the Maine Right to Repair Coalition's referendum petition for November's ballot.
The coalition filed an application for a citizens initiative and a draft of proposed legislation with the Secretary of State's Office in August. Bellows approved the petition in October. Auto repair and parts store operators had 18 months from that time to collect signatures, which had to add up to 10% of the total votes cast in the 2022 gubernatorial election.
As in Massachusetts, the Maine legislation calls for the creation of a "standardized access platform" for data generated, collected, and transmitted by vehicles.
Images
Featured image credit: LightFieldStudios/iStock
More information
AIA Canada & other aftermarket groups push 'right to repair,' Mass. Data Law could be enforced starting June 1
Share This: