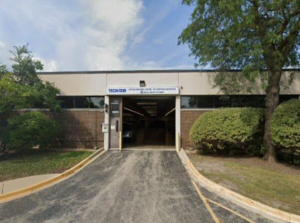 Allstate shutters Tech-Cor Collision Repair Center
By on
Announcements
Repairer Driven News has confirmed longtime Allstate-owned Tech-Cor Collision Repair Center in Wheeling, Illinois is permanently closed.
The center opened in 1976 and survived the first two years of the COVID-19 pandemic then was shut down in June 2022. The center was located in a suite next to Copart on East Palatine Road. Based on public records, the address that formerly served as Tech-Cor appears to currently be occupied by Copart. Copart purchased one parcel of land at the location from Allstate in 2012, according to Cook County property records.
Under the collision center tab of Tech-Cor's website, the business wrote, "Tech-Cor Collision Repair Center would like to thank all our customers for the privilege of repairing your vehicles since 1976. Tech-Cor Collision Repair Center will be closing immediately and will no longer be accepting new business. It has been our honor to serve you."
Allstate's Ben Corey told RDN the center was closed "to focus Tech-Cor operations on the industry-leading research, insights, and tech developments it provides." When asked what Tech-Cor's research focus currently is and where it's housed, Corey didn't respond by publication deadline.
The goal of Tech-Car Research, which launched in 1979, has always been to work with the automotive industry to help make vehicles "more damage-resistant and uncover ways [to] make repairs more efficient and cost-effective," according to its website.
"Recognized around the world as a research leader, we're perhaps best known for our pioneering efforts in developing sectioning repairs. Today, Tech-Cor's mission is to provide research, technical support and collision repair information to Allstate Insurance Company's claim organization and the collision repair industry."
The site goes on to state that Tech-Cor's damageability research focuses on developing safe and cost-effective repair procedures for common collision-related damage for which crash tests serve as a baseline and test validation for repair methodology effectiveness.
During Reuters Events' Auto Insurance USA 2020 conference, Allstate Outside Auto Director for Customer Experience, Strategy, and Design Sandee Lindorfer discussed Tech-Cor's relationship with OEMs about their research and suggestions.
"Sometimes the OEs don't always get it right," she said. "A repair procedure might be difficult to duplicate in the aftermarket or "just doesn't sometimes make sense."
Lindorfer noted that repair procedure authors don't necessarily work in collision repair. "There are times when there are mistakes that are made," she said.
She described automakers as "very receptive" when Tech-Cor proposes an alternative, and she encouraged others to contact the automakers.
"They work side-by-side with us," she said, calling it a "great relationship."
Images
Featured image: The Tech-Cor sign on the building off East Palatine Road in Wheeling, Illinois. (Credit: Cook County property records)
Share This: