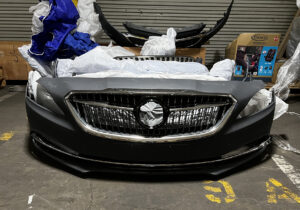 U.S. Customs and Border Protection (CBP) says it seized more than 175 counterfeit auto parts that would have been worth about $196,000 if marketed as authentic.
The Philadelphia-bound shipment, which arrived on U.S. soil from China last month, contained 177 items including air bag covers, aluminum hoods, front fenders and bumpers, and badges "bearing trademarked logos of Chevrolet, Buick, and Dodge."
Suspecting the parts were counterfeit, CBP seized them for further inspection and shared photos and documentation with the department's trade experts, as well as the National Highway Traffic Safety Administration (NHTSA).
Their instincts proved right, with NHTSA later confirming that the parts were non-compliant with federal vehicle safety standards. More recently, on April 3, CBP's trade experts concluded their own investigation, also determining the parts were fake.
The counterfeit items bore "infringing trademarks that had been recorded with CBP through the e-Recordation program," CBP said in a release. The CBP's e-Recordation program allows trademark and copyright owners to obtain border protection of their intellectual property rights.
Charges have not yet been filed as the investigation continues.
The Automotive Anti-Counterfeiting Council (A2C2) told Repairer Driven News that many counterfeit parts closely resemble genuine parts, often making it difficult to spot them.
"Repairers (collision and mechanical) should employ common-sense research measures when evaluating suppliers and procuring replacement parts," it said in a statement. "It is most important for shops to know and trust the source of their parts and utilize reputable supply chains.  Anyone suspecting a possible counterfeit part should contact the National Intellectual Property Rights Coordination Center or the brand protection department for that automaker."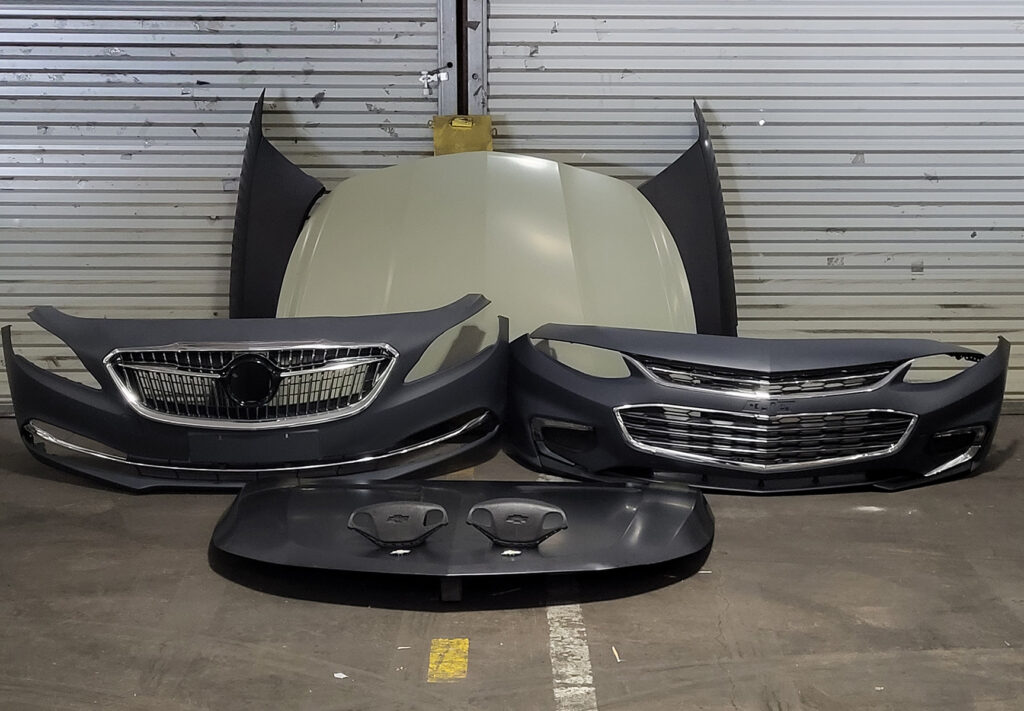 The latest bust came on the heels of CBP officers seizing 192 headlamps and 40 brake hoses February 28 for failing to comply with federal safety standards. In that case, parts were shipped from Taiwan to Los Angeles, and valued at about $2,500.
The cases serve as a reminder for consumers to only purchase parts from authorized dealers and avoid buying them from third-party sellers.
"Consumers in need of auto repairs should be wary of unscrupulous repair shops and greedy internet vendors that prioritize profits over the safety of their customers," said Joseph Martella, CBP's Philadelphia area port director. "Consumer safety is a top priority to Customs and Border Protection and CBP officers will continue to seize counterfeit goods that threaten the health and safety of American consumers."
Earlier this year, a Philadelphia mechanic pleaded guilty to trafficking "hazardous" airbags into the U.S. from China and selling them to unsuspecting customers.
According to the U.S. District Attorney's Office, Emilano Rodriguez fraudulently imported airbags from China from January 2017 through Oct. 30, 2019. He is accused of installing the defective parts in salvaged vehicles, which were then resold to consumers.
The DA's office said that unscrupulous repairers might unknowingly buy counterfeit airbags to save money, but potentially at a great cost to drivers buying remanufactured vehicles.
"Once purchased and driven on public roads, the vehicles expose the driver, passengers and general public to the hazards associated with vehicle malfunctions due to the use of substandard parts," it said.
"Some of these malfunctions may include tires prone to blow-outs, brakes unable to withstand the high temperatures associated with highway driving speeds, and airbags incapable of timely inflation or over-inflation that result in the death or serious injury of the driver or others exposed to the defective airbag."
During fiscal year 2022, federal agents seized nearly 21,000 shipments containing goods that violated Intellectual Property Rights, with the packages collectively equating to nearly 25 million counterfeit goods worth $2.98 billion if marketed as genuine.
Mercedes-Benz was among the automakers to speak out against the rise in counterfeit parts last year, saying 1.86 million counterfeit products were seized in more than 650 customs and law enforcement raids in 2021 alone.
Mercedes-Benz said the issue is not only one of intellectual property rights, but of public safety as well.
"It's often hard to visually distinguish counterfeit products from genuine parts. However, blatant differences in quality and safety quickly become apparent on the test track and on the road," the OEM said. "The quality of counterfeit products is usually poor and they do not meet the minimum legal requirements in terms of safety. Therefore, counterfeit products pose a significant risk to the health and safety of road users."
Mercedes-Benz recommends that buyers check unusual offers very carefully. An extremely low price, conspicuous product quality issues or sale via dubious online sources can all be red flags. "It is often even possible to see from the product images or designations that the parts cannot be genuine, since Mercedes-Benz simply doesn't manufacture such items," it said.
Repairers who happen upon counterfeit parts can report them online.
Images
Featured and secondary images: Some of the Philadelphia-bound counterfeit auto parts seized by U.S. border patrol officers are pictured. (Courtesy of U.S. Customers and Border Protection)
Share This: