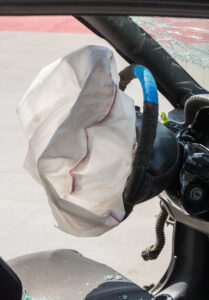 A Philadelphia mechanic has pleaded guilty to trafficking "hazardous" airbags into the U.S. from China and selling them to unsuspecting customers.
And as the industry marks National Consumer Protection Week, attorneys say the case serves as a reminder of the importance of using authentic parts. Automotive Anti-Counterfeiting Council (A2C2) reiterated the advice this week on LinkedIn when reminding customers to be on the lookout for fake parts.
"A2C2 marks National Consumer Protection Week by urging caution when buying auto parts, particularly those sold online," it said in a post. "Many dangerous counterfeit auto parts are difficult to distinguish from genuine parts. Avoid becoming a victim-know your source when buying online."
According to the U.S. District Attorney's Office, Emilano Rodriguez fraudulently imported airbags from China from Jan. 2017 through Oct. 30, 2019. He is accused of installing the defective parts in salvaged vehicles, which were then resold to consumers.
The DA's office said in a press release that unscrupulous repairers buy counterfeit airbags to save money, but potentially at a great cost to drivers buying remanufactured vehicles.
"Once purchased and driven on public roads, the vehicles expose the driver, passengers and general public to the hazards associated with vehicle malfunctions due to the use of substandard parts," it said.
"Some of these malfunctions may include tires prone to blow-outs, brakes unable to withstand the high temperatures associated with highway driving speeds, and airbags incapable of timely inflation or over-inflation that result in the death or serious injury of the driver or others exposed to the defective airbag."
'Russian roulette'
In this case, federal agents recovered more than 450 counterfeit airbags and parts from Rodriguez's residence and business. It's not known how many others were installed.
U.S. Attorney Jacqueline Romero said her office continues its efforts to keep counterfeit products off the streets, but added that consumers should be aware of the practice.
"Counterfeit airbags are playing Russian roulette with the lives of unsuspecting consumers," Romero said. "The National Highway Traffic Safety Administration notes that counterfeits have consistently been shown to malfunction. Emiliano Rodriguez peddled these airbags for profit, knowing lives would be at risk."
William S. Walker, the special agent in charge of Homeland Security investigations in Philadelphia, said the case serves as a reminder that "disreputable actors" are out there breaking laws and compromising safety.
"In all commercial transactions, we urge consumers to conduct their own research and only purchase from reputable dealers who have a verifiable track record of legal performance," Walker said. "The consequences of not doing so can be dire, including monetary losses or even the loss of life or limb."
Rodriguez, 45, is a citizen of the Dominican Republic and faces deportation at sentencing. A judge could also sentence him to up to 10 years' imprisonment, three years of supervised release, and $50,000 in fines.
The wider problem
Counterfeit auto parts is a growing issue, with A2C2 publishing a number of papers on the matter.
The council, in 2021, called on eBay to immediately halt the sale of airbags and airbag components on its website, saying that the move is the only effective way to prevent the sale of dangerous counterfeit airbags on the site.
A2C2 said it has "engaged directly" with eBay executives about the subject since 2017. Although several other e-commerce platforms have agreed to prohibit the sale of airbags and airbag components to address the growing problem, eBay has not followed suit, the nonprofit association said in a news release.
A2C2 told Repairer Driven News that Amazon.com, Walmart.com, Bonanza.com, OfferUp.com, Alibaba.com, and Aliexpress.com have enacted sales prohibitions on airbag assemblies.
Counterfeit airbags have been a subject of concern for the National Highway Traffic Safety Administration (NHTSA). According to testing conducted by the organization, counterfeit airbags have shown consistent malfunctions ranging from non-deployment to the expulsion of metal shrapnel during deployment.
Based on those concerns, dozens of states have so far adopted bans on counterfeit airbag sales.
Although its focus is on mass-market commerce marketplaces and not the parts procurement systems used by repair professionals, A2C2 said shops face some risk from eBay's position, too.
"As with nearly all consumer products, the sale of automotive parts online has surged significantly in recent years, and with that A2C2 believes the potential for unsuspecting consumers and repair shops to purchase dangerous counterfeit automotive parts, including airbags, has increased as well," the group said.
In a statement to RDN, eBay said only airbags produced by OEMs can be offered for sale on its site, and only by "approved sellers who adhere to our strict policies and federal and state laws."
"Counterfeits are not tolerated on eBay and we strongly support the goal of keeping drivers and passengers safe," the company said. "We look forward to continuing to work with the Automotive Anti-Counterfeiting Council to address their concerns while supporting approved sellers."
The fake parts issue isn't restricted to airbags. Last year, Ford accused a group of companies of advertising and selling thousands of fake parts including fake truck grilles. Earlier last year, Mercedes-Benz revealed that 1.86 million counterfeit products were seized through 650 customs and law enforcement raids in 2021 alone.
Image
Featured image credit: manfredxy/iStock
Share This: