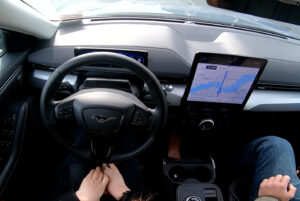 The Insurance Institute for Highway Safety (IIHS) is speaking out against the use of partially and fully autonomous vehicles, saying they could make roads more dangerous.
Speaking during a virtual Capitol Hill briefing March 7, IIHS's president David Harkey said that while he supports many modern technologies including driver assistance tools, he can't get behind self-driving cars.
"We firmly believe in technology for vehicle safety and the potential it has to reduce the tragic toll on our roadways," Harkey told legislators in prepared remarks. "But I want to be clear about where we see the greatest benefits for vehicle safety technology.
"We believe it is critical for the driver to remain engaged in the driving task at all times and always be responsible for all actions of the vehicle. We do not believe in the promise of technology to completely replace drivers and for the vehicle to assume all responsibility for vehicle operations."
A number of automakers are moving forward with self-driving technologies. Late last year, Stellantis acquired advanced artificial intelligence (AI) and autonomous driving software developer, aiMotive, to expand the automaker's global talent pool and boost the mid-term development of the all-new STLA AutoDrive platform.
This year, the Mercedes-Benz self-driving system, Drive Pilot, was approved for use in Nevada. Mercedes is also seeking approval for Drive Pilot use in California.
The Society of Automotive Engineers defines Level 3 autonomy as the vehicle being in full driving control and the occupant won't be required to take over, but it may be requested.
Nevada's step means Mercedes will be the first automaker to offer a system that lets drivers legally take their eyes from the road.
Other systems currently on public roads include Tesla's Autopilot and General Motors' Super Cruise, both of which are classified as SAE Level 2, meaning drivers must pay attention at all times and be prepared to take over.
Harkey's comments came at the heels of an IIHS study last October that found many drivers treat partially autonomous vehicles as self-driving, confident that they can perform non-driving-related activities like eating or texting while behind the wheel.
He referenced the study results during his most recent remarks, saying drivers in partially- or fully-autonomous cars are more prone to distraction.
"These systems can control the vehicle's speed and steering. But they're not now and may never be able to handle every situation that arises, so the driver must remain focused and ready to take over at all times," Harkey said. "Unfortunately, human nature and the designs themselves make that extremely difficult."
During his presentation, Harkey acknowledged IIHS research that shows forward collision warnings and automatic emergency braking (AEB) reduce rear-end vehicle-to-vehicle crashes by up to 50%. AEB systems able to recognize and brake for people reduce pedestrian-related accidents by 27%, it added.
But IIHS said the same benefits don't apply to Level 2 partial automation systems. In fact, IIHS research showed at least some designs "may be adding to the danger on the road by lulling drivers into complacency behind the wheel," the institute said in a press release.
"These systems can control the vehicle's speed and steering. But they're not now and may never be able to handle every situation that arises, so the driver must remain focused and ready to take over at all times. Unfortunately, human nature and the designs themselves make that extremely difficult."
Added Harkey: "In observational studies, we have found that drivers using these systems tend to drive faster, look away from the road more frequently and for longer periods of time, and engage in more distracting behaviors."
Images
Ford's BlueCruise hands-free highway driving system, in operation in a Mustang Mach-E. (Provided by Ford)
Share This: