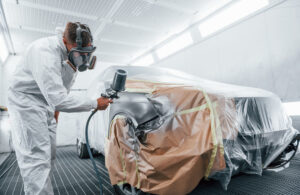 More shops using invoice system for materials costs, knowing difference between 2 refinish procedures could mean more money
By on
Collision Repair | Insurance
Significantly more shops are using an invoice system to bill for materials, at least some of the time, according to the latest "Who Pays for What?" s

urvey results and shops saw significant changes in payment for two-tone work, finish, sand, and buff, refinishing pinch welds, and masking for seam-sealer.
In 2021, a similar survey found that about half of shops relied strictly on the multiplier method — a flat dollar amount per refinish hour — to bill for materials, while about 19% used a materials calculator or invoicing system. The percentage using the invoicing system exclusively remains essentially unchanged but now more than 40% of shops say they use a mix of both methods. That's up from about 32% in 2021 meaning 3 in 5 shops are currently using an invoicing system at least some of the time, up 12 percentage points from eight years ago.
"I really think the large change we are seeing is due to the multiple increases in paint prices virtually all shops experienced since we last did this survey in January of 2022," said Mike Anderson, CEO of Collision Advice, which conducts the quarterly survey in conjunction with CRASH Network. "More shops are beginning to charge for paint and materials with a detailed invoice that shows exactly what was used on the vehicle."
The survey received responses from 745 collision repair facilities. Shops of all types responded from 48 states.
The biggest change in results compared to last year's refinish survey was on payment for two-tone work — labor to mix a second basecoat color and gun clean-up when both colors are used on vehicle exteriors. There was a decrease of 5.9 percentage points bringing the total to 75% of shops that said they're "always" paid or paid "most of the time," of those that negotiate for two-tone.
Around 50% of surveyed shops said all eight of the major U.S. carriers — Allstate, Farmers, GEICO, Liberty Mutual, Nationwide, Progressive, State Farm, and USAA — always paid for the procedure with State Farm on top at 55.6%.
"I am not sure why regular compensation for this labor operation would be declining," Anderson said of the result. "It would be interesting to know if this is because shops previously included this under 'second color set-up' and now they separate it out, or if there is insurance pressure as part of virtual reinspections."
Labor to finish, sand, and buff was also down this year by 3.3 percentage points to 36% of shops that negotiate for payment saying they're paid "always" or "most of the time."
State Farm and USAA are most likely to always pay with 21.5% and 20.3% of shops, respectively, reporting they get paid for the procedure. Progressive comes in last at 14.5%.
"All of the paint manufacturers have bulletins on the need to denib or finish sand or buff, often noting (as the AkzoNobel statement reads) that, 'It is not likely that a repair can be made that is completely free of surface defects,' and that it is (as the Axalta statement reads) 'a normal and necessary operation for both OEM manufacturers and collision repair shops.' You can download your paint company's bulletins from the SCRS website," Anderson noted in the survey results. "Some automakers, like Toyota, Lexus, Nissan, and INFINITI, also have statements that these processes are necessary even at the manufacturing plant as well as at body shops."

"Who Pays for What?" found that the majority of shops said most cars need either denibbing, the use of a small sanding disk to remove dust specks, followed by polishing of a very small area, or finish sanding and buffing — lightly sanding and then buffing a complete panel after refinishing.
Collision Advice says it's important for shops to know the difference between denib and finish, sand, and buff to charge for labor appropriately.
"All three estimating system providers allow 30 percent of basecoat time for 'finish sand and buff.' But the systems each have a different formula (or none at all) for 'denib.' So, the labor allowance varies significantly between 'finish sand and buff' and 'denib.'"

As for refinishing pinch welds and masking for seam-sealer, the first went down in payment by more than percentage points and the latter up by more than three.
Of those that negotiate for refinishing pinch welds after clamp damage repair, 66% of shops said they're paid "always" or "most of the time." Of those that negotiate for seam-sealer masking, 41% said they're paid "always" or "most of the time."
"This was a new question in 2022, and while the percentage of shops getting paid moved up slightly, half of shops have still NEVER sought to be paid for this," Anderson wrote, in reference to seam-sealer masking. "As mentioned elsewhere in this report, with the increase in paint material costs, it is important that we understand what materials and labor operations are needed in all instances such as this. We also understand that some seam sealer companies make tips that may mean masking is not always required, so this operation should only be billed when a technician needs to perform it."
State Farm (24.2%), USAA (23.8%), and Nationwide (23.7%) are the most likely to always pay for the procedure. State Farm is far ahead in paying for pinch weld repair with 43% of shops saying that the carrier always pays labor for the work. Thirty-one to thirty-six percent of shops said the other seven carriers always pay.

"In my opinion, that 66% who say they are paid always or most of the time for this should be 100%," Anderson wrote. "I have not found any vehicle manufacturer or any frame equipment company that says it's okay to secure a fixture clamp to pinch welds without first removing all undercoating and seam sealer. If this isn't done, it increases the likelihood that the vehicle can slip when you are pulling it, causing further damage or adversely impacting the accuracy of the measurements. So once the pinch weld damage is repaired, it needs to be refinished. This generally means eight areas of refinish: the front and back side of the pinch welds in four locations."
Blending adjacent panels for color match only changed by 1 percentage point compared to 2022 meaning 90% of shops that negotiate for it get paid always or most of the time.
Anderson noted, "I'm glad to see that most shops are still being paid for this procedure all or most of the time because I've heard reports from various markets that some insurers are pushing back on blending hoods when replacing a fender."
In fact, a blend study headed by the Society of Collision Repair Specialists (SCRS) backs what collision repairers have long argued: blending a panel takes much more skill and time to achieve an invisible transition than the existing formulas reflect.
"The overall average when looking at all colors, all companies, all variations, was 31.59% greater than the full refinish value," said SCRS Executive Director Aaron Schulenburg when announcing the study results in November 2022. "That's certainly different than 50% less than" the full refinish value. "These results very clearly establish that performing the processes necessary to blend a panel does not take less labor than the processes to fully refinish a panel."
Paint and materials 
Since the "Who Pays for What?" survey began, the vast majority of shops said they use the traditional "multiplier method" to calculate refinish materials charges, Collision Advice says.
"Since we began offering the choice of selecting 'a mix of both methods' in 2021, we see that less than half (40% in 2023) of shops use only the multiplier method while 19% of shops are always using a materials calculator. Among shops that said they used the multiplier method, most shops (80%) charge between $36 and $54 per refinish hour. The average amount charged per refinish hour is $44, up from $39 in 2022. Of those shops that reported using materials calculators, we asked which system they used. The percentage of shops using a paint company scale nearly tripled (from 25% to 71%) since we began asking the question in 2016."
Anderson added that he believes the large increase in the percentage of shops using a mix of methods is due to multiple increases in paint prices that most shops experienced in 2022. According to a presentation given by Computer Logic President Rick Palmer during the Collision Industry Conference (CIC)'s April 2022 meeting, paint and materials reimbursements at that time were only 18.5% higher than in 2017, compared to a 43.9% increase in the P&M costs that collision repair facilities have experienced in the same period of time.
Palmer said if 2017 labor rates had maintained pace with inflation, the average rate in 2022 could've been $46.38 versus the actual average rate of $34.60.
When it comes to quality control, Anderson recommends electronic versus paper forms. Seventy-nine percent of respondents said they use some form of QC system, up 2% from 2022.
"It can help minimize liability, and help the shop better manage the QC process," he said.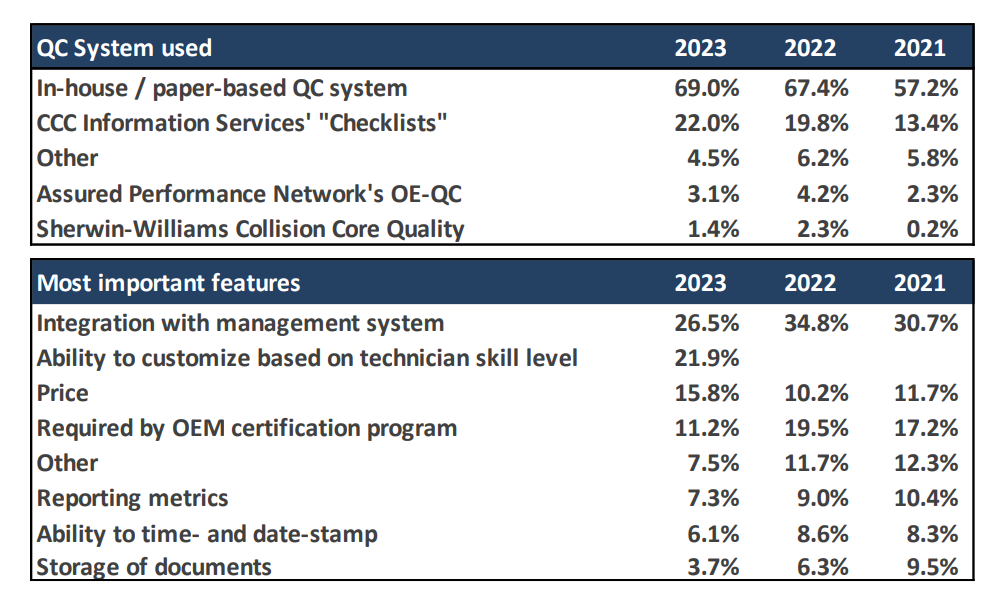 In one of his Auto Body News columns, "From the Desk of Mike Anderson," Anderson explains that younger techs are used to computers, tablets, and cell phone apps instead of paper trails and electronic QC filing holds employees accountable as it requires every box on the checklist to be checked off one by one.
And perhaps most importantly, Anderson wrote, "Some of the lawsuits out there related to incomplete or incorrect repairs have raised the industry's awareness of the need for proper documentation of repairs. An electronic QC process ensures that every step is time- and date-stamped, a record that helps ensure —and document — that things were done properly."
Another "Who Pays for What?" survey is open through the end of April. It focuses on not-included body labor operations and takes about 15 minutes to complete here. Anyone in a shop familiar with the shop's billing practices and the payment practices of at least some of the largest national insurers can complete the survey. Each shop's individual responses are held in the strictest confidence; only aggregated data is released, according to Collision Advice and CRASH Network.
Survey participants receive a free report with complete survey findings as well as analysis and resources to help shops better understand and use the information.
Previous survey results are available online here.
Images
Featured image credit: standret/iStock
More information
Share This: