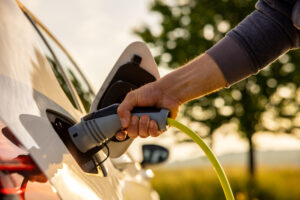 As Colorado continues accelerating the adoption of electric vehicles (EVs) throughout the state, it says it is set to have nearly 1 million emission-free vehicles on the road by 2030.
In its recently-released EV Plan Executive Summary, Gov. Jared Polis's administration shared a vision for the "large-scale transition of Colorado's transportation system to zero emissions vehicles."
According to the report, EV purchases have jumped more than 100% in the past four years, rising from 3.5% of new sales in 2019 to 10.5% of new sales in 2022. The upswing puts the state on track to reach 940,000 EVs by the end of the decade and 2.1 million EVs by 2035, according to officials.
"The state envisions the large-scale transition of Colorado's transportation system to zero emission vehicles," the report said. "This includes increasing the market share of light duty electric vehicles to nearly 100% by 2050, transitioning 100% of medium- and heavy-duty vehicles to zero emissions vehicles, and expanding adoption of electric micromobility and shared options.
"This vision also focuses on expanding access to, and benefits of, this transition to all Coloradans and businesses, especially those in disproportionately impacted and rural communities."
To reach its goals within the passenger vehicle space, the report said the government will:
"Work with utilities, private companies, site hosts, local governments, and others to increase the EV infrastructure needed to support the state's 2030 light-duty vehicle goals and enable travel statewide in an EV;"
"Increase the number of charging ports awarded or installed to 1,700 DCFC and 5,800 public Level 2 by 2025, including awarding grants for at least 1,000 ports each year through 2025;"
"Complete the implementation of the state's National Electric Vehicle Infrastructure plan, fully expending Colorado's $56.5 million allocation to construct DC fast-charging sites along federally designated EV corridors;" and
"Increase the number of Colorado Scenic & Historic Byways classified as electrified byways from three in Fiscal Year 2020 to 23 by the end of Fiscal Year 2025."
The report said it would further encourage Coloradans to make the electric switch by ensuring residents of multi-family housing have access to at-home EV charging, exploring solutions to improve public EV charger reliability, and incentivizing mid-income retirees to ditch their gasoline-powered vehicles for EVs.
It said it also plans to launch a residential charging infrastructure incentive program to help residents install at-home chargers.
"We want to make sure that people have access to charging when they need it, wherever they're going in the state," Will Toor, director of the Colorado Energy Office, told NBC 9News. "I think there is little doubt that the future of cars is electric.
"It's one of those key areas that we need to be able to tackle if we're going to be able to meet what science says we need to do on emissions reduction in order to maintain a livable future."
Toor added that the report also recommends a gradual decrease in the amount of gasoline-powered vehicles sold in the state, which is on a larger mission to accelerate the clean energy transition.
State officials last month announced a legislative package that would achieve 100% renewable energy by increasing opportunities and renewable energy tax incentives for residents by reducing the costs of EVs in Colorado by $5,000.
"As the effects of climate change become more and more pronounced, it is clear we must implement bold policies to reduce greenhouse gas emissions and mitigate the impacts on our climate and our environment," said Senator Chris Hansen (D-Denver) at the time. "Coloradans are demanding we act, and we plan to tackle this challenge head-on by implementing policy that will reduce emissions, set achievable goals, and put our state on a path to climate sustainability for generations to come."
Images
Main image: Simon Skafar/iStock
Share This: