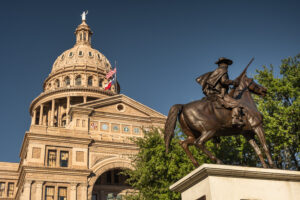 A bill before the Texas Senate would mandate OEM repair procedures in collision repair and customer choice of OEM or aftermarket replacement parts on new vehicles, regardless of insurance carrier preference.
SB 1083 sponsor and Senate Committee on Business & Commerce Vice-Chair Sen. Phil King (R-District 10) said during a March 30 hearing on the bill that the use of non-OEM repairs and parts puts motorists in danger. He referenced the John Eagle case as an example. John Eagle Collision Center in Texas was sued after a Honda Fit's roof was replaced with adhesive rather than more than 100 welds called for in Honda's repair procedures. The suit argues that the improper repair led to Matthew and Marcia Seebachan, a couple that bought the car used post-repair, being severely injured in a collision.
A jury found the body shop responsible for the majority of their ordeal and awarded $31.5 million in compensatory (nonpunitive, covering expenses) damages. The Seebachans later settled with John Eagle for an undisclosed amount.
"These individuals and people across Texas are never informed that non-OEM parts and repair procedures are being used to repair their new vehicles," King said. "This danger and lack of transparency is what Senate Bill 1083 seeks to prevent. Safety is the most important priority but individuals are also shocked to see the drastic difference in resale value in the secondhand market when they have been repaired with non-OEM parts."
SB 1083 would require new vehicles — defined under state law as those that haven't been sold at retail regardless of mileage — to be repaired with only OEM parts and exact manufacturer specifications unless insurers allow the use of aftermarket parts. King said the bill would only apply to new vehicles that have been owned by the insurance policyholder for three years or less. The bill wouldn't apply to vehicles owned for more than three years that are the subject of third-party liability claims. The use of non-OEM parts and repair procedures, called processes in the bill, would require a signed disclosure by the third-party claimant.
The bill also stipulates that insurers wouldn't be able to prevent their policyholders from choosing the repair shop they take their vehicles to.
The committee didn't vote on the bill. If it's passed by the Senate and House it will be effective Sept. 1.
During testimony on the bill, there were two supporters, one a collision repairer and the other a Ford dealer and body shop owner.
Charlie Gilchrist, a Ford dealer and chairman of the Texas Automobile Dealers Association, noted that the bill is the same as legislation approved by the committee 9-0 during the last legislative session and was also approved by the Senate. 
Five representatives spoke in opposition to the bill, including P&C insurance associations, LKQ, and the Texas Automotive Recyclers Association (TARA).
"Dealing with these non-OEM parts on a daily basis, you get a different feel for reality," said repairer Greg Luther, Helfman Dodge Chrysler Jeep Ram Fiat collision center director and former Houston Auto Body Association chairman. "Everyone wants to keep costs down but it has to, at some point, become more about safety than about cost. I can tell you a lot that these parts many times don't fit like they're supposed to. Although a lot of these gentlemen say that their carriers allow for OEM parts, they do but they expect the vehicle owner to pay the difference. On their policies, many of them don't even offer an OEM option. It's either this policy or no policy. There are some carriers that do but they're few and far between.
"At work, when I look at these parts and I compare these parts, there hasn't been one that I'm not able to disqualify either for weight, for fit, [or] for finish. I'm just a guy trying to get the right thing done about my customers and my employees. At the end of the day, we've got to do something. We, as Texans, are mandated to purchase a product that's not really regulated. They're able to change their policies to keep us from getting what we deserve."
Representatives for the National Association of Mutual Insurance Companies and American Property Casualty Insurance Association said the bill would cause insurance rate increases because mandatory use of OEM parts would drive up repair costs.
Jay Thompson, attorney for the Association of Fire and Casualty Companies of Texas, said he has two concerns with the bill: repair estimates would be changed significantly because insurers go by model year, not the definition given in the bill. And using the term "repair processes" is "very broad and ambiguous," isn't used in state law or manufacturer warranties, and could be abused by distributors that aren't auto manufacturers but represents OEMs to sell cars to franchise dealers, he said.
Jon Schnautz, with the National Association of Mutual Insurance Companies, said consumers already have options to have OEM parts put on their vehicles during repairs. First, he said, Texas statute already prohibits insurers from dictating parts that are used, and insurers provide OEM endorsements that policyholders can buy coverage for.
Schnautz added that the bill would be the most extreme proposed OEM mandate put forth compared to other state bills, especially including repair processes that would "almost make it impossible to determine what would happen with the bill."
"The auto market is very competitive; it is also very tight," Schnautz said. "Any increased pressure on cost is going to be reflected in upward pressure on [insurance] rates."
LKQ and TARA's take on the bill was that it would create a monopolistic market of OEM parts and be more expensive for vehicle owners. LKQ said mandated OEM repair procedures would also create an OEM monopoly on tools and diagnostic service providers, which comes at "the wrong time" due to unavailable OEM parts because of supply chain delays.
According to LKQ, aftermarket parts cost 20-50% less than OEM and auto part costs are up 23.1% as of last January compared to the year prior. TARA said most insurers allow for recycled parts, which are of quality, safe, warrantied, and cost 20-80% less than OEM parts.
Similar arguments were made by LKQ, the Automotive Recycling Industry of Nebraska (ARIN), the American Property Casualty Insurance Association, and other insurance associations during a hearing held in January on a Nebraska bill that seeks to add structurally totaled vehicles to the state's list of vehicles that require a salvage title and would require repair facilities to follow OEM procedures for all repairs.
Images
Featured image: Texas State Capitol building in downtown Austin. (Credit: Pgiam/iStock)
Share This: