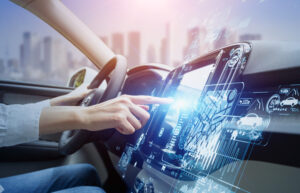 EU makes step toward in-vehicle data access law, aftermarket groups stand against it
By on
International | Legal
An amended version of the heavily debated European Commission's Data Law, which aims to ensure fair access to in-vehicle and digital device data, has been approved on first reading by European Parliament.
The heart of the issue is that the definition of data ownership is ambiguous in European Union law and the aftermarket industry says their access is limited by OEMs. The Commission originally planned to adopt rules on how the data should be shared during Q2 2023 but hasn't come up with a legislative proposal, according to Reuters. The legislation, proposed last year, would grant consumer and business access to and use of connected device data for aftermarket and value-added services, like predictive maintenance.
Parliament must hold two more readings for the act to become law. The amended act would "contribute to the development of new services, in particular in artificial intelligence where huge amounts of data are needed for algorithm training," according to a Parliament news release.
"It can also lead to better prices for after-sales services and repairs of connected devices. The volume of data generated by humans and machines is increasing exponentially and becoming a critical factor for innovation by businesses and by public authorities (e.g. shaping of smart cities). This kind of data is said to have become 'the new oil.' The Data Act establishes common rules governing the sharing of data generated by the use of connected products or related services (e.g. the internet of things, industrial machines) to ensure fairness in data sharing contracts."
Parliament has, on first reading, adopted measures that would allow users access to the data they generate, which the Commission says 80% of industrial data collected are never used. Companies would be able to decide what data is shared and OEMs could choose not to make certain data available "by design," according to Parliament.
"The Data Act will be an absolute game changer providing access to an almost infinite amount of high-quality industrial data. Competitiveness and innovation are part of its DNA," said lead Member of the European Parliament (MEP) Pilar del Castillo Vera.
CLEPA European Association of Automotive Suppliers' reaction was to again urge swift action by the Commission. The association says the shift to battery electric vehicles (BEVs) and the rise of connected vehicles equipped with new Electric & Electronic (E/E) architectures are causing an unparalleled transformation in the European automotive industry but broader access to in-vehicle data is needed first. CLEPA told Reuters the EU proposal "could pave the way for unfair competition from U.S. and Chinese tech companies.
Federation Internationale de l'Automobile (FIA) Region I Director General Laurianne Krid said legislation could solve unstandardized data, according to Reuters.
CLEPA wants European Commissioner Thierry Breton to "urgently bring forward long-planned legislation on access to in-vehicle data, functions, and resources" that is legally binding and sector-specific by the fall of this year, according to a March 31 news release.
A panel at the CLEPA Aftermarket Conference that was held last week said in-vehicle data access is a major competition issue in the aftermarket because OEMs don't provide open access to the industry.
Analysis conducted over the past seven years by the European Commission "has revealed a significant hurdle to achieving fair and equal access to vehicle-generated data, which gives vehicle manufacturers an almost insurmountable advantage due to the design of the vehicle," CLEPA said.
"In addition to this systemic barrier, the body of work has identified the presence of additional structural and behavioral obstacles, which only serve to compound the issue. It also warns that this problem is likely to be further intensified by the increasing involvement of hyperscalers, who are partnering with manufacturers to embed themselves more deeply in the vehicle."
Major hyperscalers include Amazon Web Services, Google, Oracle, Microsoft, and IBM.
"The access to in-vehicle data and resources is not only crucial but absolutely imperative for automotive suppliers in Europe to survive and thrive in an ever-evolving industry," said CLEPA Secretary General Benjamin Krieger. "Without fair access, the entire automotive ecosystem, including suppliers and the aftermarket sector, cannot remain competitive versus tech giants that are already dominating the infotainment systems of vehicles, nor can we continue to innovate the components and services that meet new digital demands."
Earlier this year, CLEPA published a position paper, jointly with the EU's mobility service ecosystem that urges the introduction of regulatory guidance on in-vehicle data access by the European Commission.
In the U.S., the issue is being legislated federally under the re-introduced Right to Equitable and Professional Auto Industry Repair (REPAIR) Act (H.R. 906), which supporters claim will ensure access to "all tools and equipment; wireless transmission of repair and diagnostic data; and access to on-board diagnostic and telematic systems needed to repair a vehicle."
Images
Featured image credit: metamorworks/iStock
More information
28 state AGs voice support for federal 'right to repair' legislation
Share This: