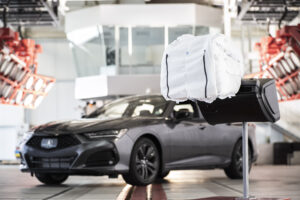 A number of automakers are being recognized by the federal government for their cutting edge-research and designs that are helping make roadways safer.
Among the U.S. Government Award for Safety Engineering Excellence recipients was a Honda engineer lauded for his work creating a "groundbreaking" front passenger airbag design that decreases the chance of a serious brain injury in a collision.
Eric Heitkamp and eight others received the award during this year's Enhanced Safety of Vehicles conference in Yokohama, Japan.
The airbag technology he helped craft is designed to better manage lateral collision forces that can cause a passenger's head to "rotate severely at high velocity and slide off a conventional airbag, increasing the chance of serious injury," Honda said in a news release.
Heitkamp led development of the new airbag, leaning into new research measuring brain injuries in vehicle collisions–including a landmark study of brain injuries led by U.S. Department of Transportation scientists–to do so.
"Rather than the single inflatable chamber of conventional front passenger airbag systems, the new airbag operates something like a baseball catcher's mitt, with an uninflated panel first catching and decelerating the occupant's head with less force, while also directing it inward between two inflated chambers to cradle and protect the head," the automaker said.
"Specifically, the new passenger front airbag uses four major components: three inflated compartments consisting of a center chamber and two outward-projecting side chambers that create a wide base across the dash and the uninflated 'sail panel' that stretches between the two side chambers."
Other recipients of National Highway Traffic Safety Administration's (NHTSA's) U.S. Government Safety Engineering Excellence Awards, which were announced Monday, include:
Katarina Bohman, technical expert at Volvo, for her "outstanding contributions to vehicle occupant protection";

Thomas Dingus, of the Virginia Tech Transportation Institute, for his "pioneering efforts, significant contributions, and dedication to automotive and roadway safety";

Markus Hermle, of Mercedes-Benz, "for his many contributions to vehicle safety";

Yuichi Kitagawa, of Toyota, for his "numerous contributions in the areas of human modeling research and development of vehicle safety technology";

Atsuhiro Konosu, of the Japan Automobile Research Institute, for his "outstanding contributions to improving pedestrian safety";

Rini Sherony, senior Principal Engineer, atToyota's Collaborative Research Center,




for her "exceptional and influential contributions to crash data analysis, active safety and ADAS design, testing, and planning";

Yoichi Sugimoto, of Honda, for his "outstanding work in advanced vehicle safety and automated driving technologies"; and

Yukou Takahashi, of Honda, for his outstanding contributions to vehicle safety.
Other automakers have yet to elaborate on the technologies that netted their awards.
"The contributions made by [the] awardees advance our ability to design and build vehicles that protect vulnerable road users as well as vehicle occupants," said Veronica Morales, NHTSA's communications director.
"Their vital research adds to our collective knowledge of how we can more effectively prevent crashes and save lives on roads around the world. Their work spans the broad array of vehicle safety factors, including biomechanics, active safety systems, ADAS design and testing, human modeling, and pedestrian safety."
IMAGES
Acura says it is enhancing its vehicle safety with a new airbag design. Featured image credit: Honda
Share This: