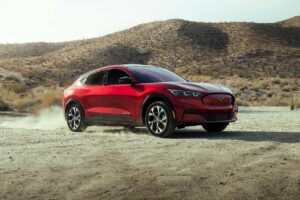 Ford is withdrawing its National Highway Traffic Safety Administration (NHSTA) petition to develop and deploy its Level 4 automated driving system (ADS), saying it will instead focus on nearer-term prospects.
The news follows Ford's revelation last October that it would shut Argo AI, its joint venture with Volkswagen to develop self-driving vehicle technology.
"As evidenced by the planned shutdown of our ADS partner Argo AI, we believe the road to fully autonomous vehicles, at scale, with a profitable business model, will be a long one," Ford said in a letter to the NHSTA first published by a Reuters reporter.
"At this time, Ford has decided it is more prudent to focus on nearer term L2/L3 technologies, which do not require an exemption, hence we would like to withdraw the petition for an exemption from further consideration."
Change in direction
Ford on Monday painted a new picture of what its future will look like with the release of its 2023 Integrated Sustainability and Financial report, which lays out its commitment to creating a "more sustainable, inclusive and equitable future."
The automaker said it's on track to retrieve carbon neutrality by 2050 throughout its vehicle, operations, and supply chain and highlight advances made in sourcing responsibly-produced materials for its electric vehicles (EVs) and batteries.
"We believe the long-term success of any business is inextricably linked with creating value for customers, employees and communities, while also caring for the planet," Bill Ford, executive chair, said in a press release. "We are undertaking a massive transformation to lead the electric and connected era of transportation and are committed to being transparent about our progress and opportunities for improvement. We are excited and optimistic about the future and look forward to making carbon-neutral transportation a reality."
Worldwide, Ford has committed to spending more than $50 billion through 2026 to develop and manufacture (EVs) and batteries. And by the end of this year, it expects to begin producing 600,000 EVS per year, ramping up to more than 2 million EVs per year by 2026.
Significant shift
The move away from autonomous driving marks a huge shift for Ford, which in 2016 announced an ambitious plan to put a "high-volume, fully autonomous [Society of Automotive Engineers] level 4-capable vehicle" in commercial fleets by 2021, with the vehicles used for either taxi or ride-sharing purposes.
"The next decade will be defined by automation of the automobile, and we see autonomous vehicles as having as significant an impact on society as Ford's moving assembly line did 100 years ago," Ford President and CEO Mark Fields said at the time. We're dedicated to putting on the road an autonomous vehicle that can improve safety and solve social and environmental challenges for millions of people – not just those who can afford luxury vehicles."
However, Ford's current CEO Jim Farley struck a different tune last October during a third-quarter earnings call with investors.
"It's estimated that more than $100 billion has been invested in the promise of Level 4 autonomy. And yet no one has defined a profitable business model at scale," he said.  "… Deploying Level 4 broadly, perhaps the toughest technical problem of our time, will require significant breakthroughs going forward in many areas. Reliable, low-cost sensing — it's not the case today. Algorithms that can operate unlimited compute resources, without constraining the operating time and domain of an electric vehicle. Breakthroughs in neural networks that can learn to operate a car more safely than a human, even in very complex urban environments."
Ford, which committed $1 billion six years ago to develop Level 4 technology, filed its petition to develop, evaluate and deploy autonomous vehicles in July 2021. In withdrawing its petition, it said it remained "enthusiastic" about the future of ADS technology.
"At Ford, the safety of our customers and the integrity of our customers and the integrity of our products remain top priorities," the automaker said. "We will continue working on innovations to further improve and shape the future of safe, smart transportation."
Industry concerns
The Insurance Institute for Highway Safety (IIHS) has spoken out against the use of partially and fully autonomous vehicles, saying they could make roads more dangerous.
Speaking during a virtual Capitol Hill briefing March 7, IIHS's president David Harkey said that while he supports many modern technologies including driver assistance tools, he can't get behind self-driving cars.
"We firmly believe in technology for vehicle safety and the potential it has to reduce the tragic toll on our roadways," Harkey told legislators in prepared remarks. "But I want to be clear about where we see the greatest benefits for vehicle safety technology.
"We believe it is critical for the driver to remain engaged in the driving task at all times and always be responsible for all actions of the vehicle. We do not believe in the promise of technology to completely replace drivers and for the vehicle to assume all responsibility for vehicle operations."
Autonomous proponents
A number of automakers are moving forward with self-driving technologies. Late last year, Stellantis acquired advanced artificial intelligence (AI) and autonomous driving software developer, aiMotive, to expand the automaker's global talent pool and boost the mid-term development of the all-new STLA AutoDrive platform.
This year, the Mercedes-Benz self-driving system, Drive Pilot, was approved for use in Nevada. Mercedes is also seeking approval for Drive Pilot use in California.
The SAE defines Level 3 autonomy as the vehicle is in full driving control and the occupant won't be required to take over, but it may be requested.
Nevada's step means Mercedes will be the first automaker to offer a system that lets drivers legally take their eyes from the road.
Other systems currently on public roads include Tesla's Autopilot and General Motors' Super Cruise, both of which are classified as SAE Level 2, meaning drivers must pay attention at all times and be prepared to take over.
Images
Featured image: 2021 Mustang Mach-E (Credit: Ford)
Share This: