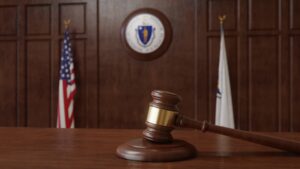 Massachusetts AG: AAI fails to prove Data Access Law conflicts with federal law
By on
Legal
In response to an April 7 brief from the Alliance for Automotive Innovation (AAI) regarding alleged compliance and legality issues with a soon-to-be enforced Data Access Law in Massachusetts the state's attorney general says AAI continues to fail to prove "irreconcilable conflict" between state and federal law.
AAI contends in its brief that testimony from Aaron Lowe, on behalf of Auto Care Association (ACA), backs up their argument that ACA "stands at the center" of its lawsuit against Massachusetts over its vehicle data access law, and could prove that OEMs can't safely and consistently comply with the legislation.
In March, newly elected Massachusetts AG Andrea Campbell terminated a non-enforcement stipulation of the Data Access Law agreed to by former AG Maura Healey that had been in place since Dec. 3, 2020. If approved by a federal district judge, that means the law will be enforced by Campbell beginning June 1.
"The remaining claims to be decided in this case are the Alliance's preemption claims under the federal Motor Vehicle Safety Act ("MVSA") and the federal Clean Air Act ("CAA")," Campbell wrote in her April 14 brief. "The test for preemption is whether there is 'no set of circumstances' under which a party can comply with state law without violating federal law.
"…Incredibly, the Alliance's brief mentions neither the MVSA nor the CAA. It instead ruminates on purported 'problems' with the Data Access Law and difficulties its members will face in achieving 'compliance' with it. …Such concerns — even if they found support in the record, which they do not — fail to not support preemption."
In November 2022, AAI asked U.S. District Court Judge Douglas Woodlock to reopen evidence in the case, AAI v. Maura Healey, after a similar ACA-backed data access initiative was put forward in Maine. Significant differences between the law approved by Massachusetts voters in November 2020 — an expansion of the state's earlier right to repair law — and the new Maine initiative submitted in August, both promoted by ACA, show those who drafted the Maine legislation recognized that the Massachusetts legislation is flawed, AAI argued.
In response to AAI's argument that "the Maine ballot initiative is the product of the same individuals with the same gameplan" and of similar language, Campbell wrote that's "utterly irrelevant to the issue of whether the Massachusetts Data Access Law conflicts with the MVSA or CAA."
"To the extent this Court need interpret the Data Access Law at all… such interpretation should be based on the plain text of the law, its purpose and structure, and well-established meanings of technical terms of art," Campbell's brief says. "The text of a measure proposed years later in a different state is irrelevant. Even if Mr. Lowe's understanding of differences in wording between the proposed Maine ballot initiative and Massachusetts Data Access Law were somehow relevant (it is not), the Alliance cherry-picks Mr. Lowe's testimony and ignores his explanations that those differences were not intended to change any provision's meaning."
Maine Secretary of State Shenna Bellows approved the Maine Right to Repair Coalition's petition for the creation of a "standardized access platform" for data generated, collected, and transmitted by vehicles to be a referendum on November's ballot.
"Indeed, the Alliance regards the proposed Maine ballot initiative as 'extremely problematic' on its own terms… and much of the Alliance's brief reflects a more generalized grievance that the ACA and others have 'place[d] pressure' on OEMs 'by enacting and enforcing ballot initiatives,'" Campbell wrote. "At bottom, nothing involving the Maine proposal has any bearing on the Alliance's preemption claims here: Not the changes in language, not the drafters' reasons for making them, and not the Alliance's attempts to call those reasons into doubt."
Campbell makes the argument in her brief, as she has previously, that the Data Access Law "does allow a contractual relationship between OEMs and the unaffiliated entity, so long as the OEMs do not control the third party," and some OEMs are already in compliance, she said. Campbell added that she and AAI's expert witnesses have found that OEMs can comply "if they devote the resources and time to make appropriate changes to their vehicles' architectures."
"The trial evidence established both that authorization is not required for access to vehicle on-board diagnostic systems, and that not all OEMs employ authorization," Campbell wrote. "Contrary to the Alliance's suggestion, federal law does not require that state laws provide 'guidance to the manufacturers' on how they can comply. …Rather, the absence of specified standards in the Data Access Law (and, now, in the Maine proposal as well…) gives manufacturers flexibility to develop compliance solutions that are best suited to their operations."
Campbell also notes in her brief that Section 3 of the Data Access Law requires an open access platform be limited to the "secure" communication of mechanical data, authorization of the vehicle owner, and the period of time needed "to complete the repair or for a period of time agreed to by the vehicle owner for the purposes of maintaining, diagnosing, and repairing the motor vehicle."
And in response to AAI's argument that "mechanical data" means "broad swaths of sensitive data that is not actually necessary for diagnosis, repair, or maintenance purposes" she said the alliance made that argument based on broadly interpreting key provisions of the Data Access Law to be able to contend that it conflicts with federal law.
"Regardless of what the Maine proposal provides, the definition of 'mechanical data' in the Data Access Law encompasses a vehicle's pre-defined diagnostic functions and any data generated, stored, or transmitted by the vehicle and used for vehicle diagnostics, maintenance, or repair — but not data unrelated to diagnostics, maintenance, or repair," Campbell wrote. "That understanding is clear from the Data Access Law's structure and purpose, which is focused on ensuring that, "as technology advances, drivers can continue to get their cars repaired where they want."
As of Tuesday afternoon, no other hearings had been scheduled or orders from Woodlock filed.
Images
Featured image credit: HT Ganzo/iStock
Share This: