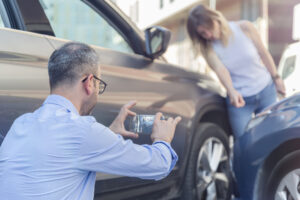 A newly-released J.D. Power report is shedding light on the latest property and casualty insurance trends, laying out the pain points prompting customers to switch insurers.
J.D. Power's 5 Factors Influencing Insurance Shopping report detailed how inflation and long wait times have caused customer satisfaction with auto claims to steadily drop since 2021. Despite insurers offering larger payouts, policyholders remained irked by other components.
In total loss claims, customers struggle to find replacement vehicles, the report said. In cases where vehicles are repairable, customers are waiting longer to have the keys back in their hands, with repair times growing from 12 days in 2020 to 17 days in 2022, it added.
"The claim is the 'moment of truth' in the insurer carrier relationship, when the promise to make things better when something goes wrong for the consumer is delivered upon," the report said. "More than twenty years of syndicated research in the auto insurance industry at J.D. Power has shown that a poor claims experience is a powerful trigger to shop for a new carrier and also increases the rate at which those who do shop decide to switch insurers.
"Carriers know this all too well and have spent generations honing their claims experiences to not only indemnify their customer (as is contractually obligated), but to build a stronger relationship with customers via an exemplary experience. Many factors outside of their direct control are now harming those experiences."
Inflation remains one of the most significant hurdles the industry is working to overcome. Many insurers have responded to the rising cost of replacement vehicles and parts by cutting down on ad spending and increasing rates through a "series of rate increases not seen in decades," J.D. Power said, adding the trend began during Q4 2021.
The shift hasn't sat well with consumers already stretched thin by the rising cost of living, the report said.
"Now, more than a year after these rate increases began in earnest, consumers have experienced at least one renewal cycle in which their insurer was taking rate, and many consumers have seen their insurance premiums increase as a result," said the report.
"…These premium increases are 'adding insult to injury' as consumers were wrestling with the effects of inflation in other areas of their lives for a year or more before seeing their insurance premiums increase at renewal."
The spike has prompted consumers to take action by shopping around for alternatives, J.D. Power said, adding that shopping for auto insurance increased about 12% during Q4 2022. It said inflation is likely to continue inspiring consumers to shop around for better rates through 2023.
Meantime, increasing premiums have prompted more policyholders to engage in usage-based insurance programs, with some receiving discounts as a result, according to the report. It noted that drivers are incentivized to participate in a telematics program over price concerns.
According to previously-released J.D. Power research, about 16% of policyholders are enrolled in a usage-based insurance (UBI) program, while another 32% said they've participated previously or would consider doing so in the future.
The same study found about one-third of consumers enrolled in UBI programs do not receive a discount; of those that do, 13% received at least 20% off their auto insurance premium.
"Interestingly, even those who are not receiving discounts for their participation are more satisfied with their insurance carrier than those who do not participate, and these customers are presumably more likely to renew with that carrier in the future," the report said. "… Satisfaction with the new buyer experience increases substantially when UBI is offered, whether the consumer elects to participate or not."
Insurers have struggled to remain out of the red for a myriad of reasons and although it might sound counterintuitive, some are scaling back new customer acquisitions to stop the bleeding, according to the report.
"To avoid writing even more unprofitable business in states where pressures are the greatest, many have decided to take steps such as reducing or eliminating advertising, closing sales offices, and requiring payment in full from new customers in these states instead of offering a payment plan," it said.
It cited GEICO, which shuttered its 38 California agent offices last year in response to what J.D. Power described as an apparent "rate inadequacy in the state on the DOI not reviewing rate submissions over the past few years."
Also in California, Progressive dropped advertising and State Farm stopped offering call center quotes, the report said. Elsewhere, GEICO has stopped selling policies over the phone in more than a dozen states, it added.
"As noted previously, more consumers are shopping for auto insurance than a year ago," J.D Power said. "How will these consumers react to a market that is more difficult to navigate with sales channels closed, payment options changed, reduced ad spend, and other such tactics employed by insurers of late?"
It added that carriers likely to remain competitive are the ones that can best understand customer needs, and find a way to meet them.
"Will an insurer soon figure out how to profitably acquire the increased mass of new shoppers, return to increased ad spend, and open the throttle on sales channels for new customers? Only time will tell, but insurers who can manage this difficult challenge stand to gain a sizeable number of new insureds."
Images
Featured image credit: iStock
Share This: