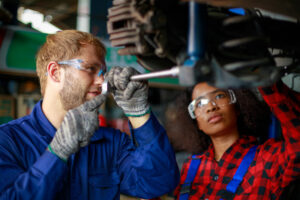 High school graduates are increasingly pursuing careers in the trades rather than enrolling in colleges or universities, statistics indicate.
Last year, higher education enrollment in the U.S. dropped by 4 million students, according to the World Economic Forum. A separate survey found 45% of respondents did not consider a college degree to be worth the investment.
As enrollment worsens among colleges, the opposite is happening at trade schools. According to the National Student Clearinghouse Research Center, two-year college skilled trades program enrollment rose last spring. Within the mechanic and repair space, it increased by 11.5% year-over-year, representing 9,950 new students.
The trend was recently profiled in a Hechinger Report article, which explored the reasons for a growing shift toward trade careers.
"These kids are looking for relevance. They want to be able to connect what they're learning with what happens next," Jean Eddy, president of American Student Assistance, told the outlet. "I think many, many families and certainly the majority of young people today are questioning the return on investment for higher education."
Several students enrolled at the Tennessee College of Applied Technology (TCAT) in Nashville said they chose a career in auto repair because it puts them on the path to near certain gainful employment without being saddled with debt.
One student, 19-year-old Robert Nivyayo, said enrolling in TCAT aligned with both his love of cars and his dislike of classrooms. He told Hechinger Report that he was looking forward to being employed full-time at an auto shop, where he expects to make between $40,000 to $60,000 per year.
"Every new day, I just get more motivated,"  he said.
Rising trade school enrollment couldn't have come at a better time for the collision repair industry, which has for decades been struggling to attract and retain skilled workers.
A recent Techforce Foundation study found that 232,000 techs were needed in 2021 across automotive, diesel, and collision but schools were graduating only 42,000. In collision alone, the demand was 35,000 techs while only 4,500 graduated.
Advocates for careers in the industry have noted the benefits of entering the industry. This includes job security, a comfortable living wage, and the ability to continue developing skill sets.
It's also fun, first-year TCAT student Chevon Jones told Hechinger Report.
"It's school, and I take it seriously. But you know, you come here, and it just feels more like you're at a shop hanging out with your homies all day," Jones said. "It's a good feeling."
After graduating from trade school, it's important to find a reputable and future-oriented shop to work at, one young auto technician said during a presentation at last week's Collision Industry Conference.
Dorn's Body & Paint technician Joseph "Raven" Lewis, who got his start in the collision repair industry in high school where he took tech classes and now leads a successful career, said he wished he'd known about the TechForce Foundation when he entered the field.
TechForce Foundation is a nonprofit organization that conducts research on the nationwide automotive and collision technician shortage that has been contributing to shop understaffing and job backlogs for years. The foundation links students and employers through education, apprenticeship, and job opportunities, including grant and/or scholarship-funded tuition. TechForce also offers grant and scholarship money to schools and collaborates with businesses, schools, associations, and nonprofits on workforce development solutions.
"I went to a tech school for two years in 11th and 12th," Lewis said. "They told me that I was either going to be a mechanic or in auto body and I chose auto body. My second year of class I started my first tech job. I worked there for about four to five years and I really felt like there wasn't much movement. I wanted to kind of go up. I heard about this shop my aunts and uncles were telling me about and I went there, which was Dorn's Body and Paint with Barry Dorn. They hired me and it was definitely a whole different animal than the last shop I had worked at.
"It's definitely a move up. I wish I would have had someone there that helped me other than my parents because they're not too big into the industry. I did not know anything about TechForce. I kind of wish I had. It probably would have helped a little bit more, but I had to do it by word of mouth, which doesn't always help."
Images
Featured image:  iStock/Nalinee Supapornpasupad
Share This: