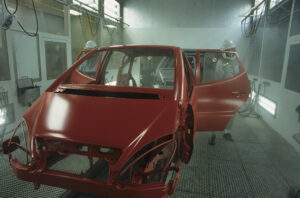 Amended Washington bill would ban use of common paint pigments in state
By on
Legal
A bill would eliminate the manufacture, sale, and distribution of any paint and ink that contain chlorine-based pigments beginning on Jan. 1, 2025 in the State of Washington — a move that paint, coatings, and auto body associations say will directly impact collision repair shop access to the paints and materials they need in the state.
The original bill didn't include any prohibitions on chlorine-based paints, pigments, and inks. It sought to have the Washington Department of Ecology petition the U.S. Environmental Protection Agency (EPA) to reassess the legal amount of polychlorinated biphenyls (PCBs) allowed under the Toxic Substances Control Act. The purpose of having the EPA do that would be to establish restrictions on the use of PCBs that were previously considered inadvertent in consumer products under its authority provided by the pollution prevention for healthy people and Puget Sound Act.
On April 13, the Senate refused to concur with amendments adopted in House committees sending the bill back to second reading in the House. On April 14, the House adopted a floor amendement from House Environment and Energy Committee Chair Rep. Beth Doglio (D-District 22) then passed the bill on third reading 96-0 with two abstentions.
During a March 23 House Environment and Energy Committee hearing on the bill, Doglio said, "PCBs are persistent. We've studied them to death. It's been longer than 36 years that we've been studying the impacts and effects of PCBs. We don't really need another study. We need action and that's what this bill does."
The amended bill states: "While previous industry analysis of Toxic Substances Control Act rule making has asserted negative impacts and infeasibility in disallowing by-product PCBs, the legislature finds that safer, feasible, and available alternatives to PCB-containing paints and printing inks now exist, as determined by the Department of Ecology in its June 2022 Safer Products for Washington report.
"Moreover, since safer and available products and processes to produce paints and printing inks do exist, the legislature finds that use of manufacturing processes resulting in products with PCB by-products is not inadvertent, but intentional, and constitutes a use of the chemical within the product."
Both the original and amended bill adopted by the House call for the state's Department of Ecology to petition the U.S. Environmental Protection Agency (EPA) "to reassess its regulations on excluded manufacturing processes from prohibitions on manufacturing, processing, distribution in commerce, and use of PCBs and PCB items under 40 C.F.R. Sec. 761.3 for the purpose of eliminating or reducing the presence of PCBs in consumer products."
The bill will only make it to Gov. Jay Inslee's desk by the end of the legislative session this weekend if the House and Senate can agree on an amended bill.
Color Pigments Manufacturers Association Executive Director David Wawer told Repairer Driven News the bill isn't based on scientific and technical facts.
"It would make it unlawful for a Washington State retail business to purchase a paint or coating under this proposal, " he said. "How this is enforced or regulated, who knows? But on the surface, it would mean that Home Depots and Lowe's, Ace Hardwares and others shouldn't be buying paints to sell to consumers.
"And auto body repair businesses shouldn't be buying paints to do their business. That's how this thing expanded. And there are similar implications for packaging, printing and packaging. By changing the definitional scope, they just broadened it to I guess the universe of commercial pigments in commerce over the past 30 years, so there is no workaround substitute for a Washington State business. …The bigger picture here is the Washington State legislature is trying to structure a ban on legal commercial products. I'm not talking about the pigments. I'm talking about printings or coatings."
For the auto body industry and its suppliers to be most directly affected, the inclusion of the pigment titanium dioxide — a necessary component in vehicle paint — will have the biggest impact, Wawer added.
"Fifty percent of all titanium dioxide manufactured in the world uses a chlorine solvent process that generates very low levels, legal levels of inadvertent PCBs," he said. "So irrespective of colored pigments, the inorganic white pigment would be captured. This legislation says to the retailer, 'You can't knowingly sell something' — well, knowingly has broad implications."
CPMA doesn't have a lobbyist in Washington state but they are working with a national coalition of associations to educate their members on the possible ramifications of the bill, including the Society of Collision Repair Specialists (SCRS), the National Association of Printing Ink Manufacturers (NAPIM), and the American Coatings Association (ACA).
Wawer noted the bill would have far-reaching implications on several industries including food and beverage packaging, Boeing Corp. products, paper and packaging from paper mills, and manufacturer use of recycled products who may have to pull out of the state to print, package, or paint their products.
In a Feb. 17 letter to the Senate Ways and Means Committee, the American Coatings Association wrote that they can work with lawmaker to "find language that will limit the scope to products with residual PCB amounts, while acknowledging that without further analysis of products, this bill will not significantly reduce PCB contamination in the state."
ACA told RDN on Wednesday that they're waiting to receive the most current version of the bill to determine their position on it and develop a strategy going forward. The bill could "reduce access to certain types of paints used by the collision repair industry," ACA said, but without knowing the specific language of the bill and amendments being considered, the association couldn't gauge specifics.
"The scope of paints withdrawn from the market could be broad, depending on the bill's language. Restrictions are also unlikely to reduce levels of PCBs in waterways since some pigments contain trace amounts that have not been shown to contribute significantly to PCB contamination, especially in comparison to other products, as described in the written comments submitted in February."
Images
Featured image credit: RicAguiar/iStock
Share This: