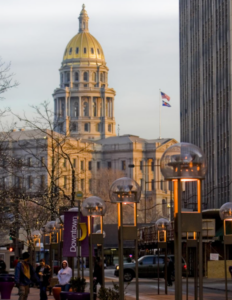 Colorado's senate has passed legislation that will require agricultural equipment makers to share their repair resources with independent repairers.
The Consumer Right to Repair Agriculture Equipment Act, passed by lawmakers last week, will require manufacturers to provide parts, embedded software, firmware, tools, and other documentation (such as diagnostic, maintenance or repair manuals) to repairers and equipment owners.
The act is expected to take effect next January and marks the second time Colorado passed "right to repair" legislation. Last year, it passed the Consumer Right to Repair Powered Wheelchairs Act.
The new bill includes agricultural equipment into the existing consumer right to repair statutes, mandating that:
"A manufacturer's failure to comply with the requirement to provide resources is a deceptive trade practice;"
"In complying with the requirement to provide resources, a manufacturer need not divulge any trade secrets to independent repair providers and owners;"
"Any new contractual provision or other arrangement that a manufacturer enters into that would remove or limit the manufacturer's obligation to provide resources to independent repair providers and owners is void and unenforceable; and
"An independent repair provider or owner is not authorized to make modifications to agricultural equipment that permanently deactivate any safety notification system or bring the equipment out of compliance with safety or emissions laws or to engage in any conduct that would evade emissions, copyright, trademark, or patent laws."
Though the action doesn't directly affect the collision repair industry, it was passed as right to repair legislation is being debated for auto repairs in several states.
Gay Gordon-Byrne, The Repair Association's executive director, said that while the passing of Colorado's agriculture-related bill won't do much to directly impact auto or collision right to repair, the passing of such bills is important to the repair industry.
"The impact will be something along the lines of 'If I can fix my tractor, why can't I fix my refrigerator, or my cell phone or get diagnostics wirelessly on my car?'"
The Right to Repair Association filed its first legislative bill in a state legislature in 2014, and since then more than 40 states have pursued right to repair legislation using its legislative template as a guideline. It has been updated since its initial iteration to ensure repairers have access to parts on "fair and reasonable terms," Gordon-Byrne said.
"We included a generic term for 'diagnostics' rather than pinpoint a specific method because there was already a huge variety of diagnostic tools in use and we needed access to all of them," she said.
"The auto industry is now facing the same problems of access to parts and diagnostic software that our legislation is intended to resolve. We all have the same problem in different shapes so it's very logical all of our legislative efforts work for all of us."
Earlier this year, 28 state attorney generals banded together to support right to repair federal legislation to ensure "small automobile businesses and "mom-and-pop" auto shops can remain competitive against a closed system favored by original equipment manufacturers (OEMs)."
In a letter written to the U.S. House Energy and Commerce Committee and Senate Committee on Commerce, Science, and Transportation the AGs request that the lawmakers redouble their efforts to pass the legislation.
"The Right-to-Repair is a bipartisan issue that impacts every consumer, household, and farm in a time of increasing inflation," the letter states. "It is about ensuring that consumers have choices as to who, where, when, and at what cost their vehicles can be repaired.
"…Manufacturing of automobiles, digital devices, and agricultural equipment is increasingly becoming more technologically advanced and built with more embedded electronics. OEMs often control access to these electronics parts, creating unfair restraint of trade and a monopoly on repair. This can harm consumers directly by driving up prices and is antithetical to a free market."
In December 2022, New York became the first state to legislate the right for owners and independent repairers to have access to digital electronic product diagnostic, repair, and maintenance procedures under the Digital Fair Repair Act. R2R legislation is on the table in Maryland and Maine and is tied up in court in Massachusetts.
Opponents of right to repair legislation within the automotive sector have argued that access to such procedures, tools, and equipment is accessible today in the collision repair sector via OEM1Stop, OEM websites, and owner's manuals.
In the case of Colorado's new agricultural legislation, bill sponsor Rep. Brianna Titone (D-District 27) said it was necessary to ensure farmers could repair equipment without having to travel or waste time during harvest.
"If you live very far away from the dealership that you bought [the equipment] from and maybe you like this one particular brand, but the dealership that's closest to you is a different brand, you can't utilize the services of that dealership," she told the Washington Examiner.
"So, you know, not every farmer is going to do everything themselves; they may do a lot of the smaller repairs and things like that on their own," Titone said.
"But when it comes to something larger, they're going to have a lot more options. And the whole goal of what the bill is intended to do is to try to reduce those downtimes that any farmer has, especially when it's in a critical time period where they have to get their crop harvested or planted before the season changes or before a storm comes in or whatever that thing that's outside of their control, they're going to have a little bit more control over how they can be able to repair their equipment."
Image
Colorado's capitol building in Denver, Colorado (Courtesy State of Colorado)
Share This: