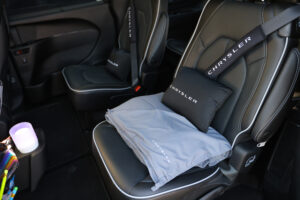 Chrysler announces 'calm cabin package' to support autism community
By on
Announcements
Chrysler has introduced a "calm cabin" add-on for its Pacifica models to help those with autism feel safe and comfortable while traveling.
Through a new partnership with the Autism Society of America, the automaker is offering a package that can "transform any Chrysler Pacifica into a sensory-supported mobile experience."
Unveiled in April, which is Autism Awareness Month, the customized cabin includes:
A seat back organizer with adjustable straps;
A cordless Bluetooth "meditative light and sound therapy machine;" and
A "seat belt sleeve, soft-touch pillow and weighted sensory blanket"
"At Chrysler, we believe it's no longer enough to be 'aware' of the millions of people living and thriving with autism, we must put acceptance into action," said Chris Feuell, Chrysler's brand chief executive officer.
"We're proud to offer life-enriching opportunities for individuals with autism and their families with initiatives, such as our new Calm Cabin package, that bring a little harmony to people's lives, whether they are on a long road trip or running a quick errand."
One in 36 children is diagnosed with autism, making it the nation's fastest-growing developmental disability, according to the Centers for Disease Control and Prevention. It's estimated that 5.8 million adults are autistic.
"One of the spaces requiring the most support [for this community] is on the road," Chrysler said in a news release. "Vehicles can be stressful, scary experiences for those with autism due to an environment that can be overstimulating and uncomfortable. For some, it means every road trip to school, practice, work or on daily errands becomes a difficult, challenging experience."
In announcing the new offerings, which can be purchased individually or as a package, Chrysler shared a clip of parents who described the challenges they've had traveling with autistic children.
One mother described how her son screamed and "just wanted out of that car," while on the road. Another detailed the anxiety caused by trips outside normal daily routines.
"There's an extra level of stress," another mom said. "Even on a short trip, we're out of our bubble."
Chrysler said the new features could help take the fear and uncertainty out of traveling for the autistic community by offering a "sensory-supported mobile experience."
The OEM said that the Autism Society of America will advise it on products and help with inclusion training to help improve experiences for the autism community.
"The Autism Society of America is proud to partner with Chrysler to create an improved and inclusive driving experience for the autism community," said Christopher Banks, president and CEO of the Autism Society of America. "With a trusted partner like Chrysler, our work is amplified as we collaborate to instill inclusive workplace practices, product accommodations and create more opportunities for the autism community to live fully."
Chrysler said it would work to identify additional areas where it can support the community, and added that it would train its dealer network staff to better support the needs of autistic individuals and their families.
Image
Chrysler's calm cabin features are pictured. (Courtesy of Chrysler)
Share This: