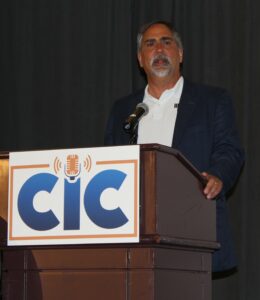 Among all the challenges and changes that electric vehicles (EVs) — and most all new vehicles — bring to the table for OEMs and repairers with more complex technology, advanced driver assistance systems (ADAS), and vehicle structures, the Insurance Institute for Highway Safety (IIHS) is taking steps to be ready.
During a special presentation at the Collision Industry Conference (CIC)'s spring meeting in Richmond, Virginia last week, IIHS Senior Test Coordinator Sean O'Malley highlighted how far crash testing has come and what challenges lay ahead.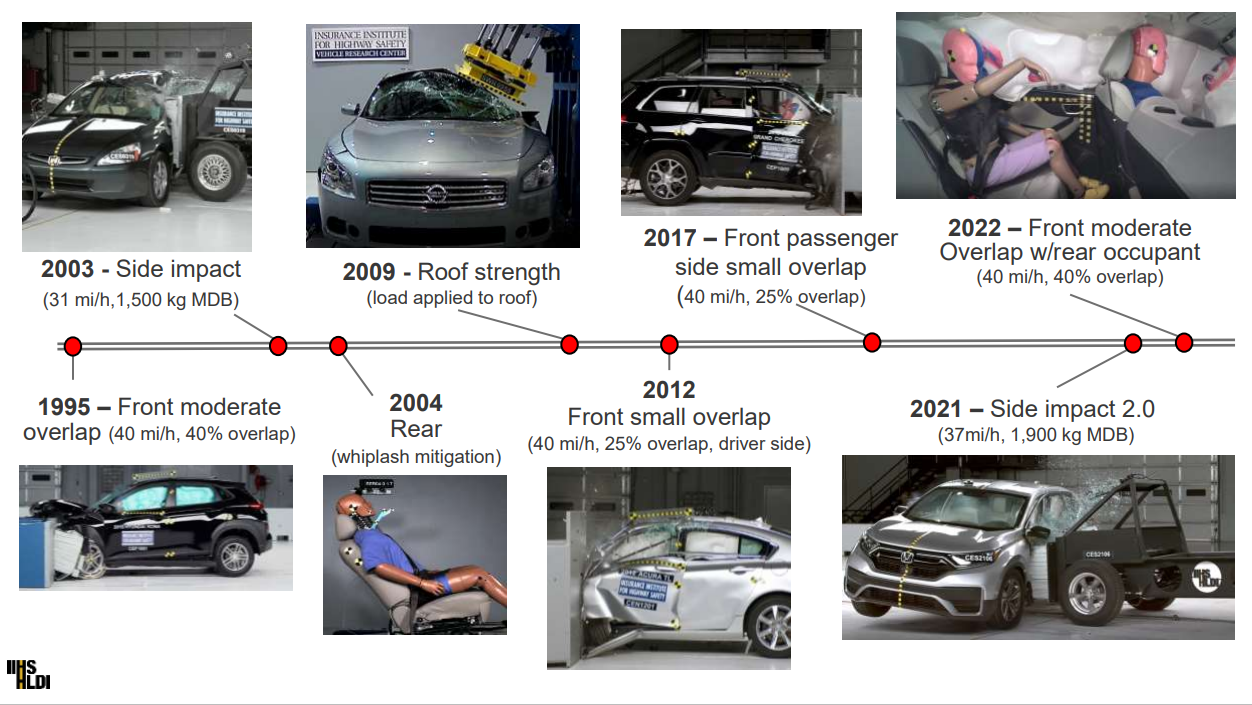 "Our mission at IIHS is to prevent harm and save lives," he said. "That is, stop fatalities, stop any serious injuries, and thirdly, reduce collision damage."
In 2021, IIHS started conducting a new side impact test because SUVs were heavier, which meant increasing the weight of the barrier that runs into the vehicle and increasing speed. EV mass is now the new challenge.
Late last year, IIHS tested its propulsion system to ensure that it could handle heavier EVs by adding heavy steel plates and concrete blocks to add 9,500 pounds onto an F-150 to see if it could tow a vehicle of that weight and reach the target speed of 40 mph for frontal, small, and overlap crashes on both sides of vehicles. The test proved the system successful in its ability to tow a vehicle in at that speed for the frontal crash.
The most recently weighed EV, a 2023 Rivian R1S, came in at more than 7,000 pounds — almost 3,000 pounds more than a 2023 Honda Civic, or a difference in weight equivalent to that of a 2023 Ford Ranger, O'Malley said. When it comes to kinetic energy that would move through a vehicle of that mass, O'Malley said it would be 60% higher than a Civic.
Since 2011, IIHS has crash tested 56 EVs, including the following models:
Rivian R1T and R1S
Genesis GV80 Electrified
Tesla Model S, Model 3 and Model Y
Hyundai Ioniq 5
Ford Mustang Mach-E
BMW i3
Volkswagen ID.4
Toyota Prius Plug-in
Nissan Leaf
Audi e-tron
Chevrolet Bolt
Subaru Solterra
Volvo XC40 Recharge
C40 Recharge
Eighty-seven percent of the EVs tested received a "good" rating from IIHS.
"Of the 56 electric vehicles we tested, the vast majority were good; six of them were acceptable ratings overall and only one were in the poor. It had nothing at all to do with the fact it was an electric vehicle and everything to do with the fact the occupant department folded up and the dummy's head hit the A-pillar."
In 2022, rear crash testing was changed due to IIHS finding that rear occupants were being hurt or killed in crashes more than drivers were, O'Malley said. IIHS also discovered that seat belts aren't doing the job they're intended to do in crashes, O'Malley said.
The institute has called on OEMs to equip their pickups with automatic emergency braking (AEB), a class of vehicle that it says presents a "heightened danger" to other road users. A new study from IIHS shows that AEB reduces rear-end crash rates for pickups "dramatically" but pickups are far less likely to be equipped with the feature than cars or SUVs, IIHS previously said.
ADAS
In 2015, O'Malley conducted a phone survey with local dealers to find out if they were ready for ADAS repairs and calibrations; they didn't have a clue, he said.
"Honestly, they didn't have the tools, they didn't have the space — probably still don't have the space, didn't know how to do it, or just didn't think it needed to be done. I did the same survey with the same dealers in 2019. It was entirely flipped. They all have the tools. Now, they all have technology whether they're doing it correctly or not — it's still in the air, which is one reason we contracted with a company, OpinionAmerica, to do a phone survey of the people actually driving the cars with this technology."
That survey was conducted in 2021. There were 486 respondents, of which 40% had model year 2019 or newer vehicles.
"One thing we asked these people is, 'How do you know or discover that your vehicle needed to be repaired?' Most of them said a service bulletin or a recall. Next up was windshield repairs, which isn't surprising because everybody's had windshield repair."
Next, was that their vehicle was behaving oddly, and lastly, 80% said they took their cars to the shop because of crash damage.
"Some of the features that were frequently calibrated [were] front crash prevention, blind spot detection, and cameras," O'Malley said.
Through the survey, IIHS found that 60-70% of respondents whose cars had been damaged had ADAS issues afterward, including with their windshields, which had been replaced. Many respondents said they weren't told what calibration meant.
"The vast majority of people had a problem after they had the vehicle repaired," O'Malley said. "The good news is after they had their vehicle repaired, most of them saw an improvement in the performance of this technology. We also asked them who paid for the calibration and repair and most of them said it was completely covered. A small percent said it was partially covered; some didn't know, and fewer percent said it wasn't covered at all.
"…Those surveyed were not turned off by this whole experience. They think that they would buy another vehicle with this technology if they had a choice but that's good. We don't want people turning these systems off because they do work. An improvement has been shown. They work better when they're actually calibrated and functioning correctly."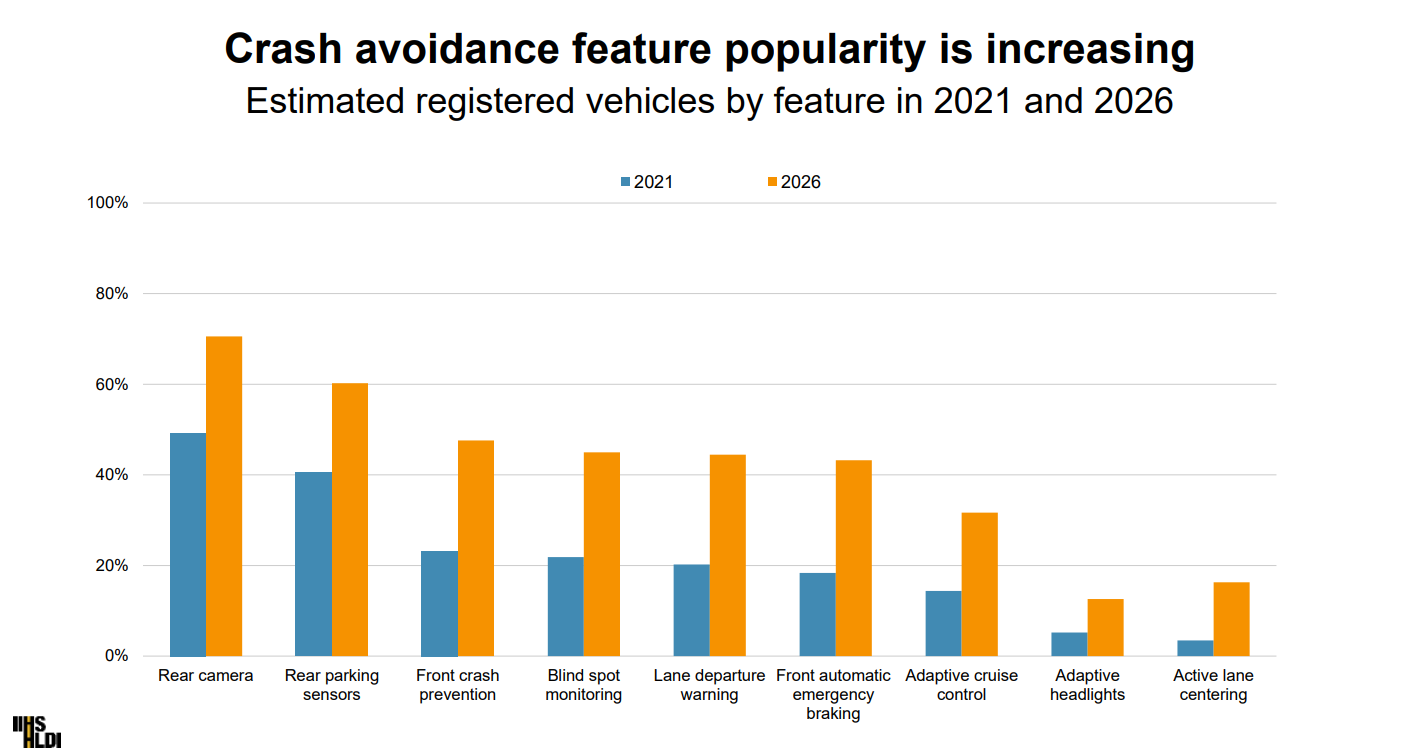 While cycle times become more and more complicated due to new complex technology being frequently added and necessitating pre- and post-repair scans, O'Malley said it's important that customers don't get frustrated with repairs and recalibration because if they do, they'll likely quit using ADAS.
"The repair process should be simplified for ADAS sensors," O'Malley said. "There should be an accessible and affordable centralized database… so a repairer can easily find what needs to be done when they get a vehicle in to prepare. Self-diagnosing mechanisms to alert the technology is malfunctioning would be nice. I know that personally when we plug into a vehicle for a scan, some of this doesn't show up that it's working even when it's not working. The OEMs could do a much better job finding that these systems aren't working. They do it for tire pressure; they do it for every other sensor on the vehicle. There's no reason we can't do it for ADAS sensors."
Rear underride guards
Another topic O'Malley covered is IIHS' testing on semitrailer rear underride guards, which began began in 2012.
"We found that the rear underride guard, the rig, was not holding up as it should be," he said.
The first eight semitrailer manufacturers were tested with 2010 Malibus at 30%, 50%, and 100% width, or overlap. All manufacturers' trailers stopped the Malibus at 100% and all but one, Vanguard, stopped them at 50%. Only one manufacturer, which O'Malley didn't name, stopped the Malibus at 30%. A year later, Vanguard contacted IIHS and asked for the test to be done again, and passed both the 30% and 50% tests.
Within two years, the other seven manufacturers wanted their new designs, either standard or optional, tested. By 2019, they all passed IIHS' rear underride guard tests. O'Malley predicts that well over 90% of semi-trucks on U.S. roads are equipped with underride guards that have passed all three of IIHS' tests.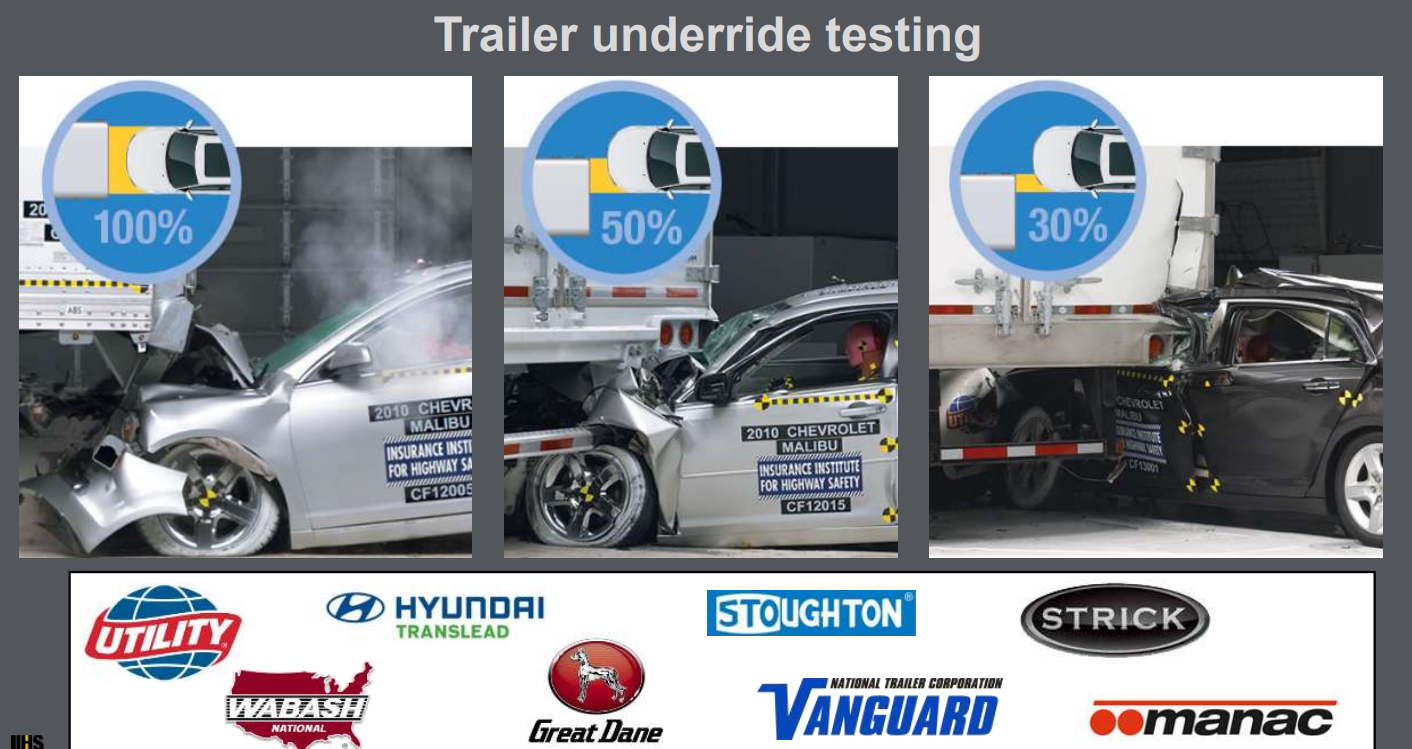 Earlier this week, the National Highway Traffic Safety Administration (NHTSA) published an Advance Notice of Proposed Rulemaking to consider requirements for trailer and semitrailer side underride guards. Part of the rulemaking process includes seeking public comments on approaches to potentially mitigate or eliminate side underride motor vehicle crashes.
The rulemaking is in response to President Joe Biden's Bipartisan Infrastructure Law, which directs NHTSA to look at the overall effectiveness of side underride guards and assess the feasibility, benefits, costs, and other impacts of installing them on trailers and semitrailers.
Images
Featured image: IIHS Senior Test Coordinator Sean O'Malley speaks during the first day of CIC's meeting on April 12, 2023, in Richmond, Virginia.
All slides and graphs courtesy of CIC and IIHS
More information
Research ongoing into EV safety & recycling, how testing & repairs are changing
Share This: